UNDER THE EYE OF MINERVA: SARAH STATON'S SUPASTORE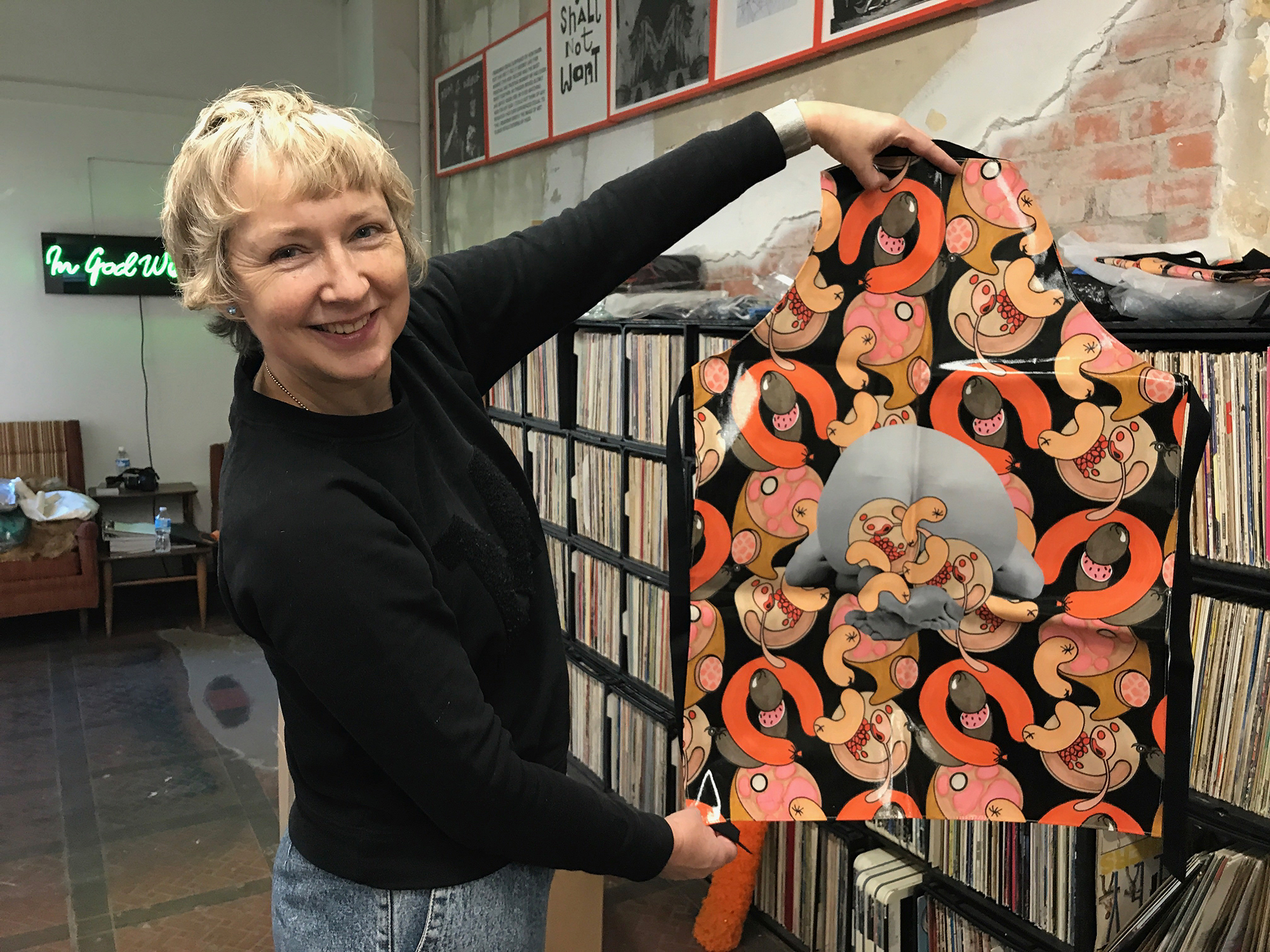 Photo: Susan Froyd
Sarah Staton is an artist based in London, England, whose diverse practice melds sculpture, painting, architecture, design, publishing, fashion, and technology to create objects and spaces that are simultaneously aesthetic and utilitarian. Initiated in 1993, Sarah Staton's SupaStore started as a DIY art sale experiment that has transpired at dozens of museums, galleries, and alternative venues over the years. Over three hundred artists, ranging from up-and-coming contemporaries, unknowns, and established artists have had a piece they created for sale at the SupaStore. Her most recent installment, SupaStore Human—We are the Product, reflects how technology and automation has impacted social interaction, commerce, and manufacturing. Supastore Human—We are the Product is currently featured at Dikeou Pop-Up: Colfax in Denver, Colorado and will remain open to the public through the end of February 2018.
Interview by Hannah Cole
In the artist talk you gave for the opening of SupaStore Human—We are the Product, you stated that your intentions for SupaStore Human stems from the reality that technology has caused people to less frequently perform the act of going to the store—and you aim to bring it back. Could you further expand on this intention?
Within the UK at least, in recent years there has been a significant expansion in online shopping, and with this has come a shutting down of all sorts of shops from small independents to branches of national and international chains. Clearly much of this is to do with the convenience of internet shopping and home delivery negating the need for buyers to make physical journeys to the store. I would also attribute some of this phenomena to retail boredom, with cookie cutter shops selling predictable products, repeating in every shopping constellation. Other factors playing into the UK's current slowdown might be contributed to austerity, and along with that a growing desire to tread lightly on the planet. I see all these factors coming into play and contributing to the demise of our collective desire for objects. As a human race we are clearly investing heavily in tech, but not so much in stuff. SupaStore supports the shift to build lives rich in experience over acquisition but laments the coming together of people that these simple acts of shopping facilitate.
There is an interesting parallel of politics, economy, and social climate between Ancient Greece and Western society today. While this observation may be considered a grim prophecy of war and collapse, political scientists such as Graham Allison have pointed out that trade and other ties between countries (such as America and China) help counteract conflict. Would you argue that SupaStore behaves as a microcosm and more inter-personal example of this theory?
I don't know Graham Allison's work, but I am fascinated in the history of trade, and specifically in the centuries old relation between art and diplomacy—the use of art as symbolic object to generate dialogue. And yes SupaStore as a microcosm for building networks between people has been a preoccupation since I began the project.
While SupaStore is your creation and features your own artwork, many other artists from around the world also have their work featured; there is an inherently collaborative and global element. How did you come in contact with these artists to participate in SupaStore? How does diversity of artists and the mediums they use as opposed to artists exclusive to one region, one art practice, etc. affect the concept behind SupaStore?
The store has traveled extensively and when logistically possible people living in the hosting cities have been invited and have got involved, this is often facilitated by the hosts at each venue. In Denver this happened with the casting workshop, in which the plaster life casts of our workshop participants' body parts, are displayed in the store, and will then revert to their owners when the SupaStore leaves Denver.
To date, the concept for each SupaStore becomes the umbrella under which participating artists contribute, often by responding to the theme of each store. The structure of the SupaStore allows for diversity in terms of artists and their mediums, however so far the concept and the invitation precedes the participation of invited artists. Artists like any other group of humans are involved in a meta conversation and it is this meta-conversation that provides inspiration for the SupaStore subtitles. Recent preoccupations, reflected in the titles include SupaStore Air, considering the impact of cheap airlines and the consequential expansion of migrant workers crossing countries to give their labor to markets at every increasing distance from home and family. In SupaStore Human—We are the Product, we note the shift towards AI, and away from the production of objects in favor of the supply of services.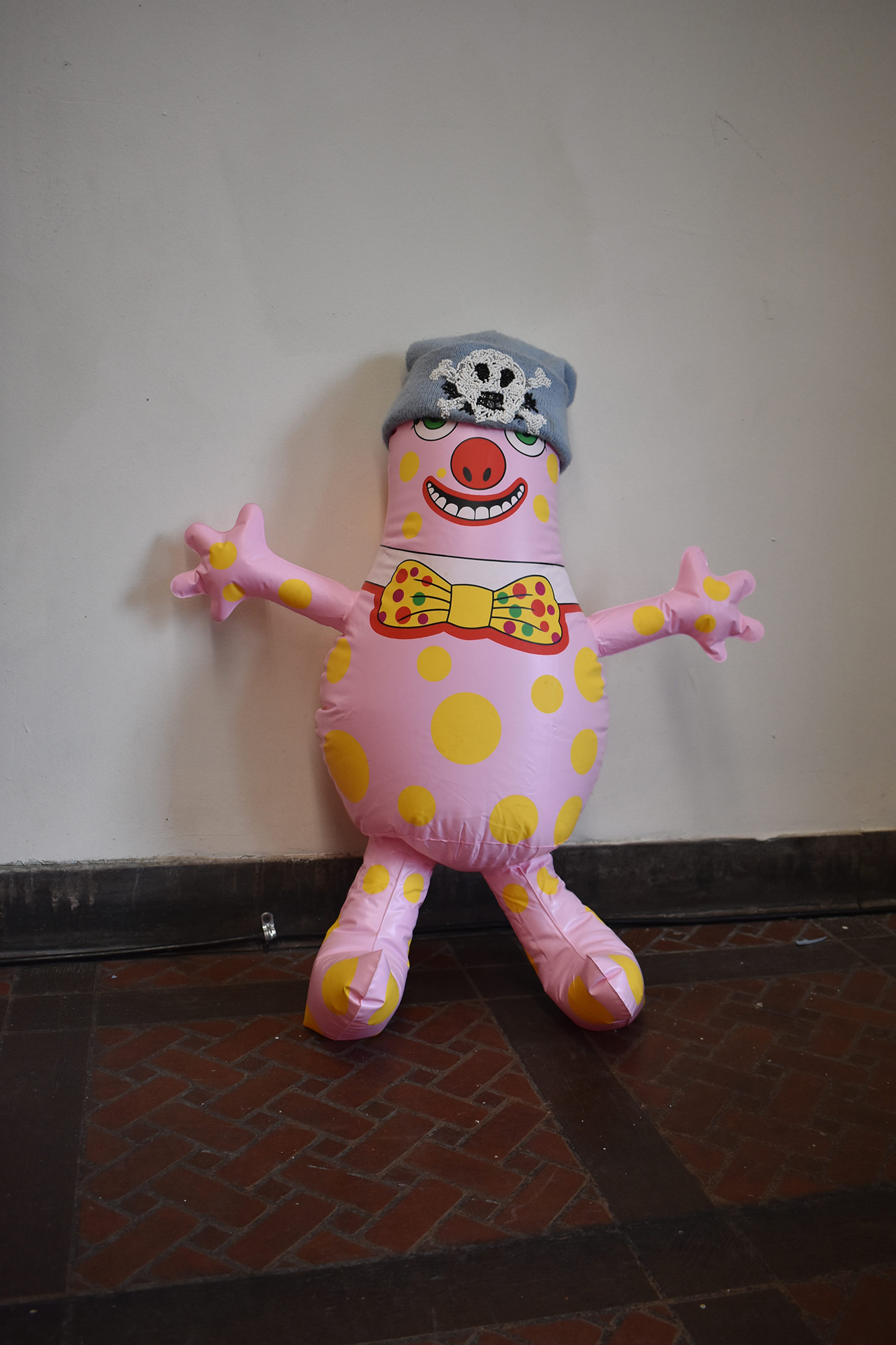 Mr Blobby
Minerva, the Greek goddess of trade, art, wisdom, and war serves as the mascot (or rather the goddess) of SupaStore. The multidisciplinary nature of Minerva is a quality integrated in your own art practice. Does this resonate with any of the participating artists featured in SupaStore Human?
This might be a question for the participating artists as they may know more than I do! However, it is clear that Minerva was rather an exponential multi-tasker, and most of the artists that I know are also very capable in more than one area of activity, often successfully combining the creation of artworks, with a variety of jobs and sometimes also managing care and responsibility for others. Could artists be said to be the role model for the neo-liberal worker in the gig economy?
Many artworks featured in SupaStore Human are utilitarian in the form of blankets, pillows, scarves, bars of soap, t-shirts, and books. Why does practicality appeal to you as the artist and as the creator of SupaStore?
Yes, this is interesting, because some definitions of art negate the functional. I have always liked applied arts and the utilitarian and I think this is reflected in the objects that I choose for the store.
Lastly, who is Mr. Blobby and what is his relationship with SupaStore?
Mr Blobby is a dubious character from 1990's British TV, he appeared on a show called Noel Edmunds House Party, and he is pretty on the boundary between funny and grotesque. Mr Blobby emerged at the same time as the SupaStore, and he has been the store mascot for all these years. I sense that he is near retirement and it could be time he plans for his future away from the SupaStore. Our Mr Blobby was recently renamed last year as 'Gustav' by Asja Inzule Kaspar who is 5 years old. Asja kept amused during our install at Midway Contemporary by dancing wildly every day with Gustav Blobby and it was absolutely the most fun he has had in years.