FILTERING DRDOVA: FILTERING THE DATA SMOG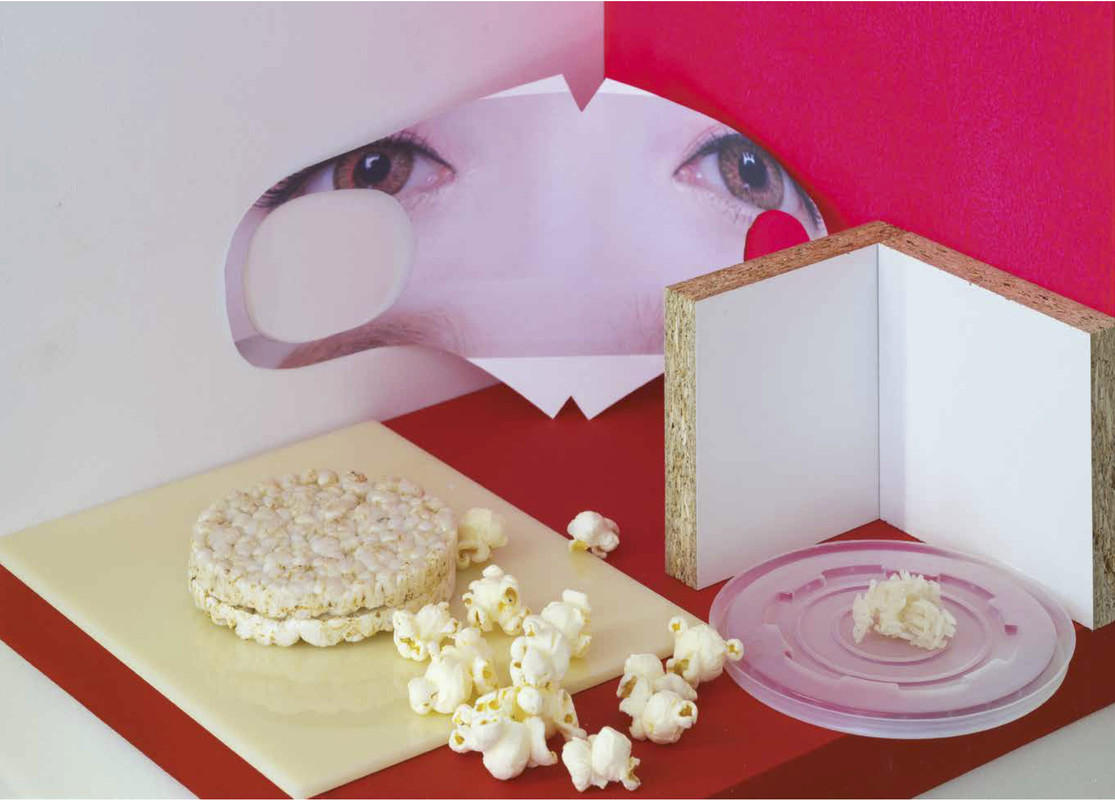 Photo by Tomas Soucek
Romana Drdova is a visual artist from Prague, Czech Republic and has traveled to Seoul, China, Paris, New York and beyond studying and perfecting her craft. Her work explores different modes of communication, expression, and transparency in a "data smog" filled modern world. Using her 2D and 3D art installations, photography, fashion design, assemblage and mixed media, Drdova questions what it means to live in this day and age, how we interact with our environment, and how our surroundings impact our personal experiences. 
Interview by Mauricio Rocha
Your work in zing #25, "Mapo Tofu Masks: An Asian Love Story," explores people's relationship with technology, food, beauty, fashion, and more. How has your time in Korea and Prague influenced your work?
I went to Seoul as a student with a scholarship and spent an absolutely exceptional time there. I learned how Korean people take care of themselves in the terms of how they eat, how they care about their skin, how important is for them to spend time together, among other things. I couldn't have imagined how much it would influence me to stay in Korea. When I came back to Prague, where I am based, I started to understand that my destiny is to cultivate my work through this fascination and emotions that I have from Asian culture. I would say that I work like a translator of these emotions to my own language or maybe a better explanation is that in my soul is a recorded hardware with information which matches with those Asian memories. Someone might call it karma.
I enjoy seeing the inspiration from your environment in your work. What are some of your favorite places to visit and work in around the world? 
I like the contrast of places I've had an opportunity to visit. I have a special bond to China. I consider this place to be the beginning of our civilization and it will probably be associated with our demise . . . but perhaps it should be like the natural circulation of everything, life and death. In Asia I feel as my real self and calm. On the other hand, I love the hustle and bustle of New York and the openness in communicating with people, the freedom they show on the streets. This makes it extremely unique and inspiring to me.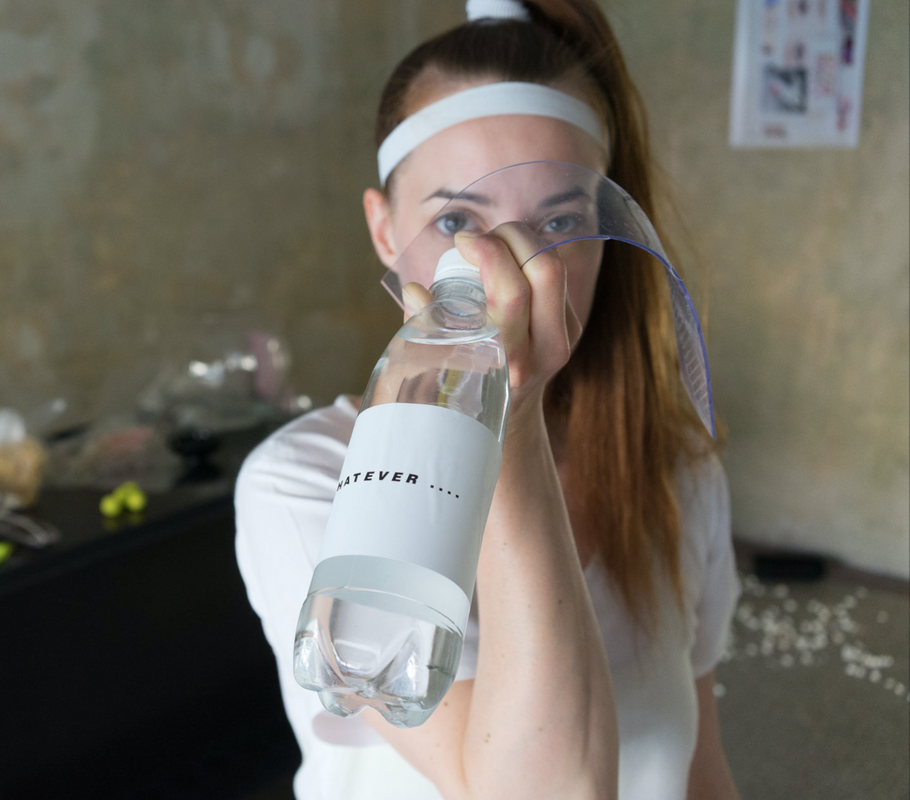 Photo by Tomas Soucek 
The face masks you designed are an extension of your work in the magazine, provide a 3D element, and can even be categorized as an art installation. Does your artwork usually feature a combination of art and fashion?
I had to find my own way of expressing myself as a necessity. The combination of art and wearable objects that are fashionable has certainly defined me since my childhood. I am not someone who speaks loudly and is confident in verbal expression. With pictures and text I can say what I can't verbalize and if I can wear it as clothing, then it is easier to express who I am. This is self-confidence. I always get drawn to a more complicated approach to creation, using layered meanings, but I believe it's very similar to learning a different language. You meet, fall in love and learn from each other. During my practice I have met so many interesting people and stimuli with similar feelings and I can give them a new insight into the matter. And that's why I do it. I want people to wear my clothes, to see it in surplus value and to be happy with them. I don't want to exhibit only in galleries where you feel a distance to objects. I want people to have a real experience when they buy my product.
Do you usually take the photos in your projects yourself or weave them together as a collage?
It depends on topic. Usually I spend days to find visual material that fits to my ideas. Actually I prefer both. My favorite discipline is assemblage; it is more combination 2D with 3D objects in the space or on fabric. After that I am able to sew clothes with clearly given motives or to cut fabrics freely and the result is intuitive improvisation. Now for example I collaborate with French performer Arianne Foks on a series of coats, we are writing texts and taking photos as daily memories. The topic of our work is current and alarming subjects such a global warming, women's rights, breaking social values, false and true, transparency etc.
You mention a "data smog" in our recent climate, what do you mean by this? 
"Data smog" is more metaphor than literal expression. I use this phrase as an explanation for an endless number of stimuli overloading our organs under the weight of everyday pressure that society creates. I first used this term in work from 2015 when I created protective shields against the bustle of city. They are made of plastic with headdress and you can decide if you tilt the shield down or allow people to see your face. It has a purpose: you can see people, but others can't see you. I was confronted with controversial views from passerby. But I believe we all have the right to privacy and rest when we want it and no one can complain because I look differently than others.
Your work features several foods: sushi, rice cakes, popcorn, rice, gummy sharks, and marshmallows. How do you view food in this "love story" you've created?
Eating is very important for every culture regardless of which content it is. I used these fancy motives thanks to their easygoing narrative. There is an immediate link to Japan, infantile style or kind of perversity. I started with masks as my diploma work 2017 as a part of a bigger project with trash recycling. I spent a few months in Beijing before that, and my work was inspired by the inability to keep this incredible amount of newly made things and that which we throw away on this planet. I rented the space and opened "shop" with trash I collected for 5 months. This trash contained plastic bottles, polystyrene, all kinds of weird plastic materials . . . and I installed them at the shop. Customers could come in freely and buy it, take it, and discuss its problems. And of course, part of this project was cooking and preparing of sushi, because it's easiest and effective. Now I am preparing my second collection of masks as a continuation of this "love story".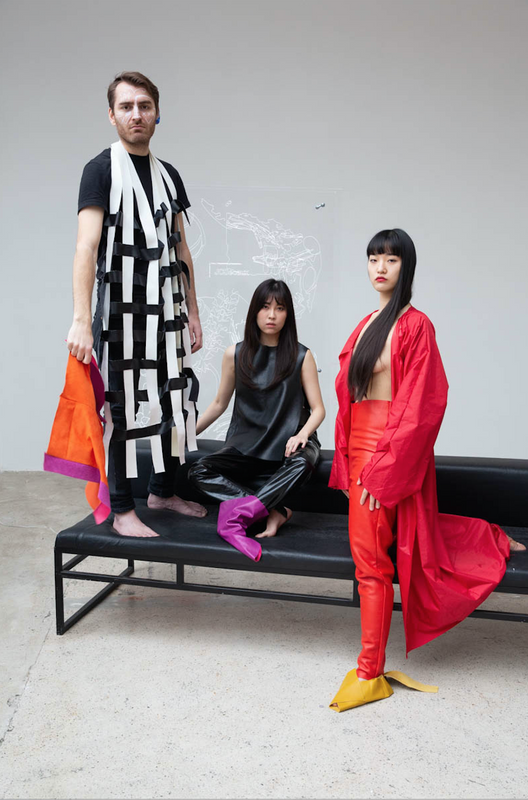 Photo by Julie Hrncirova
What are some of your favorite foods?
I prefer Asian food preparation. My kitchen looks that way too. Haha. I like to discover new tastes, for example, I am currently fascinated by varieties of flavors from Laos, which I first tasted at the Lao Siam restaurant in Paris. They offer banana salads and such delicious tapioca desserts; it was an absolutely excellent experience for my taste buds.
I think a universality in your work is that we are all looking for love, and for food, as both are essential to our survival as humans. Would you say that fashion and art are just as essential for humans? 
I would not say that fashion and art are essential for humans. I would say that they are surplus value that we can enrich our lives and minds with. It is a nourishment for our spirit and inner world that each of us can cultivate.
What projects are you currently working on and what can readers expect to see from you in the future? 
I started new mask designs for 2020, now I'm preparing cuts for coats with a similar theme. In spring I have a big project based on the circulation of materials supported by the National Gallery in Prague. A great inspiration for this exhibition was staying in New York and my own work from materials that I had the opportunity to obtain at Materials for the Arts. I would like masks and clothing to be brought to the attention of as many people as possible and to make them happy and enjoyable.