Romana Drdova: Interview with Lenka Bakes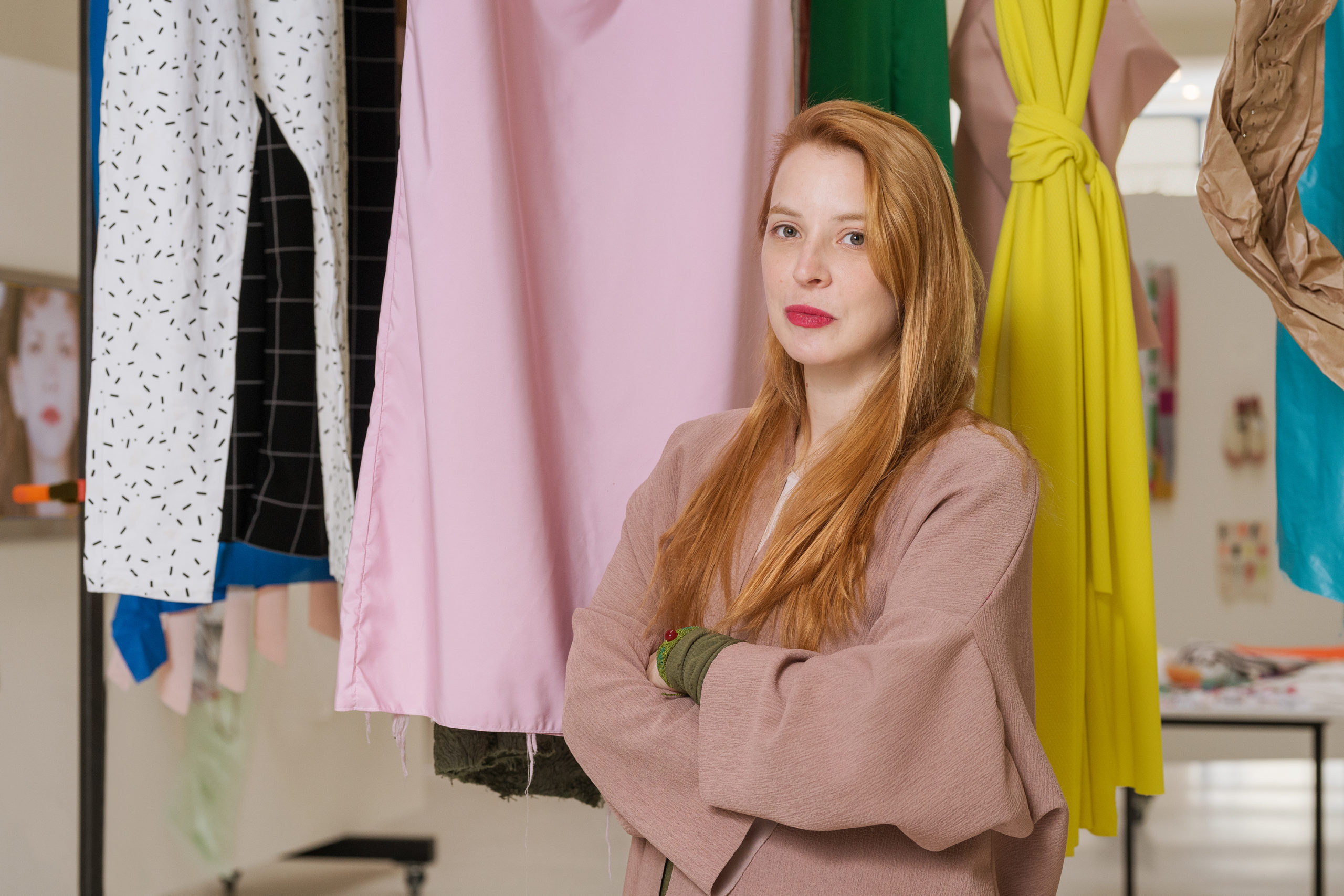 Photo: archive National Gallery in Prague
Romana Drdova is a Czech artist whose works borders on the lines of fine art, fashion, and design as it engages with themes of perception and human interaction in a time of "data smog." Graduating from the Academy of Fine Arts in Prague in 2017, she's gone on to solo exhibitions at Czech institutions MeetFactory and Karlin Studios, along with international presence in Vienna, Berlin, and Liege, Belgium. Her project "Mapo Tofu Masks: An Asian Love Story" was published in issue #25 of zingmagazine. Most recently, Drdova's work is being exhibited at the National Gallery in Prague, curated by Adéla Janíčková as part of The Empathy Award, on view through February 2, 2022.
Interview by Lenka Bakes
In your first interview for zingmagazine (2019) you spoke about drawing inspiration from Korean culture, the bond you've made to China as well as the impressions you picked up during your time in New York. It's obvious you keep a close eye on various cultural practices and they inspire you in your work, which you've described as a "spiritual translator". This practice led you to create your first series facemasks, which zingmagazine published in New York at the beginning of 2018.
I'd like to ask what has changed in your professional life? Where have you drawn your inspiration from and what has interested you during these past two pandemic years? Have you created another collection of masks? What was the impulse behind facemasks back then? Did the masks resonate with people and in public space, which was affected by the pandemic for much longer than we expected?
Much has changed since society has changed and is still changing as a result of the pandemic. My main shift has been in realizing the quality of time I want to devote to self-realization. I've discovered that this is the only way I can work in society and do something for it, it's also the only case in which I'm at peace with myself.
My work with facemasks, which I started creating in 2017 and was published by zingmagazine, had the character of an unusual fashion accessory. Today, face masks have become an essential part of everyday life. For the new collections, I used themes dealing with the segregation that the pandemic has brought on a large scale.
During the past two years the boundary between one's inner and outer world and the individual and their surroundings has deepened. You often articulate relationships in your work or visualize their absence. This makes me feel that you may be interested in this boundary. Have you experienced something like this personally?
The gap between what we feel internally and how we act or look in society is alarming. The pressure that brings the suppression of achievement is a disease of society. I've always been interested in the surrounding world and its method of communication. In several exhibitions my work was concerned with how visuality or barriers form our bodies and mind. For example, at the Futura Center of Contemporary Arts I created a city light billboard where sexual and romantic motifs were featured along with seductive images. My intention here was to create a scan of my own thoughts, what I'm really thinking about when I'm waiting at a tram or bus stop.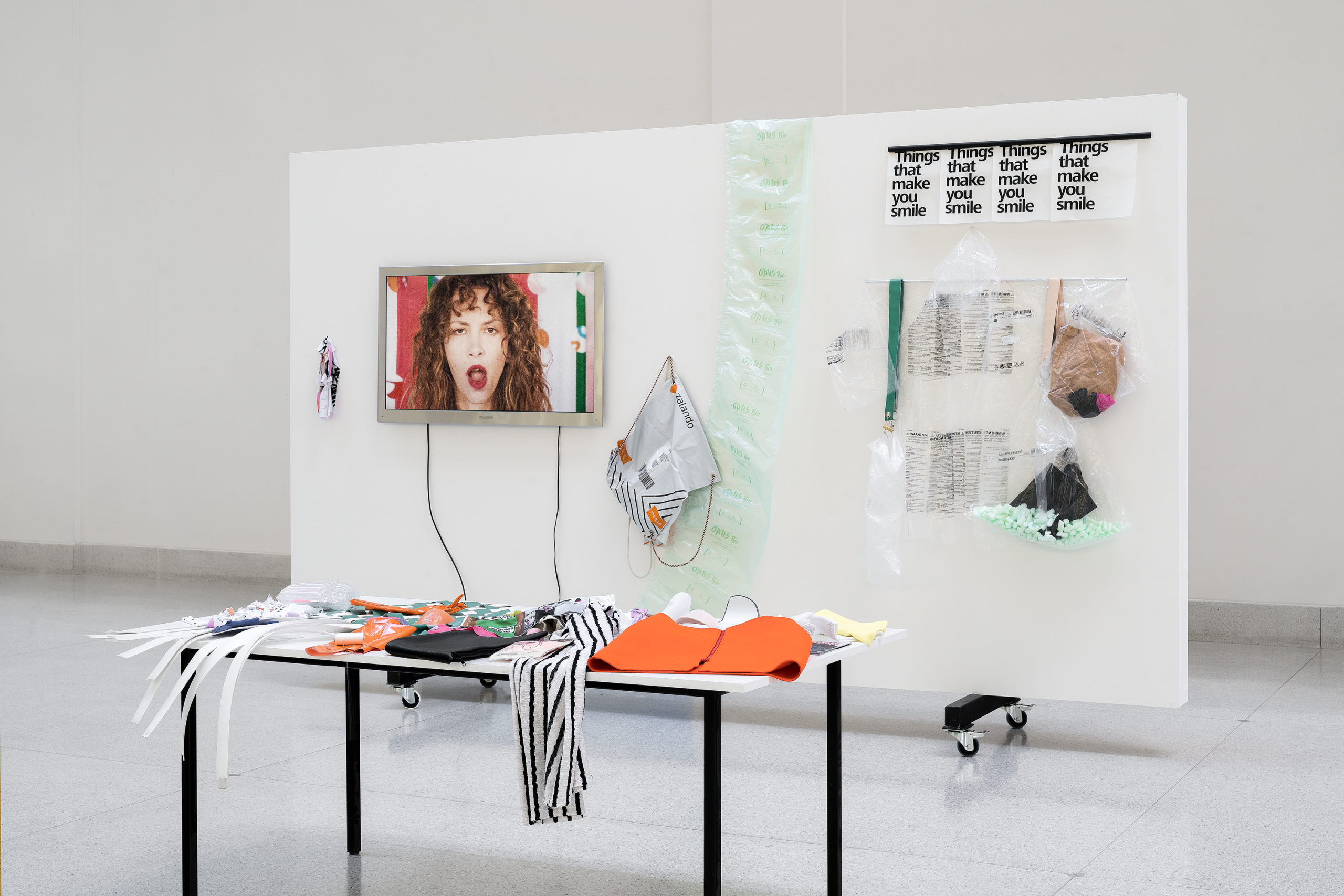 Photo: archive National Gallery in Prague
If we zoom in on interpersonal relationships, we can return to the work you first presented last autumn at the group show The Unremarkableness of Disobedient Desire, put on by the Lucie Drdova Gallery. Here you presented a series of "haute-couture" silk scarves imprinted with sexual motifs, playful faces or unchaste inscriptions such as symbols of the fetishization of the female body, power, fetish and phallic elements. Could you tell us more about how and why this series came about?
This series was created as an imprint of a time that I went through in a lover's relationship. I could call it a relief of emotions, imprints that appeared within me. Now that some time has passed I can see how essential this relationship was for my personal development. At the time I was concerned with the theme of power, which relationships often have over us. I wondered how women are situated in society and this naturally led me to feminism and books where I searched for answers to my questions. The scarves were created as my hope that I and other women will break the staff of patriarchy which has historically been rooted within us. I decided to use scarves because they represent a luxurious item that men offer women in return for their company. These scarves however are given by women to women as a manifesto of sisterhood and solidarity. This work also opened up a new perspective for me on masculinity, which is just as fragile as femininity.
Has a transformation taken place in your case? What has helped you along your way? Do you have any idea what awaits you?
I think that I can call the last two years transformational, not only from the viewpoint of the general paradigm of changes in society, but also from an inner perspective. Taking time to stop and reflect, stays in nature and self education are essential in allowing one to withstand the storms moving our planet. Now I'm focusing on female sexuality which has led me to start writing poetry, something I am really enjoying at the moment.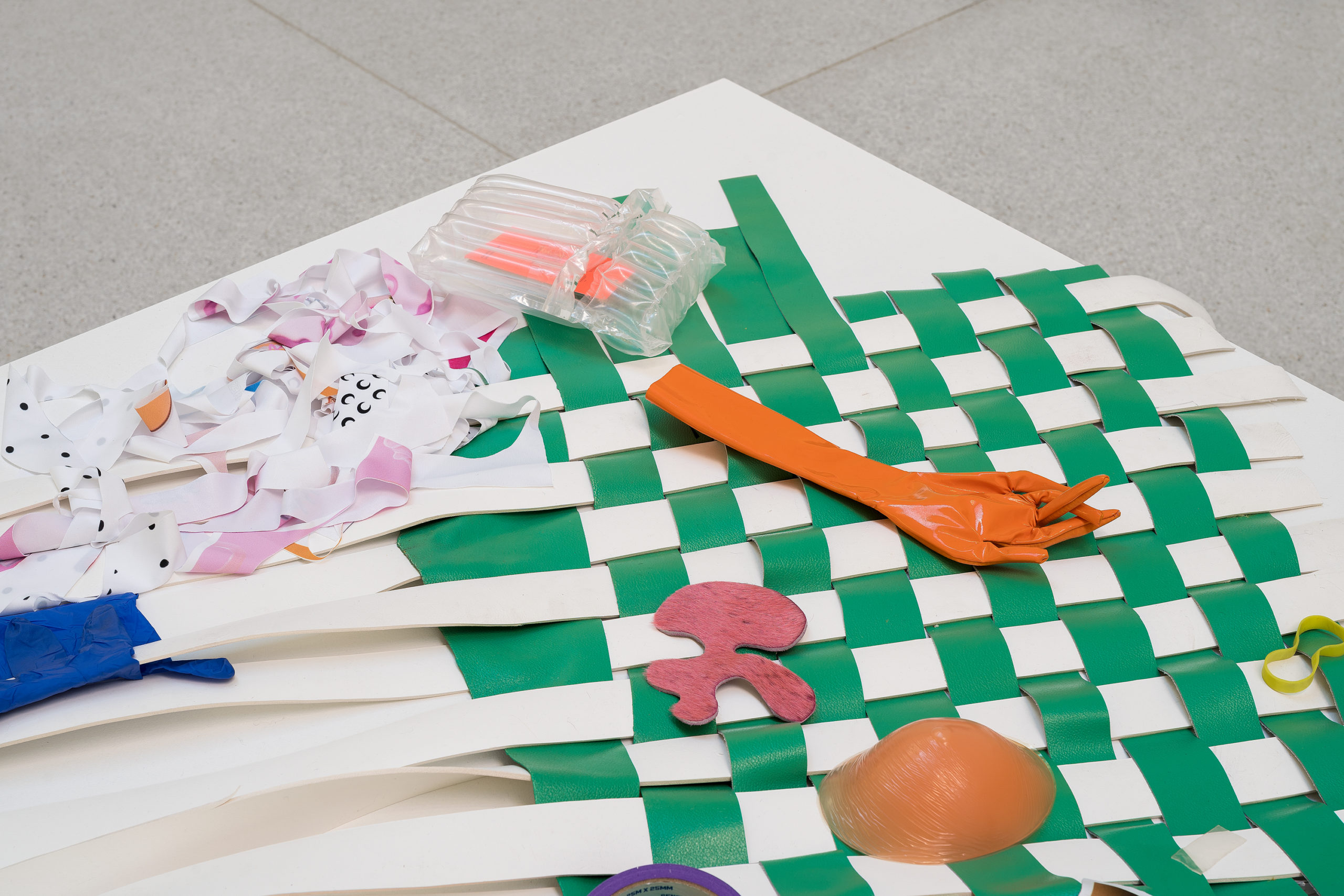 Photo: archive National Gallery in Prague
I like the parallel of this work as it relates to the relationship between men and women in general. Even in today's generation women must come to terms with the consequences of historical pressure and unhealthy relationships with men. Have you gone further with this motif in your work? How do you view the role of women and women artists in society today?
Relationships are like a mirror for me. They reflect society's overall stance. It's fascinating to observe and be able to work with this theme which, in my opinion, is inexhaustible. These days women are taking the reins. It's a challenge that we should meet with the vision that the patriarchy has made its own mistakes which we should not repeat. Our task is to put aside the ego and see beyond the boundaries of one's own gender. Collaboration is one possibility to healing the cracks of our civilization and giving it a chance of resuscitation.
As women, mothers, partners, etc. we should bring principles into society that connect matriarchy and patriarchy on an equal level. As an artist I sometimes feel like an endangered species that must simultaneously be incredibly resilient to survive. This requires a combination of a high level of sensitivity and introversion that must, at a certain moment, transform itself into extroversion in order for my work to be visible.
There's a currently ongoing exhibition at the National Gallery in Prague as part of the Empathy Award. What can be seen at this exhibition? Did part of this series come about in New York? Could you tell us more?
This exhibition concerns itself with recycling and upcycling and it's true that I had my first impulse towards it thanks to an artist residency in New York. When I visited the Material for the Arts Organization in 2018 I was overcome by the site and donation work. In my own practice I've always been very focused on materials and taken pleasure in discovering previously unknown ones, as I did during my stays in Korea and China. This project, which I worked on for two years, has combined my interest in fashion and creating my own collection out of unwanted material. In the installation you can also see my work environment. At the same time that the exhibition was opening in Prague, there was also an opening in the Below Grand Gallery, where I collaborated with the Berlinskej Model Gallery, that is with you and Richard Bakes. In this group exhibition entitled Holy Matter, I exhibited a latex top and latex panties from the latest works.
Photo: archive National Gallery in Prague
The exhibition State of Matter speaks to your fascination with material and upcycling. Now you've created your own physical and online platform as a way to house and explore this fascination. Could you tell us a bit more about that?
Yes, I'm currently preparing for the next step in my work, that is creating my own fashion label that'll be on the border of art and design. Right now I'm working on an online platform that'll be as user friendly and comprehensible as possible. One thing's for certain, the name of the label will be "Votre Dick," which was one of the central motifs of my scarves and the impulse behind continuing to explore this topic.
Most of your work is characterized by its use of upcycling materials. Is this an intention in which you battle yourself and the world or does it just happen naturally?
It comes naturally as a result of my own situation and sense of kindness towards my surroundings. I always consider the priorities when deciding what material to work with. I don't want to continue to consume more and more things. I want the work that I do to alert others to the fact that we as humanity no longer have run out of time, which can't be bought. By not recycling or surrounding ourselves with piles of garbage we only clog our own conscience by not acting with love towards nature or ourselves, becoming merely traumatized victims of our own existence.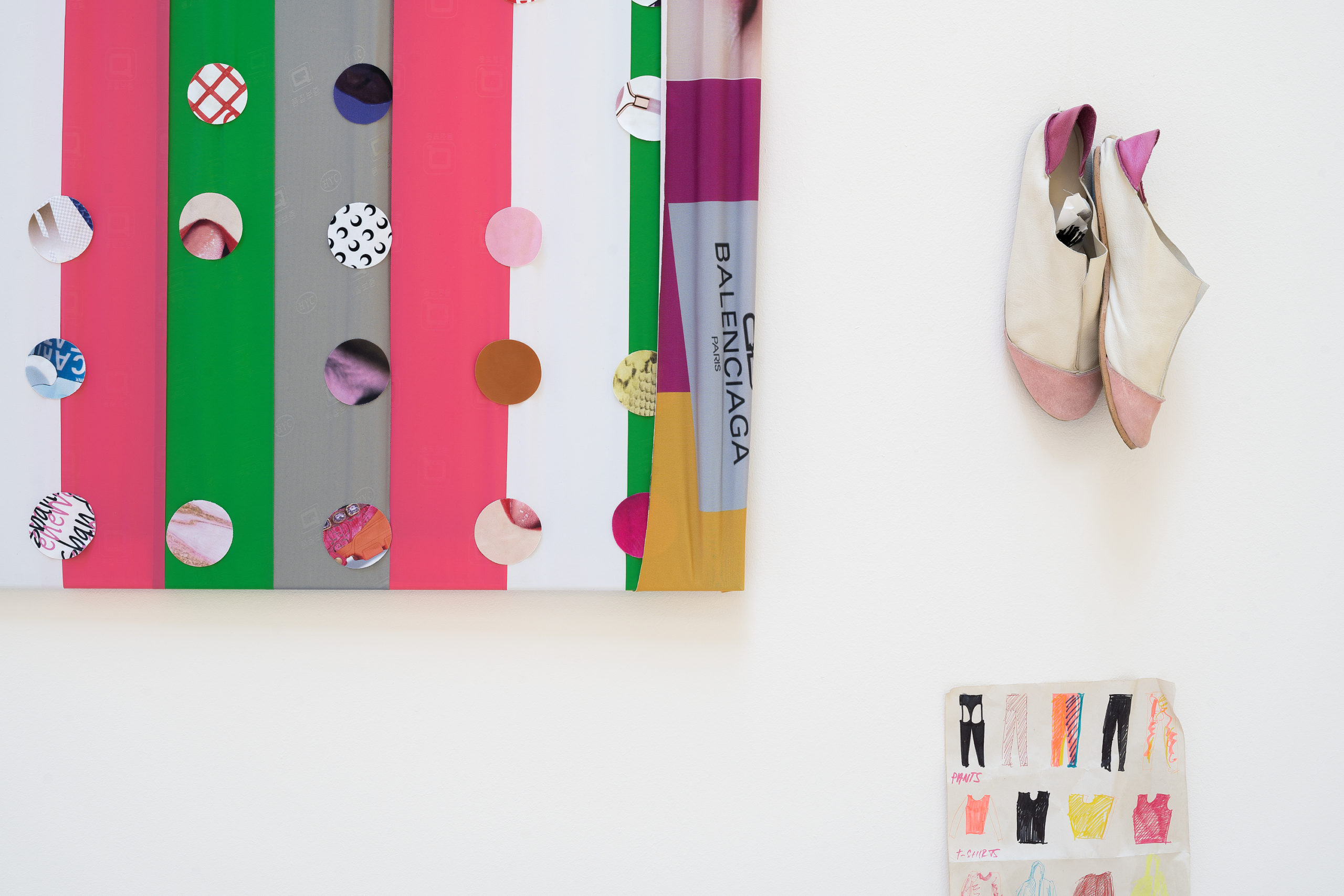 Photo: archive National Gallery in Prague
This project is a good illustration of another level in your work, that is an interest in design and fashion. In this case, radical fashion. Could you explain this concept? Do you also practice radical fashion in your own closet? Tell us where you buy most of your pieces and which of them you like the most.
I try to keep my closet within parameters that I can oversee. I often think about fashion and what it means. Fashion is a reflection of the mental state, it is a communication with one's surroundings and often makes up our first impression of a person, how they've fixed themselves up, what they're wearing, etc. Radical fashion doesn't cling to having plenty of everything. It's about the feeling of being yourself in what you're wearing, which is a part of your identity. It's an expression I can articulate without speaking, just through what I'm wearing. The fact that I sew my own clothes is a way of communicating, telling the world outright what's important to me. Most often I buy Camper shoes, Rains clothing and I adore the creative shoe company Simona Vanth and many others. In my own closet I prefer jumpsuits and kimonos with which you can create many variations and which are made up of surprising materials.
For more:
http://www.romanadrdova.com/
@romanadrdova
@lenkawallon