Ray Lopez: Notes From Governors Island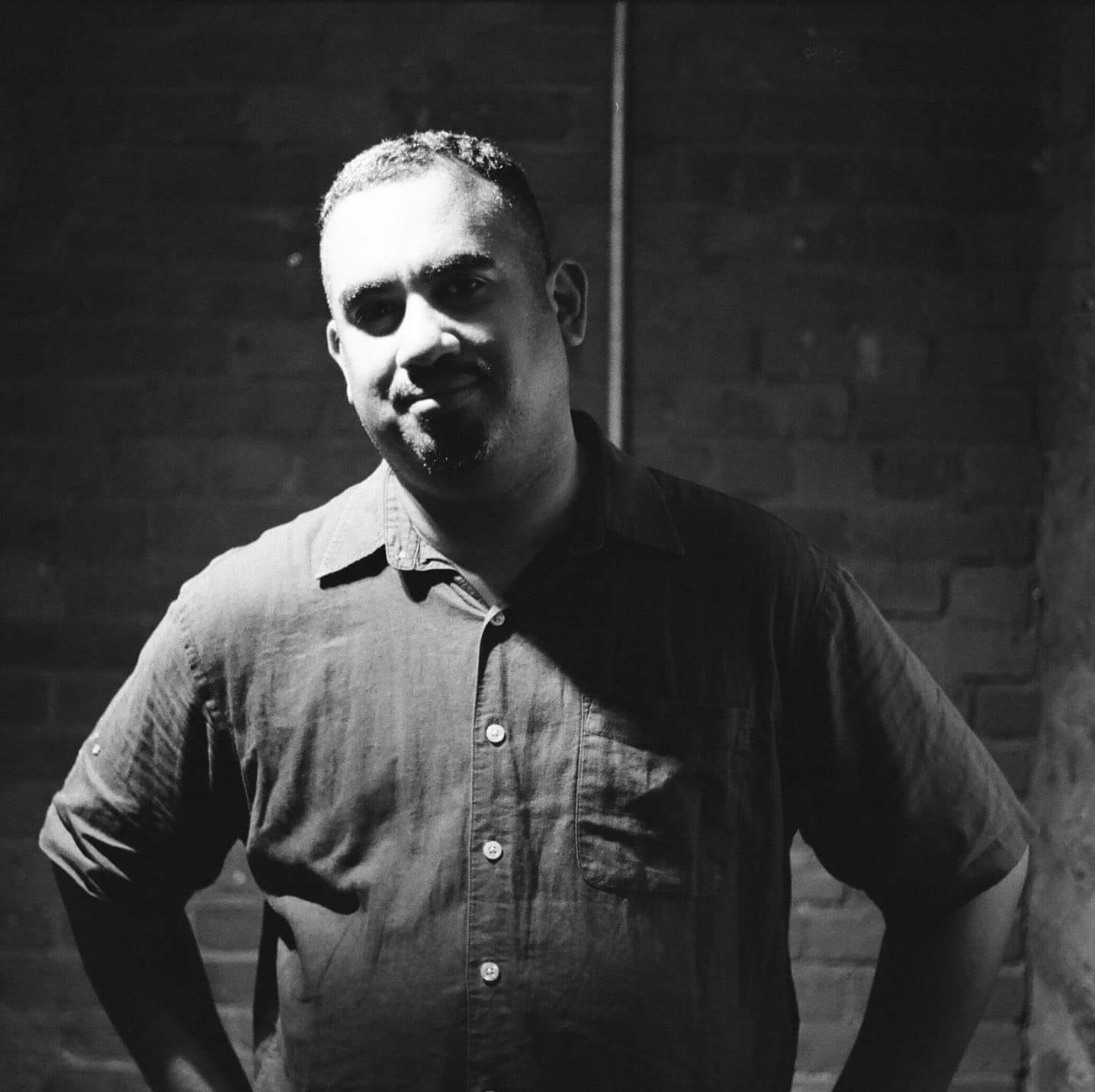 Born in Brooklyn and now living and working in the Bronx, Ray Lopez is an artist with a deep love for film who creates visual works in acrylic, watercolor, marker, ink, and collage. I first met Ray when he was a member of the Studio Program at Healing Arts Initiative (HAI) in Long Island City, Queens. Now working with Fountain House Gallery, Ray recently completed a residency with this organization on Governors Island in New York Harbor where he invited me to visit his studio and showed me some recent drawings, mostly portraits, he'd been working on along with an excellent exhibition downstairs that included some of his works. It was a very enjoyable and easy voyage from Brooklyn via the ferry departing from Red Hook near Pioneer Works. Governors Island is a special part of New York City, and true to this city's spirit it is a hub of cultural activity where you can find extraordinary artists like Ray at work! Highly recommend visiting Governors Island this summer to see what it's all about, and although Ray's residency has since ended you can learn more about his work on Fountain House Gallery's website.
Interview by Brandon Johnson
When did you begin making art and what path has your career as an artist taken since then?
I started to make art when I was a young kid—drawing or doodling images from movies, TV shows and cartoons as well. I would usually hide my drawings from my parents, especially my mother, Maria, because of the themes from horror movies for which I did scenes as a storyboard format. During my teen years in High School, I never took any serious art classes, but I was doodling or sketching on my school notebook just for the fun of it or when I was daydreaming. During my late teens and twenties I took a pause by not doing any serious artwork, but went back to making art while I was attending workshops at HAI (Healing Art Initiative), which closed down in spring 2016. During that time I was making art and making a career as an illustrative artist. I've continued making art at my small office/art studio space in the Bronx at my current apartment. And displaying some artwork at Fountain House Gallery in New York City and also other galleries and venues throughout the city.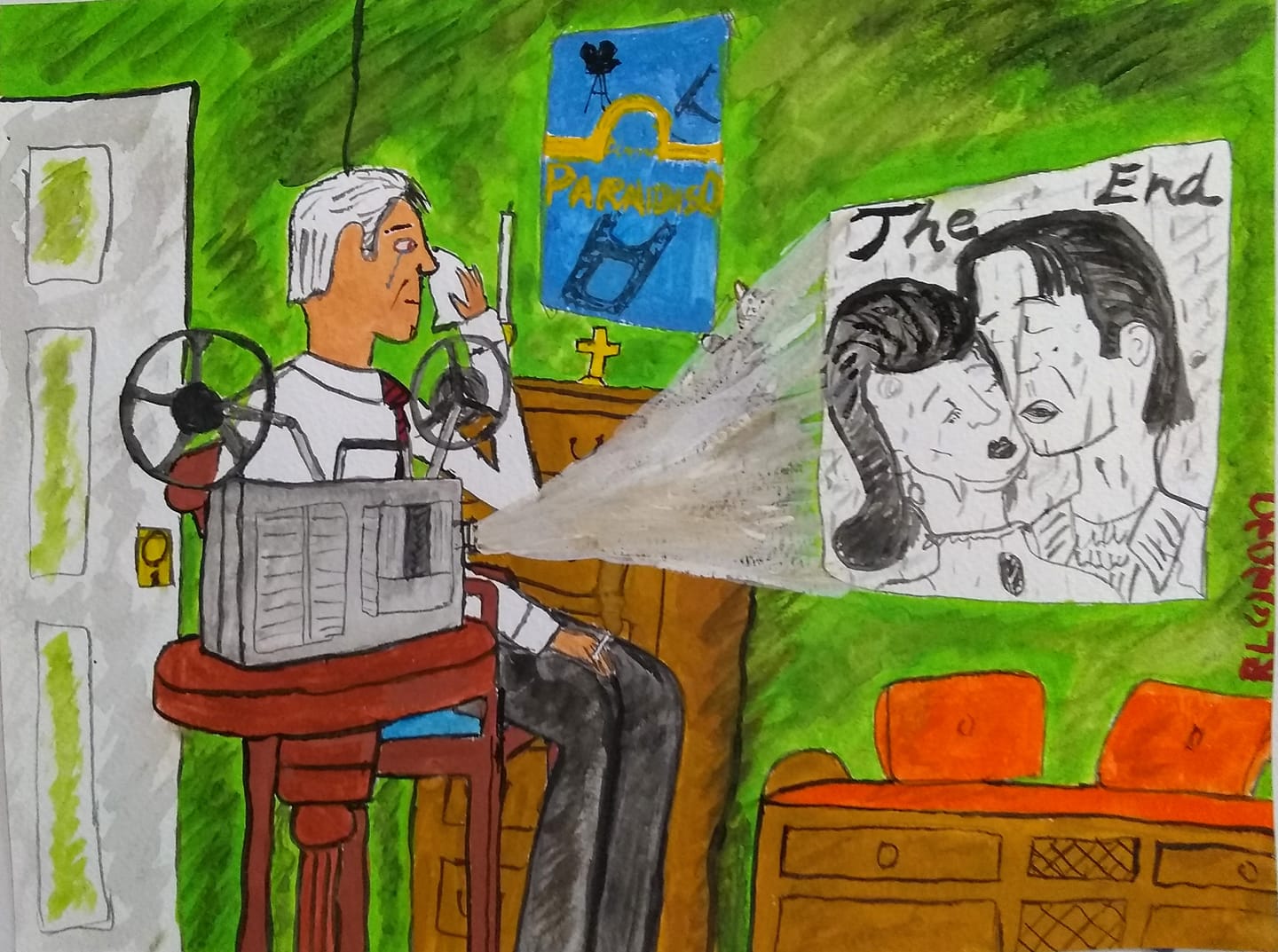 Ray Lopez, Cinema Paradiso: A Retrospective, 9 x 12 inches, watercolor on paper
I know you are a big fan of film. Can you explain how film influences your artwork?
Well, film is a quite big endeavor for me to interpret into art. Growing up I've watched a lot of movies on TV, video and sometimes at the movie theaters. I first started watching these art house, avant-garde and independent films in my teen years, which includes foreign movies that gave me some intellectual ideas of creating these artworks from movies like part of a scene, an advertisement like a movie poster of the actors, actresses as well as the world class filmmakers like Pedro Almodovar, Peter Greenaway, Mike Leigh, Federico Fellini, Lars Von Trier, and sometimes Hollywood directors like Steven Spielberg, Kevin Smith, Steven Soderbergh, Quentin Tarantino, Robert Altman and the late great John Hughes. I usually make scenes from a film or a retrospective of a movie. But in good, glorious, rich, bright and vibrant colors of my artwork that I have interpreted into art from films just like a Almodovar or Fellini feature.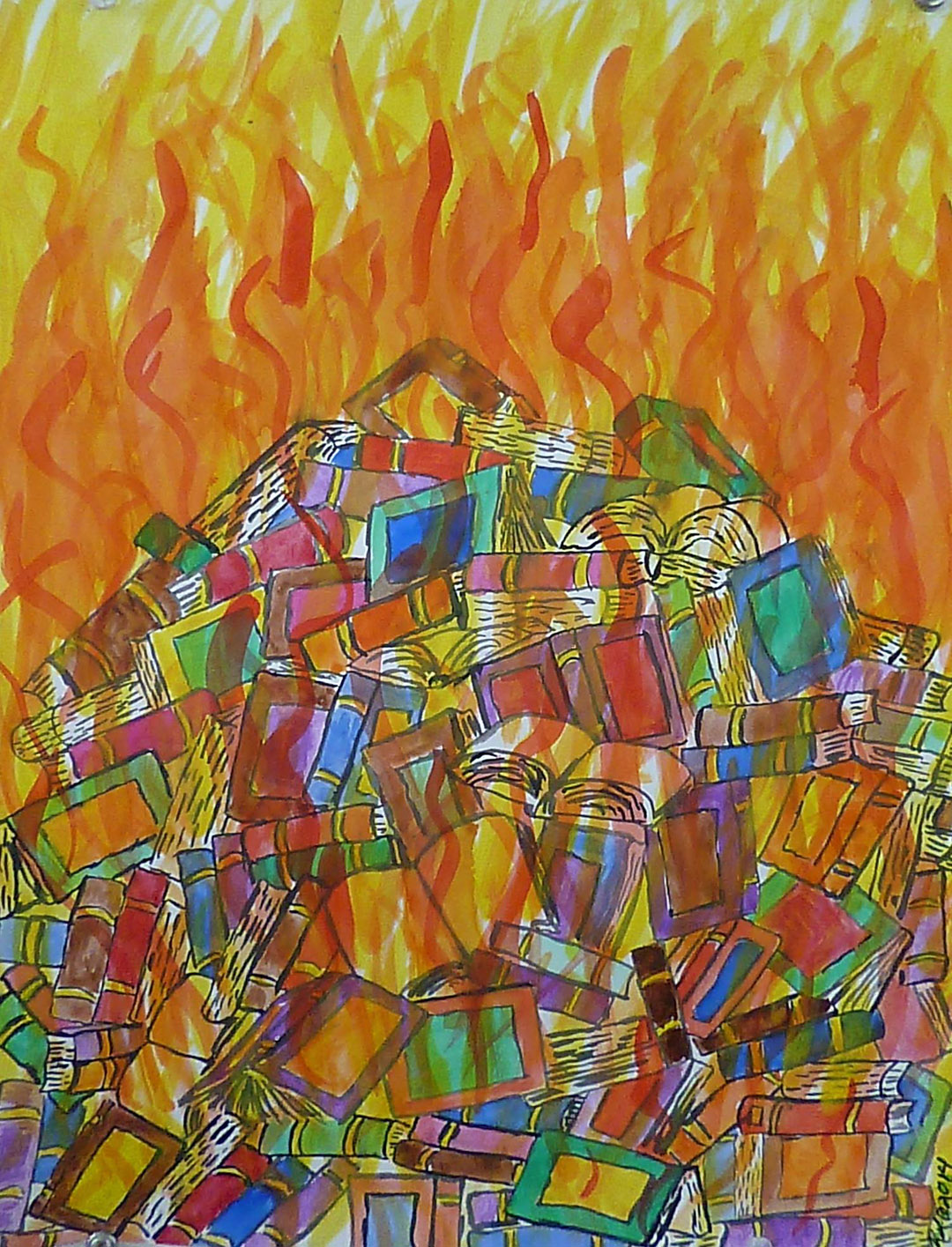 Ray Lopez, Burn Thy Books, 11 x 15 inches, gouache on paper
I've also seen artworks of yours based on current and past news events. Where do you get your news from, and what inspires you to respond to these events with your art?
Well, we are totally occupied with what is going on with current events from the news sources and how the subject matter of what is going on from this city, the whole country, and especially the world we live in. For example, like the one-year anniversary of the overturn of Roe vs Wade from the Supreme Court, for which I have made a painting of the Statue of Liberty. Instead of holding a torch, she's holding a wire hanger with some blood on it and she's wearing a pink stole around her. It's a truly remarkable piece of art that deals with the subject matter of this controversial issue that can get people talking. And I also made art that deals with the human rights campaign, activism, climate change, police brutality, the #metoo movement and anti-war, especially anti-Trump agendas that can be made into art that I would like to use to address the ethics of the humanity from society. By making art, it can make a difference of what can be addressed from the current or past standpoint of the media outlets and can be an informative response from society that can make or break the news sources that can be a challenge to deal with. And the person's views of their response by giving a perspective of their own.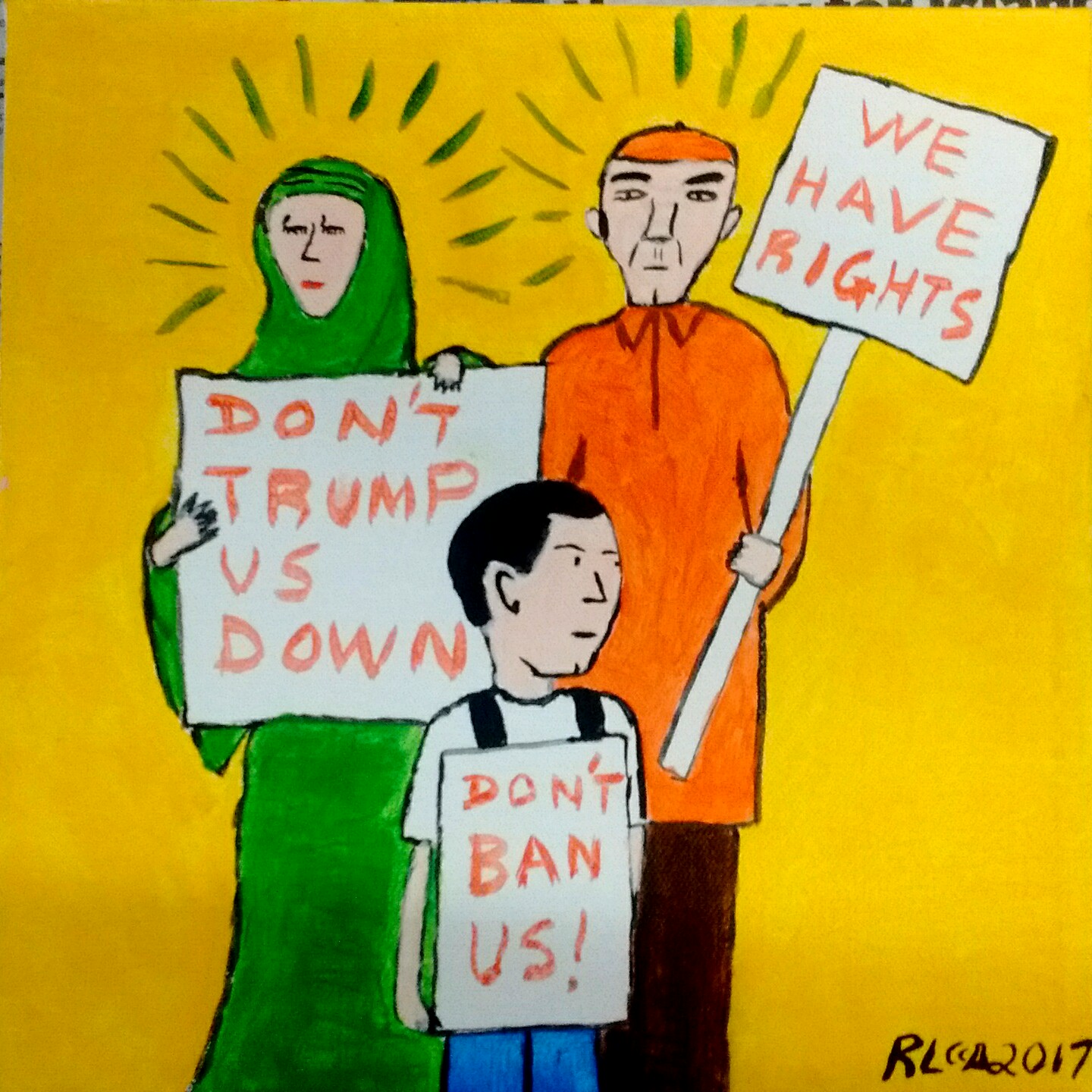 Ray Lopez, Don't Trump Us Down!, 9 x 9 inches, acrylic on canvas
Last weekend I visited your studio at Fountain House on Governors Island where you are finishing an artist residency. What was this experience like for you being on the island and working in this setting?
It was such an achievement that I have accomplished by being part of this residency. I really had a great time being part of the whole art community from the Fountain House Gallery and Studio who gave me a spot with three other artists doing the same residency for the two month period from May to the end of June. My studio or room (as some visitors called it) is kind of low key with a few postcards hanging from the wall in front of my desk or table with dreary settings—cracked and chipped white paint, decaying walls and a comfortable atmosphere, but sometimes inside, it gets either muggy or cool depending on the weather outside. I believe the house was built during the Civil War era or around that time. It got me to go to the island, not just doing sketches from my studio, but to visit the island by watching and admiring the views of the city and the Hudson River, including the Statue of Liberty and Ellis Island. And we got visitors stopping by at the residency to see what's in store for them. Especially the displays of artworks from the artists (including me) that has been exhibited in the downstairs area. I also got to interact with visitors by giving them a guided tour of the headquarters of the residency. Also, on the section of Colonel's Row in Governors Island there are other artist residencies programs along the same row of houses with these great art programs and organizations that are a hidden treasure for the art admirers all young and old alike. It was quite a great place and quite a nice experience.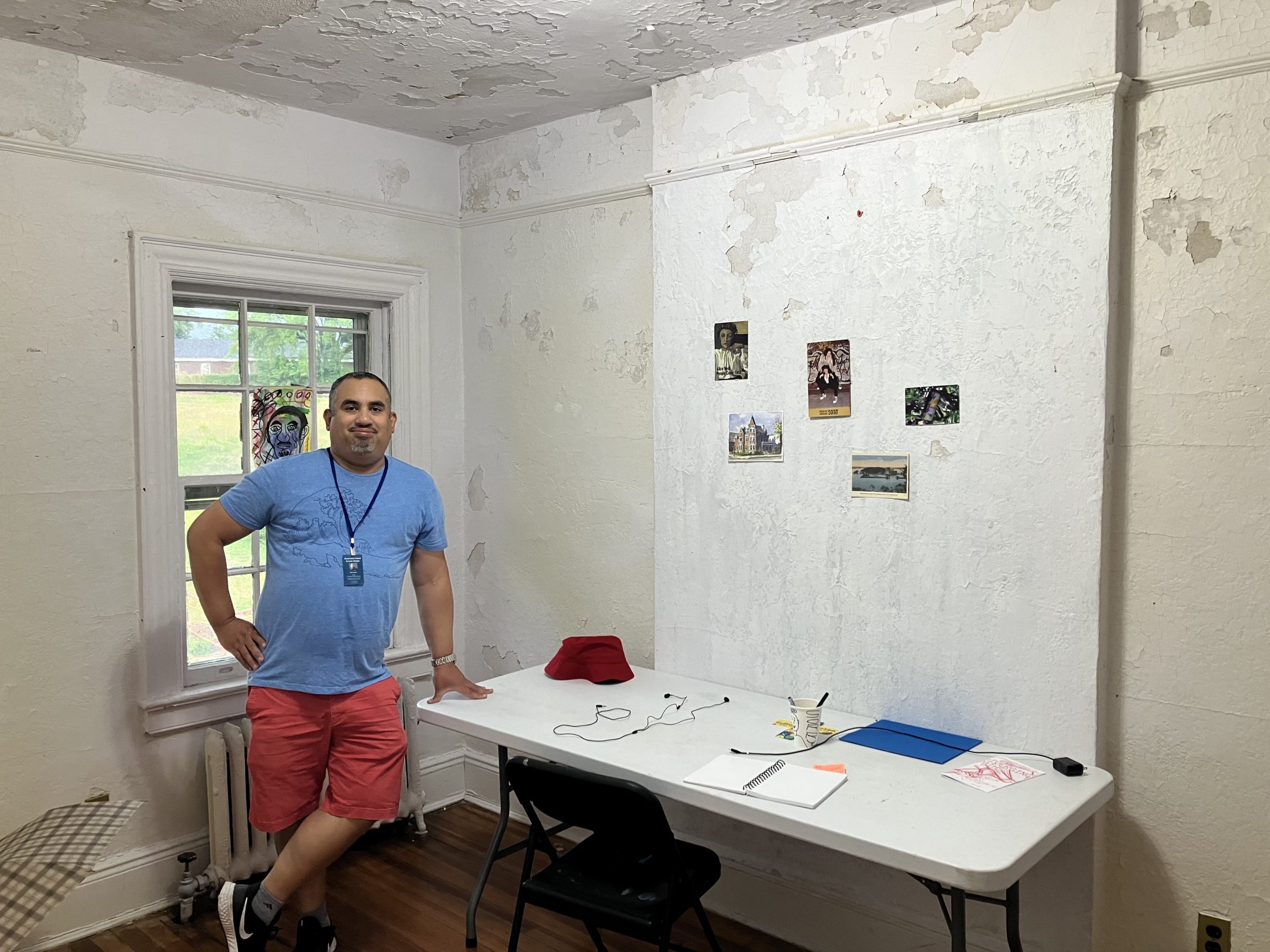 Ray Lopez in his studio on Governors Island
While visiting I noticed a few postcards on your wall including one of Alice Neel. Do you go to see art exhibitions often? Who are your favorite artists?
Glad that you have mentioned it. My favorite artists, past and present, are Frida Kahlo, Diego Rivera, Vincent Van Gogh, Francis Bacon, Claude Monet, Paul Cezanne, Henri Matisse, Pablo Picasso, Fransisco Goya, Andy Warhol, Keith Haring, Jean-Michel Basquiat, Rembrandt and well too many to list whose great works I have seen in museums and galleries, especially online. But also, my artists peers whom I have a social circle of friends and acquaintances. I have admired them for their artwork especially the ones that give me an inspiration of what their artwork is really all about. I am not naming names here in this article, but they know who they are. Even the non-famous artists that I really admired and gleefully enjoyed their works of art can give me an inspiration of what the next artwork that I will be making.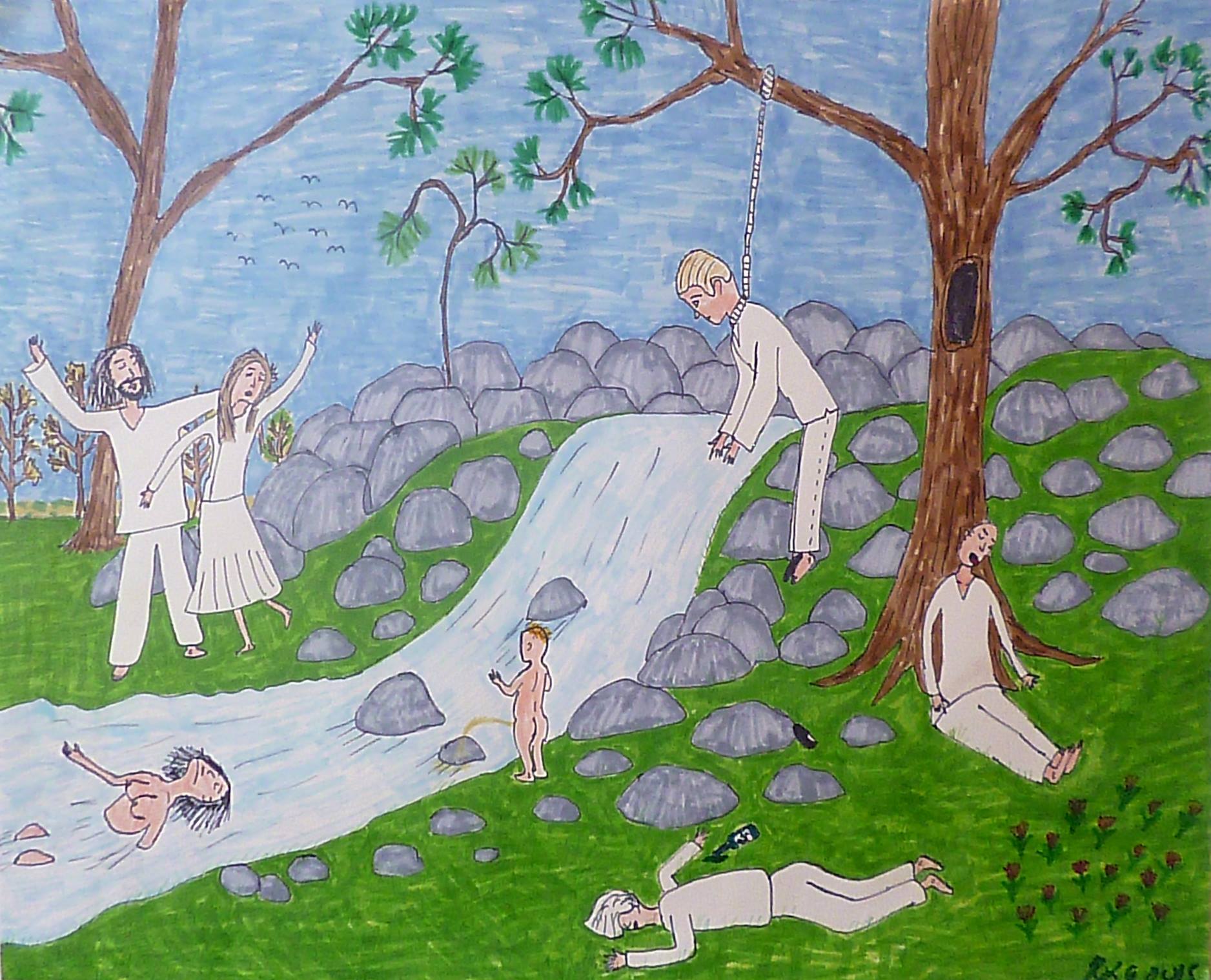 Ray Lopez, The Rise and Fall of The Cult, 18 x 24 inches, pen and colored markers on paper
What does making art mean to you? What what you do if you weren't an artist?
Good question. Well, I really don't know what art really means to me by making artwork. Let's put it this way, making art is not like a hobby or doing it just for a living, it's about having the passion and likability of making and transforming into something quite relevant and spontaneous for the artworks to come out to the best that I can achieve. If I have an idea of what artwork to make or what the subject matter is like, I just make it for the heck of it by making it into something that truly matters. It's like directing a film. When I was younger my goal was to become a filmmaker by going to college and taking some film classes that I have not able to be complete but failed miserably and did not accomplish. But to make art is like directing a film on paper or canvas. And if I was not making art, I would be wasting my time or getting a full-time job which is hard to get and especially to maintain the position. Or do a different hobby like taking photos of scenery and stuff with my digital camera that I bought three years ago that I use to shoot some footage to make my small, short experimental films that can also be a source of artmaking.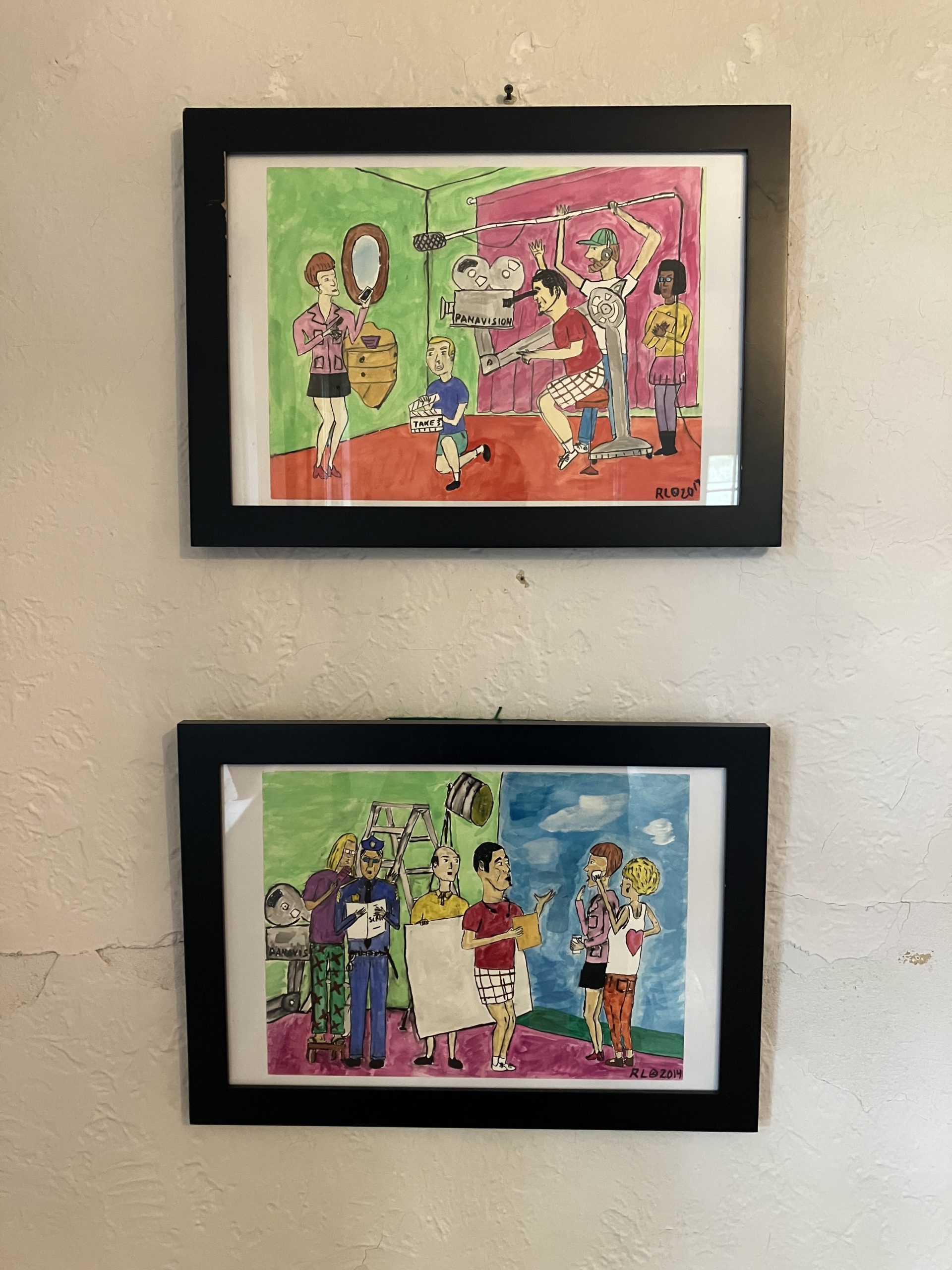 Installation shot of two works by Ray Lopez from "Works by Governors Island Resident Artists" at Fountain House @ Governors Island, House 410A, Colonels Row