THE MAGIC MIRRORS OF MELANIE FLOOD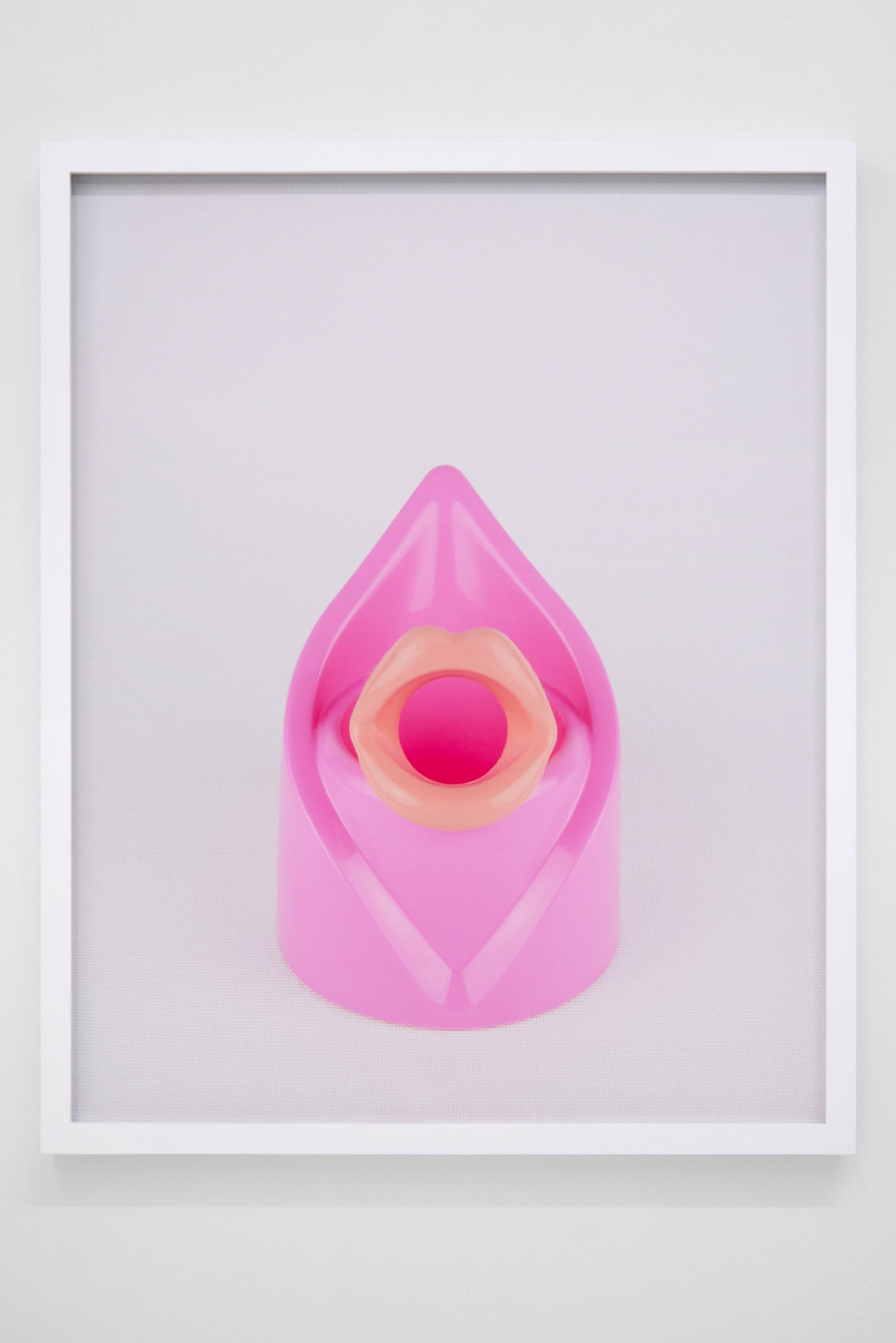 Untitled, 2017, archival pigment print, 20 x 16 inches
Melanie Flood is an artist and curator working out of Portland, OR. Her work is photography-based and finds an affinity with other contemporary conceptual photographers such as Anne Collier, Annette Kelm, Sara VanDerBeek, and Eileen Quinlan. Flood's solo exhibition "Mirror Mirror" at Fourteen30 Contemporary in Portland features a body of new work using studio still-life photography to examine modern femininity and the female body.
Interview by Brandon Johnson
The show's title Mirror Mirror references a famous line from the Brothers Grimm's "Snow White," in which the Evil Queen asks her magic mirror each morning: "who's the fairest of them all?" What does this question mean to you? And could the works in this show be considered answers?
I wake up to my reflection in a mirrored dresser and I look at my face. I am getting older and have fewer photos of myself now than I did a decade ago. I am less vain. I see beyond my physical appearance, unlike when I was in my twenties. For me, there's no looking in the mirror and not having an inner dialogue about aging. Youth is paramount in our culture and is celebrated. It's impossible for me to separate myself from growing up within the constraints of traditional feminine roles. These experiences have defined my life. It is only now as I approach 40, that the distractions of being young, fecund and beautiful have fallen to the wayside that I can see the world more clearly. It is finally a world I can attempt to make my own, I get to redefine my value.
The Evil Queen believes that power lies in beauty. As Snow White grows from a child into a young woman, she will one day replace the Evil Queen, rendering her powerless. As women age, our fertility declines, stereotypically we become almost invisible to the opposite sex, at times we are replaced. Our value is questioned. The word "fairest" as used in Snow White has a triple meaning, referencing beauty, age, and race. Being young, white, and physically attractive is a currency in Western culture. These ideals have been built on patriarchal, white supremacist foundations. I believe this is shifting, but the burden of gender roles is ingrained in female experience and further exacerbated by male expectations of how women should look and behave. It is unpopular to say, but men are also victims of this antiquated misogynist paradigm.
I see the photographs in my show as reflections, not answers. I borrow my exhibition title from a book I've been reading Mirror, mirror: Images of Women Reflected in Popular Culture by Kathryn Weibel written in 1977. Fashion and personal adornment are a major influence in my work as it's such an integral part of my everyday life.
How has your relationship to fashion changed over the years, and what has this meant for your work?
My relationship to fashion has remained quite steady. I've always seen clothing as a way to express myself, to assert my individuality or later, my femininity. What has changed is what I express. I had a lot more interaction with clothes and fashion growing up than I did art. Clothing was a way to fit in with the groups of people I related to. I was very into grunge, hardcore, alternative music scenes in the early '90s and dressed in x-girl and Todd Oldham. Then there were raves at Limelight and Twilo and that changed my wardrobe.  As I approached my early 20's, I began dating regularly and wanted to attract men. Sadly it seemed very normal to me to attract partners this way. Living in Manhattan during the years of Sex and the City, stilettos and form fitting dresses became my uniform. My clothes are still about expression, but also about function and comfort while supporting independent female designers/shopkeepers. My awareness of how clothing is used to reinforce ideals that minimize and attempt to control how women should present themselves has grown so has its prevalence in my work.
Outside of the exhibition's title, how much influence has Kathryn Weibel's book, or any other books, had on the work you make?
I read a lot of art theory, feminist history, and am a political junkie. Some favorites I've read recently include Gender Trouble: Judith Butler, I revisited Femininity: Susan Brownmiller. Consuming the news everyday, was fueling the way I had been contemplating my own experiences of dating, assault, aging, and marriage. The feeling of conservative overlords poisoning the whole planet and trying to control my body, my potential and my future was in the forefront of my mind when in the studio. I had gone back to books I read as an undergrad that were especially formative. Reading second wave feminists Betty Friedan, Kate Millet, Gloria Steinem, validated how I was feeling—this patriarchal garbage has been going on for a very long time. As much as I related to the words, they were leaving out a huge story. White feminism is problematic as it can only view the world from its own narrow perspective, it is my purview too as a white woman. I began to seek out more diverse voices. Space Invaders: Race, Gender and Bodies Out of Place: Nirmal Puwar had the largest effect on me, solidly introducing me to intersectional feminism bridging race, gender, and economics. I also love to read everything in regards to photography particularly from 2005-present. I'm currently obsessed with Sarah Charlesworth: Doubleworld from her New Museum exhibition and have been looking at more sculptors like Sarah Lucas: After 2005, Before 2012.
How do you feel your art practice has evolved since moving to the Pacific Northwest, and Portland specifically?
I was focused on my curatorial practice in New York more than my art practice. But, the curatorial practice was totally inspired by my not knowing how to have an art practice. I didn't know what kind of work I wanted to make, but knew what I liked to look at and think about. When I started Melanie Flood Projects in Brooklyn in 2008, it was an effort to join a flourishing community I interacted with online. The emerging photography scene was really growing, but I wasn't meeting a lot of people in person. Opening my home to host exhibitions was a way to bridge that gap, and in turn learn what it meant to be an artist. When I moved to Portland in 2010, the art scene appeared tighter knit and difficult to enter as an outsider. I lived my entire life in New York, so friends and a support system were built in. I had none of that when I relocated, it was challenging.
Everyone I met here was an artist, it was like moving to an arts commune. Everyone had a studio, they were cheap then so I moved into one too. Living outside of a commercial art hub has its advantages. The worries of competition and being visible were less important. I didn't need a full time job because it was more affordable. I wasn't partying anymore. I had a lot of free time on my hands and spent most of it making work that was inspired by the artists I admired: Annette Kelm, Shirana Shahbazi, Christopher Williams, Eileen Quinlan, Michele Abeles. There wasn't much contemporary photo being exhibited or made in Portland at the time so when I showed it to be people it sparked a dialogue. I eventually met a few like-minded artists and started a crit group, and put shows together. I curated an exhibition at Worksound, a gallery started by Modou Dieng who I met through prior zingmagazine Managing Editor Sari Carel. The artists came from New York and Texas, we got a write up in The Oregonian, I felt momentum and energy again. It was different from the frenetic party/networking feeling of the shows I organized and went to in New York. Discourse and conversation are valued. The DIY spirit is so prevalent, it's held in high regard and supported. In 2014, I reopened Melanie Flood Projects in a third floor space of a building downtown. The set-up of the building is a doppelgänger of The Dikeou Collection. I feel incredible gratitude for the community I am a part of and am deeply invested in it being recognized for its contributions to the national arts dialogue.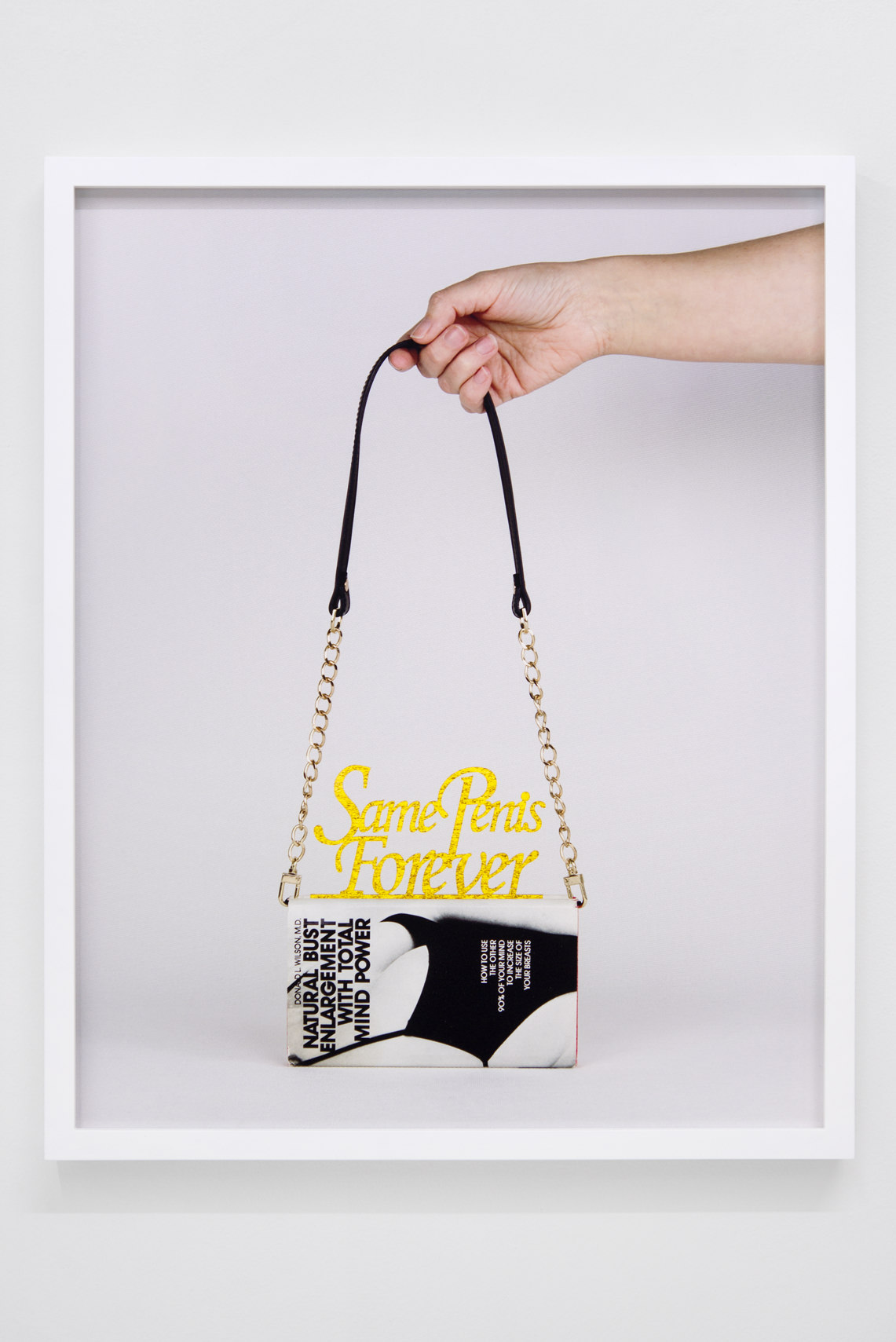 Untitled, 2017, archival pigment print, 20 x 16 inches
Returning to the work in the show, the staging of these objects involves a sculptural sensibility. Could you walk us through your process in creating these works?
I choose things for their formal qualities and potential referents—girly, crafty, feminine, figurative. I'm drawn to objects that are marketed toward women by their color or intended use. Exercise devices, bedazzled belts, anti-aging gadgets, pantyhose, bra inserts are a few things I used in making this new work. I never have a clear idea of what I want things to look like, but there are parameters. I made these photographs in my studio on a table top with mixed daylight from my windows and two large softboxes. The subtle lights shifts cast different color hues in each photograph that I really enjoy. After lighting, the tabletop and backdrop has to be determined before I can start working. I used the same backdrop material, a white buckram in each image whether it's obvious or not.  It's a starched millinery fabric used to make hat forms. The material is a subtle grid, allowing me to place fabric underneath it to let color through, or when I use plexi the buckram reflects a subtle  texture to an otherwise slick material. I have all of my props and materials everywhere. I move things around until I see something. The work is really about me seeing it more than it is about me arranging it. Usually the arrangements that are really planned out fail. I embrace chance and I'm always waiting for that moment when the chaos of making tons of combinations clicks.
What makes photography such a compelling medium for me, is how objects can be transformed when they are recorded by film or a digital sensor. The image of the toilet brush holder and silicone lips looks barely like anything in real life, it's clumsy. When photographed the surface of the plastic and rubber become refined, slick, the reflections of light add a symmetry that makes the arrangement look vaginal and flowery. The styrofoam torso with its Paint Me sticker is highlighted on one side with a purple colored gel, again the photograph transforms the thing itself into a strangely elegant form. I see parallels between photography and how I transform myself through garments, hair styling, make up and other adornments. Eyelash extensions, brow tinting, hair dying. It's all an attempt to highlight or hide a physical attribute, manipulate the way others see us, and how we see ourselves.
Finally, one photo features a book called Natural Bust Enlargement With Total Mind Power by Donald L Wilson which represents the type of dated (albeit never relevant) patriarchal mentality and form of bamboozling that got Donald Trump elected for president. How much or little have recent developments of political and social dissent, from the 2017 Women's March to #MeToo, informed your practice?
The book was a gift from my good friend, artist Stephen Slappe who is incredible at finding oddities at estate sales. He text me a photo of the cover, "Do you want it? Yes! I do!" I was mostly curious about how Total Mind Power could enlarge my breasts and as I read I started to see the absurd side of male sexuality and its effect on mass culture. There's a nostalgic 1970s kitsch in that book also found in Weibel's Mirror, mirror; it made me want to add humor and awkwardness to some of the work. My mother-in-law posted that picture on her Facebook proud to share the news of my show to her friends. Then she saw that it also said "Same Penis Forever" and got a little embarrassed (she didn't delete it).
As far back as I remember I have identified as a feminist and my work always had to do with femininity/female experiences. Prior to this exhibition, I was more reserved when it came to revealing the content in my work. I was focused mostly on my experience of the female gender as it related to memories surrounding my Mother and stereotypical rites of passage (first bra, prom, wedding dress shopping). I didn't want to be labeled a female artist making work about being female. The assemblages were more abstract, materials and arrangements were coded. The recent public events have absolutely informed this work. Last summer I felt it really bubbling over. I was constantly feeling stressed by the stories I heard of sexual assault and harassment in the media and by my friends. Knowing that women in my life who I loved and respected voted in a man who is so clearly a predator left me furious. Replaying my own experiences left me exhausted and angry everyday. I went into this show thinking that I didn't want my feelings to be quiet. There is still a layer of abstraction in a few of the pieces, but generally the ideas are obvious, front, and center. It's opened up my life to have frank conversations with other women, and men for that matter that I wasn't otherwise having on the same scale. I don't care about being labeled anymore, they're all constructed by a male art canon anyway. And, artists can be so narcissistic. Who is labeling me, other than myself?