Laura Serejo Genes & Kiyoto Koseki: with Wardrobe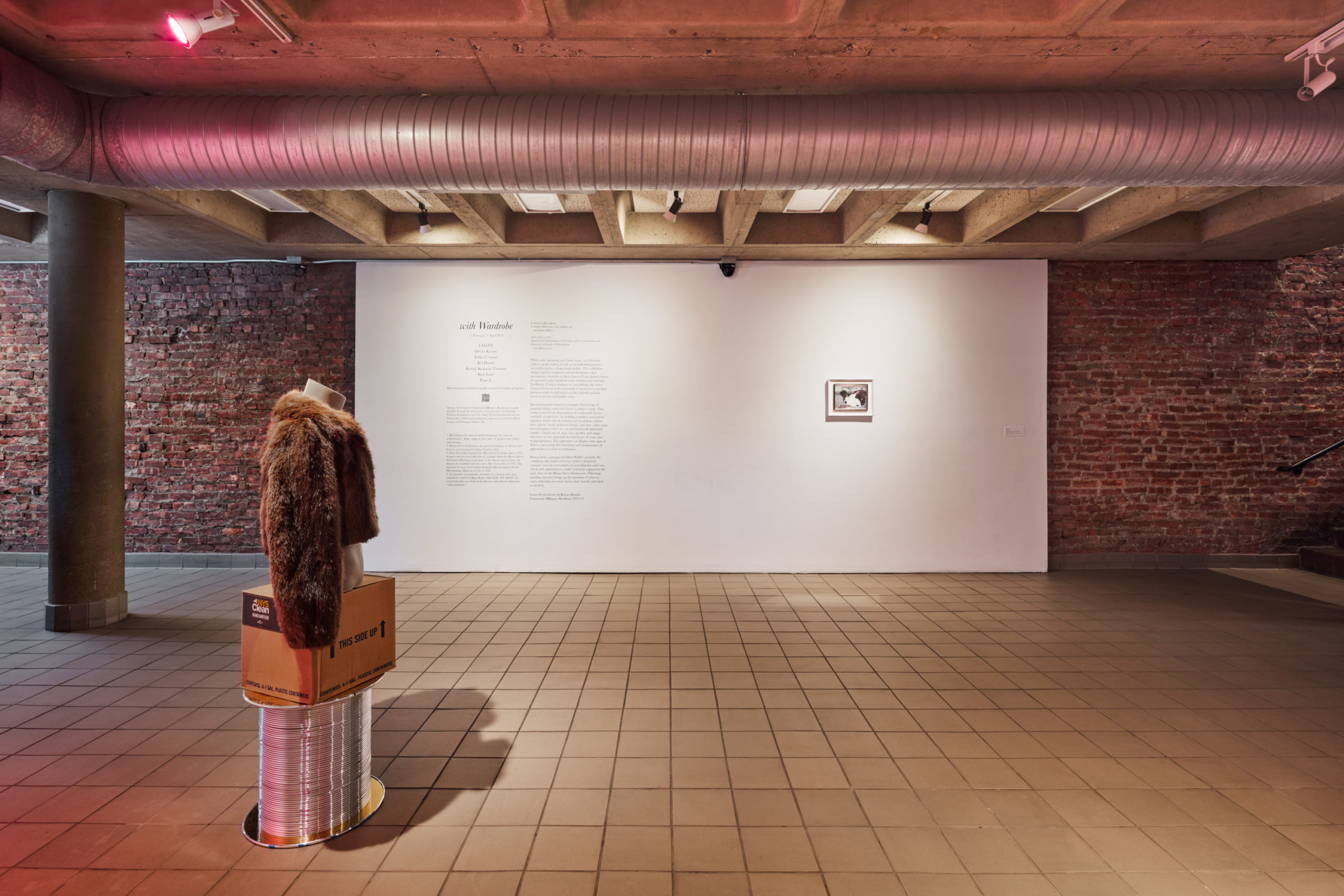 Installation view of with Wardrobe: Curatorial AIRspace Residency 2022–23 Exhibition, February 11, 2023 – April 9, 2023. Photograph by Olympia Shannon. Image courtesy of Abrons Arts Center.
Laura Serejo Genes & Kiyoto Koseki are a curatorial partnership based in New York who produce exhibitions and programs for specific sites, building upon existing systems to draw new social, material, and historical connections. As Curatorial AIRspace Residents for 2022-23 they present with Wardrobe, a group exhibition at Abrons Arts Center featuring works by CFGNY, Devin Kenny, Erika Ceruzzi, K8 Hardy, Keioui Keijaun Thomas, Ken Lum, and Pope.L. The exhibition is on view through April 9, 2023, with performances by Keioui Keijaun Thomas on April 4 and Devin Kenny on April 5.
Interview by Brandon Johnson
This exhibition explores a complex intersection of art, fashion, and performance via a collection of artists that "incorporate elements of dress sourced from global systems of material trade." How did your curatorial duo link up, and what paths led each of you to this cultural intersection?
We are both coming to curation as artists (and friends), but we see our curatorial endeavors less as an extension of our artistic work, and more as a natural outgrowing of the conversations we have maintained over the years. We share an interest in modes of indexing, and the form of the exhibition lends itself well to relational thinking across mediums and time periods.
As temporary "residents" of Abrons Arts Center, it was important for us to critically analyze the history of the neighborhood and the institution itself, both for ourselves and for the exhibiting artists. This was facilitated by the fact that the parent institution of the center, Henry Street Settlement, has played a significant role in the community for over a century. In particular, we gravitated towards histories of local garment production and the theatrical costumes that were collected from the Playhouse Theater. Some may be surprised to learn that The Costume Institute at The Metropolitan Museum of Art was actually started by founders of the historic theater, or that early garment manufacturing in the Lower East Side was done in the homes of workers until larger factories replaced this model.
Thematically, we were also thinking about dressing as an aesthetic act that we all participate in when engaging in public space—clothes as the medium that carries us between private and public spheres. Continuing that line of thinking, garments also act as signifiers for specific communities and social categories themselves might be thought of as "byproducts" of commercial enterprises. In a way, dressing and/or undressing is inevitably performed inwardly and outwardly.
I love the fundamental connection of this exhibition to the history of the site at which it takes place. In fact, the title of the exhibition, with Wardrobe, is sourced from a passage in Henry Street Settlement's founder Lillian Wald's memoir. In a greater sense, what role do you see history playing in the practice of curation? And more specifically, how did it play into your thinking and planning for this exhibition?
"Site" can be a bit broad as a term and it often describes spatial conditions alone, but you could think of "neighborhood-specificity" or "institutional-specificity" as a way of acknowledging a local history. For us, the site has to be material, temporal, and social.
That being said, our intention wasn't for Lillian Wald's memoir to serve as a central reference; we like how literary cues refer back to a source while taking on a life of their own. "With Wardrobe," which refers to the inclusion of coat check with admission to an event, is also a phrase no longer in popular use—a fact which lends it an interesting ambiguity. Both in theater or at a special event, the act of shedding a layer can reveal and activate another. This idea of layering comes up as a recurring curatorial strategy as well.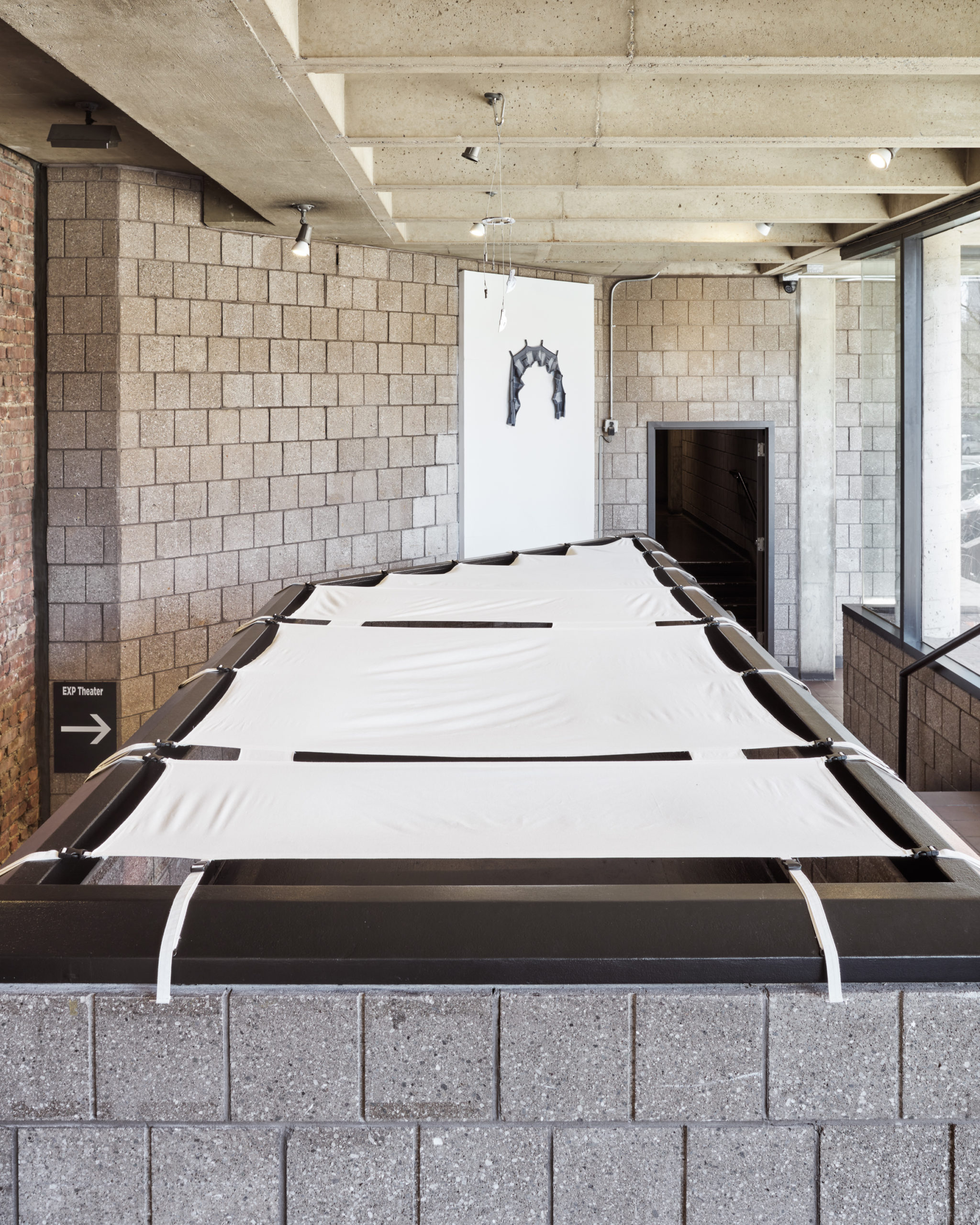 Installation view of with Wardrobe: Curatorial AIRspace Residency 2022–23 Exhibition, February 11, 2023 – April 9, 2023. Photograph by Olympia Shannon. Image courtesy of Abrons Arts Center.
While at the exhibition I took note of site-specific installations by Erika Ceruzzi engaged with as you say "idiosyncratic architectural details" within the Abrons Arts Center exhibition space. And with further reading I now understand that CFGNY's installation The Family (2023) is also site-specific, making use of antique wooden chairs from Henry Street Settlement. Being a sucker for site-specificity, I commend you and would like to hear more about your collaboration with these artists to execute these works . . .
We clearly are too! We set the field for the exhibition at the center to include Henry Street Settlement and its headquarters, which is housed in three conjoined 19th century buildings. This was another form of thinking about connections through time as well as space. We originally approached CFGNY to exhibit a selection of items from their clothing line, but the collective became very interested in Lillian Wald's progressive politics and lifestyle, and the framing of her story within queer history. (Henry Street Settlement was recognized by the New York State Historic Preservation Office as a LGBT Historic site in 2021.) Using antique chairs from the headquarters, they created a circular arrangement that seats 25 unique stuffed animals, recalling the chosen family Lillian lived and worked with. The combination of cartoonish characters, Colonial-style furniture, and Brutalist architecture creates a temporal mashup that bridges decades.
On her first site visit, Erika Ceruzzi expressed interest in an interstitial space alongside the stairwell to the Upper Gallery. This "tub" was a perfectly de-programmed space, in the sense that most of the employees and modern users of the building could not say what the space was originally intended for. Responding to this site, she made a work out of muslin, the material used for making clothing patterns. It's beautifully taut. She used nails, plastic buckles, and decommissioned machine hardware to provide this particularly satisfying tailored look—a soft service for a hard architecture. Erika collected the hardware accessories seen across the works during one of her residencies at a sock factory where she produces custom tube socks, a commodity that reoccurs in her work.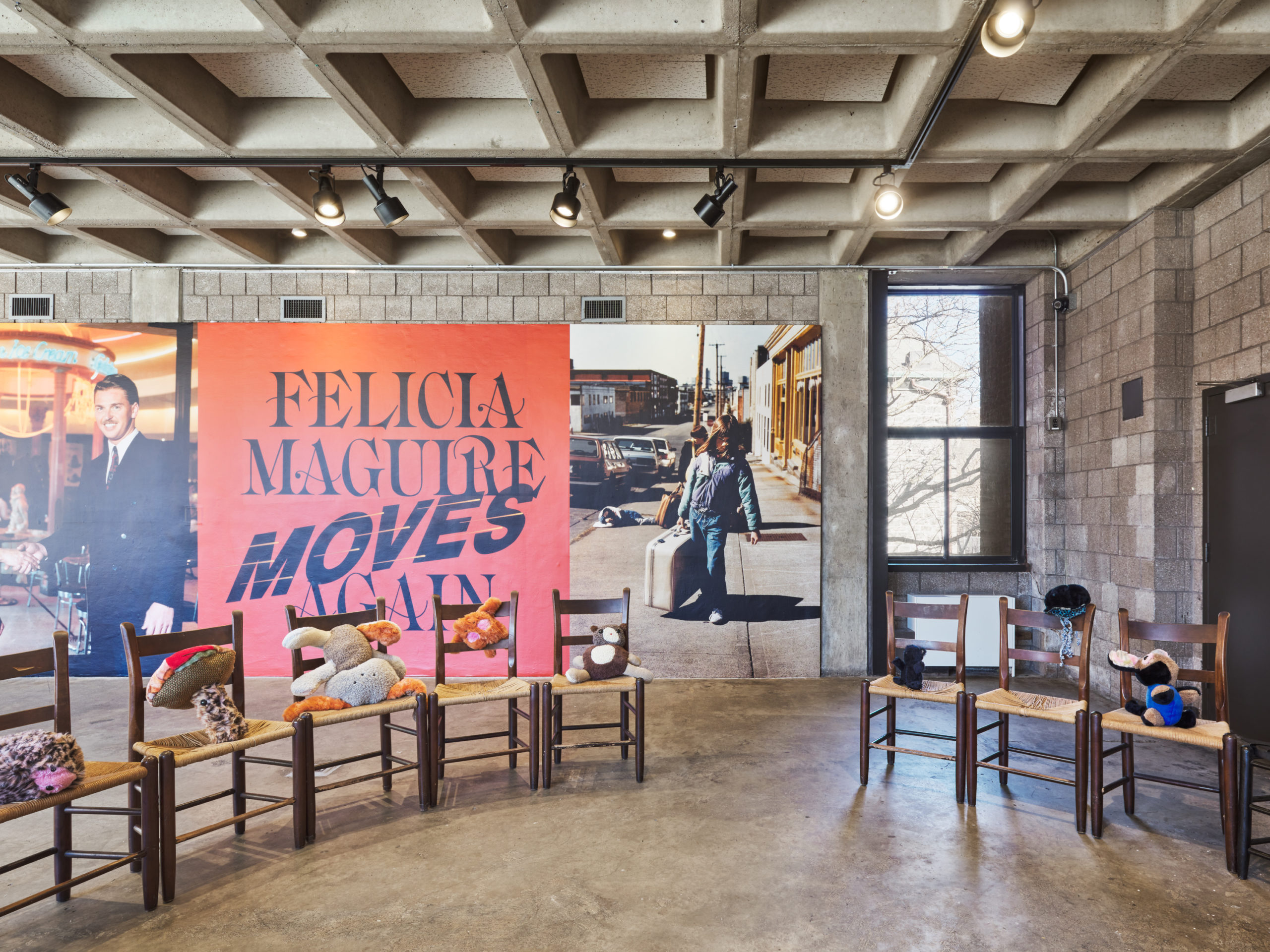 Installation view of with Wardrobe: Curatorial AIRspace Residency 2022–23 Exhibition, February 11, 2023 – April 9, 2023. Photograph by Olympia Shannon. Image courtesy of Abrons Arts Center.
On that note, what was your process for selecting the rest of the artists? Did you observe a trend that fed into your thinking around the show that these artists demonstrated? Or did you search out artists who interested you and then shaped your thinking in more of a feedback loop? In either case, curious as to how this roster came together, as well as how you feel the concerns of this exhibition relate to our current culture and society at large…
The selection process was quite mixed and it was shaped over some months, as we wanted to allow the site to feed back into our decisions. We were also mindful of how the center has framed art as a social service or as "arts for living," which made us think about the exhibition in relation to community health, both in subject matter and in practice. This made Pope.L's work important as a reference, as it explicitly responds to social ills, including what he describes as conditions of "have-not-ness."
We gravitated toward Ken Lum's work due to its reference to advertising and its ability to work on a scale that would take advantage of the visibility of the gallery walls from the street. In our conversations with Ken we learned that part of his family lived in the Lower East Side, right on Henry Street for some time after emigrating from China. Small, yet sentimental, details like this aided in our decision-making.
Although she is originally from Texas, K8 also has deep ties to the Lower East Side. Her work embodies the idea of "trendsetting" with a true humor and confidence that feels particular to the downtown scene and important to capture for discussion. Her monumental Untitled Runway Show, which was presented at the 2012 Whitney Biennial, continues to influence the art and fashion worlds alike, and we knew we wanted to exhibit at least a pair of "looks" from the collection.
Overall, we are especially happy with the lines of connection made between the artists and works that could not have been predicted. These connections feel both in and out of our hands in some regard, and maybe some of the magic is in this unpredictable constellation that forms as small decisions are made with a loose but larger picture in mind.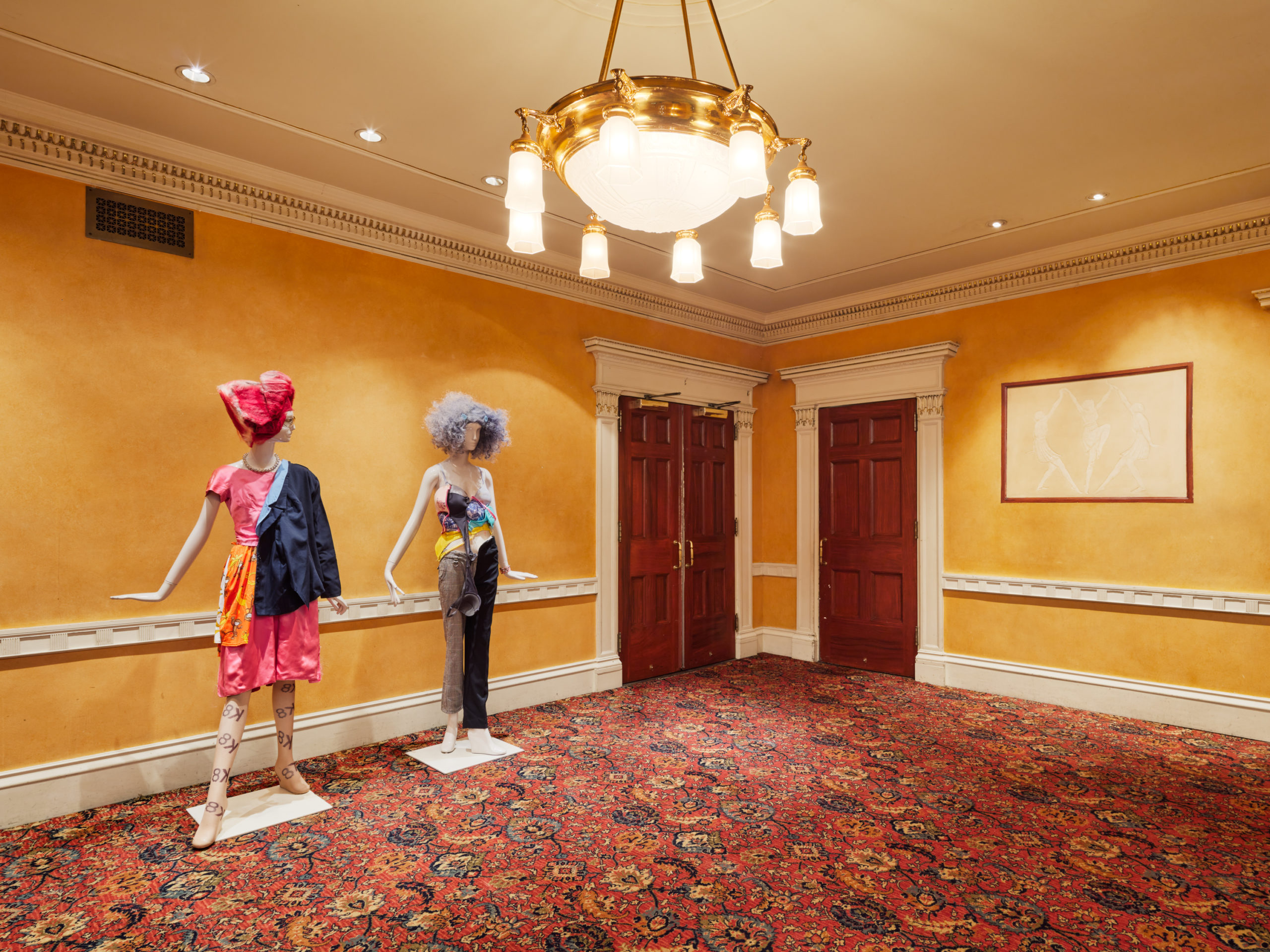 Installation view of with Wardrobe: Curatorial AIRspace Residency 2022–23 Exhibition, February 11, 2023 – April 9, 2023. Photograph by Olympia Shannon. Image courtesy of Abrons Arts Center.
There will be two performances: Keioui Keijaun Thomas's Come Hell or High Femmes: The Era of the Dolls and Devin Kenny's "It's the new style!" or "No more aggregatekeepers". What role do these performances play in with Wardrobe? 
We are very excited for these performances, as they expand upon the artists' contributions to the exhibition and allow them to present concepts latent in their sculptural work in a more interactive manner. The venue also offers a unique opportunity to extend the exhibition into spaces designed for performance. It's a special touch that the theater-goers have to walk through two levels of the exhibition to make their way to their seats. The architecture really served us well in all its idiosyncrasy—we can thank the architect, Lo-Yi Chan for that!
Finally, seeing as the exhibition was the result of an annual curatorial residency at Abrons Arts Center—what did you learn from this experience as curators?
The multifaceted context of the center challenged us to consider audiences in a different way, beyond the commercial or academic formats and tones we were more familiar with. While the exhibition exists as a backdrop to a buzz of activities taking place daily at the center, it can also serve to redirect one's path or one's gaze. We welcome this overlap of dedicated and serendipitous experiences, as it supports our interest in generating unexpected connections between artworks and their sites of display. These conditions allowed us to think more broadly about physical and figurative access points throughout the exhibition, taking into account the sizable windows and views from the street.
Our residency actually continues with a group exhibition opening in June at CC Projects on Allen Street featuring the work of Alex Dolores Salerno, Emily Manwaring, Nina Macintosh, and Shirt—current artists in residence at the center. There is definitely a shared experience across all users of the center and it will be interesting to see how this comes through off-site.