Kenny Schachter & Morton St Partners: Unsafe At Any Speed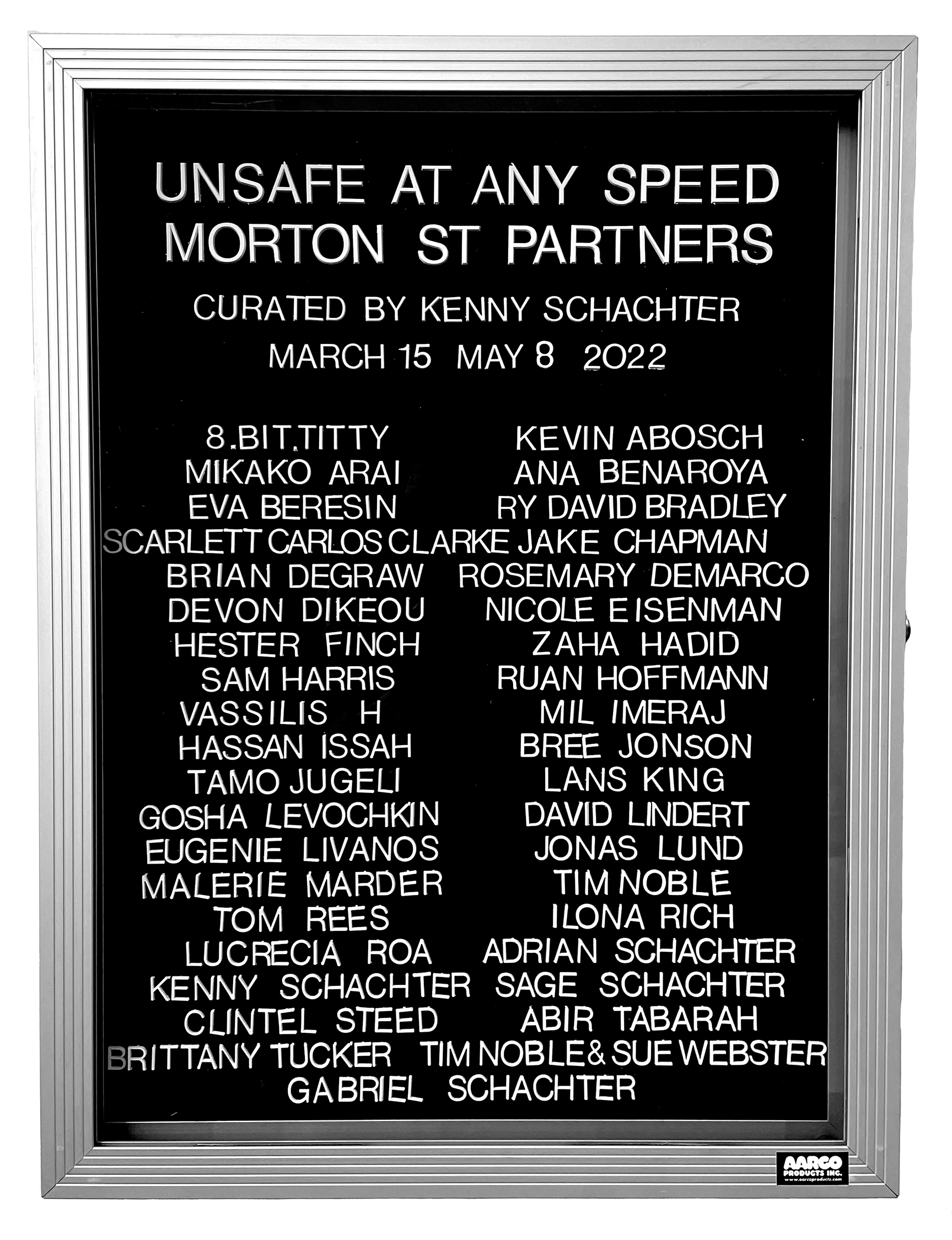 Devon Dikeou, "WHAT'S LOVE GOT TO DO WITH IT?": Unsafe At Any Speed, 1991 Ongoing, 18 x 24 inches
Recently opened exhibition "Unsafe At Any Speed," curated by omnipresent artist, writer, curator, and dealer, Kenny Schachter, is a return not only to his curatorial New York City group show roots, but also something beyond this. Schachter widens the scope even further to incorporate his post-1990s activities by including his own work, the work of his family members, and last but certainly not least, collectible cars—reflecting his own collecting interests, past creative partnership with architect Zaha Hadid, and his current collaboration with Morton St. Partners, who play host to the exhibition. Founded by Jake Auerbach, Tom Hale, and Ben Tarlow, Morton St. Partners is a curatorial project merging the worlds of contemporary art and collectible cars. Located between a "small-batch" donut shop and CC Rentals (a New Yorker's insider alternative to U-Haul), the space at 16 Morton St is conveniently equipped with a garage door opening out to a quaint West Village street adjacent to Seventh Avenue. Inside you'll find "Unsafe At Any Speed," the partners' inaugural show, a sprawling exhibition featuring a global representation of contemporary artists, with names both familiar and not so familiar. From paintings to sculptures to NFTs, the show seamlessly includes three cars—a 1970 Lancia Fulvia Rallye, clear-sided 1969 Citroen Mehari, and the Zaha Hadid concept Z Car. With collectible cars setting records at auctions and becoming the focus of institutional exhibitions at venues such as MoMA, the show and space represents a new curatorial front on the border of art and design. "Unsafe At Any Speed" is on view by appointment at Morton Street Partners through May 8, 2022.
Interview by Brandon Johnson
Many in the art world first came to know you through your 1990s pop-up group shows in New York City. Does this New York City group show feel like you're coming back full circle in a way?
Kenny Schachter: 100% feel the same as my early initiatives—large group shows, all over the place and wildly inconsistent levels of quality! Ha. But ultimately, tighter, and more ambitious. With 30+ years of experience under my belt.
The artists in "Unsafe At Any Speed" are a diverse group, hailing from countries around the world. How did you discover their work and what does it mean for you to bring them all together?
KS: There are 38 artists from 15 countries the widest breadth geographically of any show I've done in my career. The advent of social media, which blurred the physical boundaries and shrunk distances between people played a large role in the discovery and organizational process. It means a lot of work is what it means! Also, it's very satisfying to reach beyond my immediate circle and work with such a broad, culturally diverse community of artists.
Installation view; foreground: Citroen Mehari; background: Zaha Hadid, Z Car; photo: Phoebe d'Heurle
The show also features work by members of your family. Back in 2015 zingmagazine published a book of your family's art titled Family Affair. What's it like having a family full of artists?
KS: Art is one of the central threads that binds my family, it's the most satisfying experience I have ever had in my life, combining the two things I love the most—art and my family. In fact, the only things in life I truly care about as much as I do.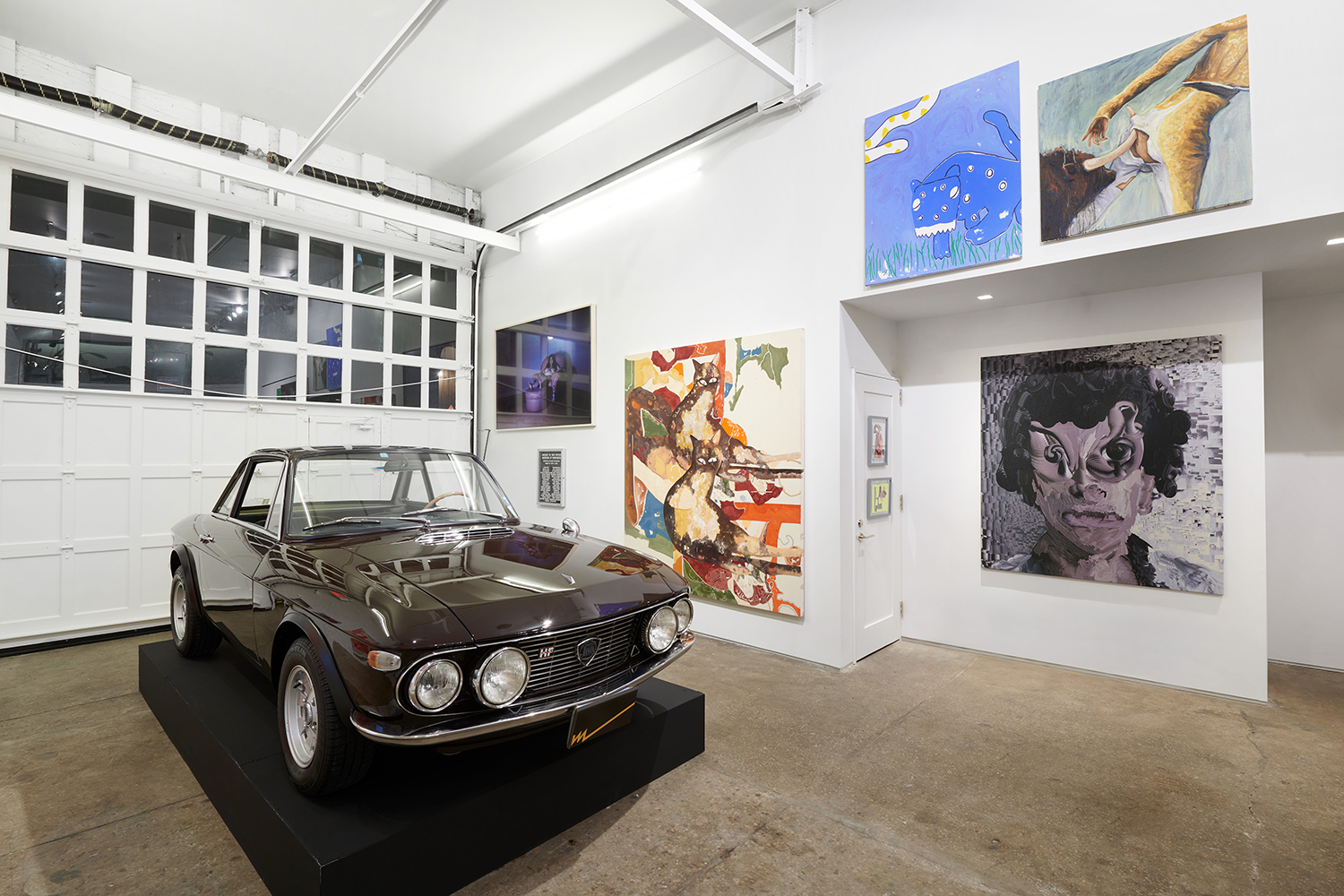 Installation view; left: Lancia Fulvia Rallye; photo: Phoebe d'Heurle
On that note, you are an artist yourself and multiple works of yours are in the show including an NFT, a chair, and an oil painting. When did you begin making work yourself, and what inspired you to be an artist?
KS: I have made works since I was a kid (in one form or another—largely collage from magazines applied directly to my walls in Long Island). I had a miserable childhood and living internally through rejigging existing imagery was a way to assuage my feelings and express myself. Not much has changed in 50 years, except now I get the beautiful experience of getting to share my efforts with others whereas as an isolated child it was a very solitary pursuit.
Your collaboration with Morton St Partners is serendipitous given your shared interest and investment in collectible cars. How did you cross paths and decide to embark on this exhibition together?
KS: Every year I sell a portion of my shit—make that bits of the collection I have painstakingly put together over the course of my entire art-life—to contribute to making a living; this annual event is a single-owner online sale at Sotheby's called the Hoarder and there's been 3 to date. I met Tom Hale, a partner at MSP and art collector, two Hoarders ago.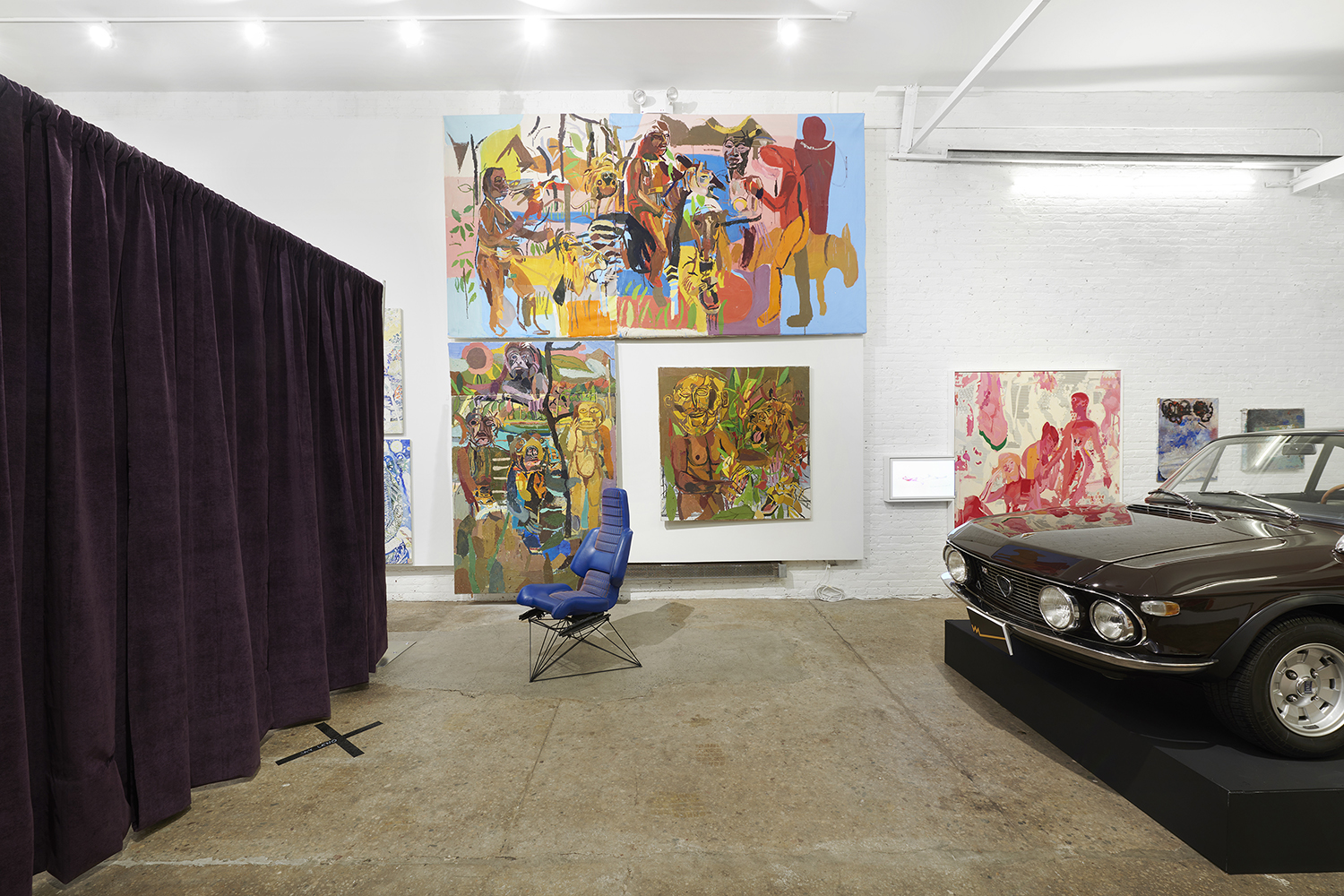 Installation view; photo: Phoebe d'Heurle
How did Morton St Partners originate? And what relationship do you all see between collectible cars and contemporary art?
Morton Street Partners: Despite working with different companies/niches in the classic car industry, the three of us bonded over our relative outsider status as younger members of this generally older segment. Here in NYC there is a particularly closely-knit small group of collector car experts under 40, and each of us was actively engaged with this group, even attending a quarterly "industry dinner." As the pandemic hit, we were all simultaneously looking for a new challenge and direction, hence the launch of Morton St. Partners. That automobiles should be regarded separately from any other design movement of the 20th century seem to evolve from both the private nature of the world that already collects them, and the idea that their utility prevents a serious aesthetic discussion. We see no reason to disregard the artistry of an automobile simply because it is self propelled. It's our experience that the conversation around automobiles engages all the same language of scarcity, materials, cultural relevance, provenance, and epoch already familiar to established collecting spheres. As for Kenny, Tom Hale was previously acquainted with him and had frequented his "hoarder" sales at Sothebys, so once we secured our new premises we could think of no one better to curate the first show.
KS: I have a democratic, non-hierarchical approach to art (and life). I don't differentiate between a poster, a chair or a painting—or cars—when created with love and passion. Industrial design, namely 1970s sports cars, were my gateway drug leading to my art obsession.