THE ONE, THE ONLY, LADIES AND GENTLEMEN, KENNY SCHACHTER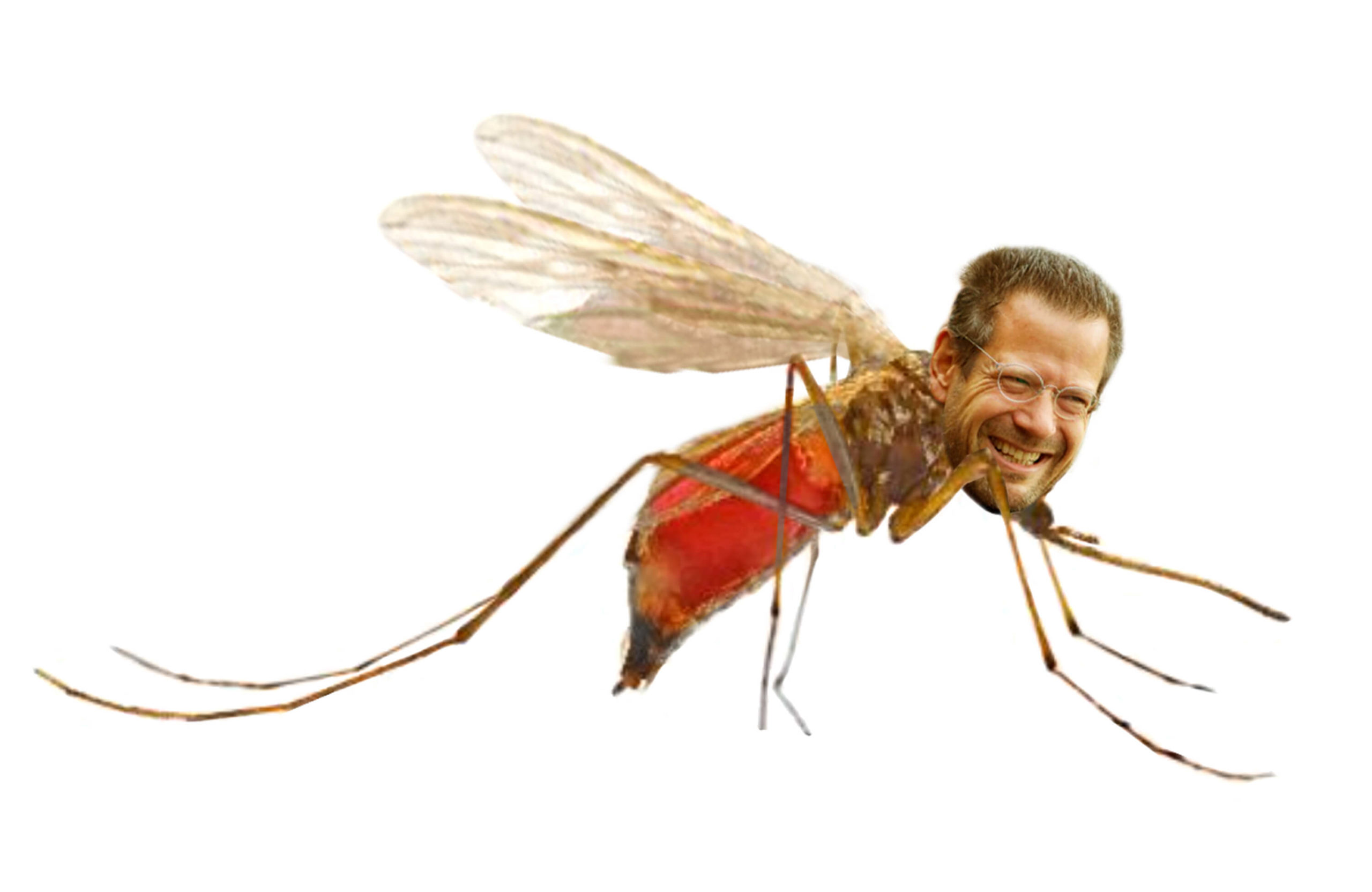 Kenny Schachter, Kenny Mostquito, 2016, Digital c-print on plexiglas, 10 x 6.5 in
Kenny Schachter, art world bad-boy, bares it all in his deep-diving retrospective exhibition at Rental Gallery in East Hampton, on view through October 31st, 2018. We catch up with Kenny via text to discuss the big show, what led up to this moment, and what is to follow . . .
Interview by Devon Dikeou
You started curating in the late '80s, early '90s . . . I particularly remember the German show and stuff in your 1st Avenue flat. But also stuff at BACA Downtown, above 303 in the vacant Massimo Audiello Gallery on Greene St. And despite your Eulogy . . . the shows were amazing, not "a mess," giving so many artists the platform to show at a time when there were so few. Give us the "best of" of those early shows . . . 
My second show, "Decorous Beliefs," highlighted the worst attributes of humans: racist, sexist, and generally prejudicial behavior. You serving up blood-rare sandwiches to be devoured by the derelicts of the early '90s emerging art scene we called friends. Then I clocked Roberta Smith in the space one day and couldn't believe my luck—to this day I am enamored of every word from her keyboard. When I approached her and began explaining the intent of my show, she reprimanded me in no uncertain terms without expressing an emotion: "If I needed art explained to me, I'd never leave my house." Ouch. I'll admit to a few tears when she departed.
Talk about the segue from younger artists to mid-career or older artists and the importance of working with some of the major architectural thinkers of our time.
For a good long time, say close to ten years, I couldn't tolerate a conversation with an emerging artist. I felt they were literally sucking the breath out of my mouth; then, so emboldened and strengthened, they'd walk all over me. No joy. So first I launched personal and professional relationships with Vito Acconci and Zaha Hadid; I am in awe of talented, brilliant people and was, like a fan, simply in thrall of their company and accomplishments. Not to mention I commissioned many projects and did countless curatorial and writing projects dedicated to both. I thought maybe some of the stardust might be catching. After getting soul-sucked by young artists for decades, then as an acolyte of the greats, I needed money and began secondary dealing. I was a bad lawyer, a bad tie salesman, and a worse art dealer.
Who are your mentors . . . Who are your enemies ; )
My mentors or rather the people that inspired me (I didn't get much help from anyone) are Vito Acconci, Zaha, Paul Thek, who was an example of the notion that sometimes, being too good is too bad—he was a brilliant master of many media but was simply too far ahead of his time and lived too much of the time abroad and lost support after an early career spurt. He failed miserably in life and work, only to be celebrated in death with retros at the Whitney and Reina Sofia (I advised on both and wrote regularly on his work). My enemies are anyone hypocritical, not forthright or transparent. I'm often contradicting myself so sometimes I can't stand myself either.
Speak about the relationship you have with your work to the market—be it visual, critical, or otherwise . . .
I love the market. Sure it could be ruthless, hideous, disingenuous, reductive . . . but really those characteristics apply to the players. Art and money have been sexing it up for centuries, from Durer to Rembrandt to the private plane flying the handful of today's artrepreneurs. I don't care—I need art and I need money to make and pursue it. My writing chronicles the misfits and general commercial activity at fairs and auctions so it gives depth and meaning beyond just recording sales. I am after the behavioral dynamic of social, political, and economic interaction as it applies to art. When it comes to selling my own work, I am a nervous insecure wreck and run from the dialogue.
What's the thing that surprised you about playing all these roles in the art world and how it affected all these roles, in terms of practice in general, and the retro?
I stuck to it for thirty years. It's a miracle I never compromised and that I even have an audience. I am so humbled and surprised I can't believe anyone reads me or looks at other stuff I've been up to. I always thought I was kind of unlucky, stuck in the margins, and though by nature I will always be located outside the norm somewhere, I just can't believe how things have gone in the past five years. Now I'm an old emerging artist that is selling. At a small gallery when they are said to be under siege. I am pinching myself now.
You were involved from the beginning of zingmagazine . . . And have done two books with us . . . How do you go about doing a retro or exhibition vs a printed project?
For me it's all an organic mush. It just comes out of me and I don't differentiate from any of my pursuits, be they as far afield as selling a Picasso and making a video or curating my kids into shows and supporting their work. I have a very democratic outlook on life and relish that I've never had a repeating day in my life. Though sometimes I feel like I'm merely treading water and stuck in the film Groundhog Day. I must say of all the disparate things I've done, having this art show transformed my life, for the first time I almost think of myself a real artist. Scary—for me and you.
Basically, how did you get a show at Rental and what made you want it to reflect the idea of a retrospective . . . in terms of you as a curator, gallerist, artist, collector, dealer, critic, writer, person extraordinaire of the '90s art scene. How much is real how much fiction?
No fake news here, what you get is what you get: me stripped bare, naked, humiliated, walking down main street with strangers looking at my . . . oh never mind. Making art so publicly for the first time in more than 15 years has been an extraordinary experience. I can't even recall how Joel Mesler and I met a few years ago, but he is a younger version of me, namely a jack of all (art) trades—making, curating, dealing and gallery-ing. He's hilarious, supportive, talented and fun, as an anti-religionist, it's not an easy to mouth, but I've been blessed.
What's on deck?
Family Guy, the fourth installment of exhibits I've curated incorporating my family (though I mostly can't stand any of them), and works we've all lived with for decades, at Simon Lee Gallery in London, then another one-person show in LA in Feb at Niels Kantor during Frieze/Felix art fairs in town and then . . . more of the same. I can't temper my crazy love and passion for looking at, thinking about, and writing on art. And now, I am afraid to disclose, making it seems to be the next area to apply myself even further. I just can't help myself baring it and sharing it. Sorry folks!