FLORENCE MÜLLER CURATES FASHION WITH STYLE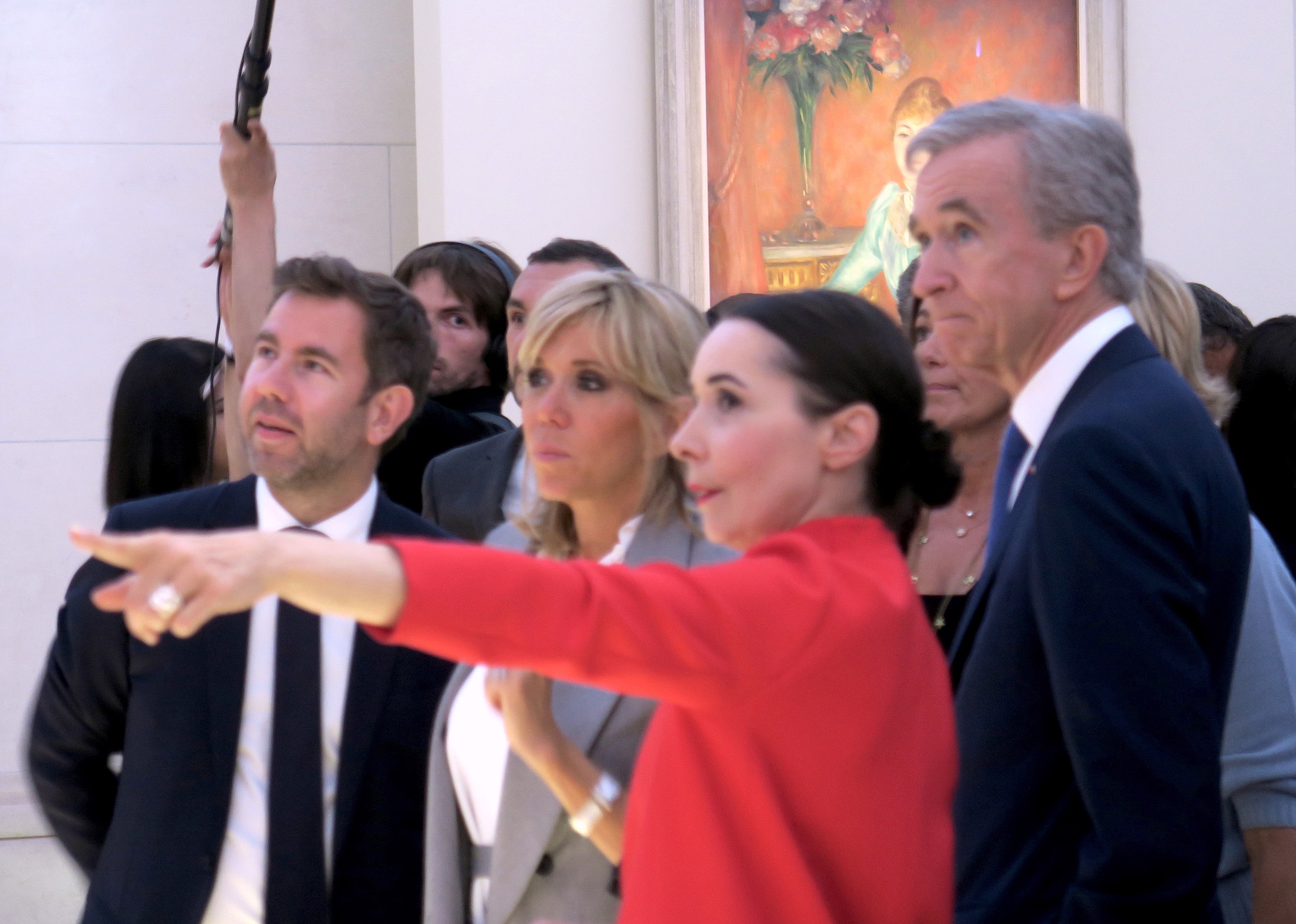 Florence Müller's curatorial vision was introduced to the city of Denver in 2012 when she presented Yves Saint Laurent: The Retrospective at the Denver Art Museum's Hamilton Building. As the first exhibition to highlight all forty years of the designer's output, and Denver being the only US venue, it was an absolute showstopper that had people lining up throughout its duration, even during extended evening hours. In 2015, the DAM announced Müller as the institution's Avenir Foundation Curator of Textile Art and Fashion. The following year she presented Shock Wave: Japanese Fashion Design, 1980s-90s, the first exhibition curated "in house" by Müller, with special focus turned to Denver's local fashion collectors. I had the pleasure of interviewing Müller and her curatorial assistant, Jane Burke, at the DAM offices where we discussed the future of the museum's textile and fashion department, the recent boom in popularity of fashion exhibitions, and the landmark trends that put the United States on the fashion culture map.
Interview by Hayley Richardson
The Denver Art Museum's collection of textile art encompasses over 5,000 objects from Asia, Europe, North and South America, and range from archeological textiles to contemporary works of art in fiber. Under your curatorship this department now includes fashion and costume. Can you please talk about what it has been like to take this department in a new direction?
The museum had a huge fashion collection at one time, but it was deaccessioned about over a decade ago, so the idea now is to rebuild this area. It is challenging to acquire a collection that can illustrate the great couturiers and designers of the 20th century, but there is a lot to explore in the decades of the 1970s through the 2000s when you can still find very good examples of interesting designers. My goal is to make sure that the pieces acquired into the collection are seen by the public, so I coordinate acquisitions around the theme of exhibitions. For example, I acquired about 35 pieces for the Shock Wave exhibition, so they were able to be exhibited to the public right away and are now part of the permanent collection.
My curatorial assistant, Jane Burke, is currently working on an exhibition about a fashion illustrator named Jim Howard. Howard was active in New York in the 1950s through the 1980s, and did a lot of illustration for department store advertising. His archive is an excellent example of a coherent body of work with an artistic point of view on the history of fashion over the span of four decades. We hope to acquire some of his work as the museum has only a few engravings and fashion plates, so this will mark the beginning of a fashion illustration collection. I am very happy about this because fashion illustration is something that is rarely collected among fashion museums and it's a shame because many of these items have already disappeared. Fashion illustrators were not seen as important as fashion photographers, which is one of the reasons their work was not acquired for museums. Right now, we have this opportunity to save one collection at the DAM and it's great!
You have presented two exhibitions at Denver Art Museum: Yves Saint Laurent: The Retrospective and, as you just mentioned, Shock Wave: Japanese Fashion Design, 1980s-90s. The YSL exhibition featured environments that took the viewer inside the designer's home and studio, or the closets of his patrons, and Shock Wave incorporated a variety of media like furniture design, photography, video, and more archival ephemera. Your curation goes beyond exhibiting clothing, it's more about immersing the viewer within the place and time specific to the theme of the show.
Jane Burke: I think that's a trend among museums these days, to do cross-departmental exhibitions. With fashion, you're showing not only the garment but the person's life, whether they're a famous designer or a socialite, or the provenance of where the piece came from. You're showing the lifestyle, or the era. You have to illustrate the bigger picture.
Florence Müller: When you have several types of objects belonging to different areas, whether it's fashion, photography, artwork, and furniture like it was in Shock Wave, it's an opportunity to catch the attention of more people. Some people may enter the exhibition who know a lot about design, but not so much about fashion. They will be attracted by the things that they understand, and then learn about new ideas related to fashion and other components of the exhibition. You can show that some movements, aesthetics, and new phenomena are not isolated. It is a way to show that fashion designers achieved great things, and were able to do so by maintaining connections with people in other fields. Shock Wave was the first fashion exhibition in the department, and it was meant to send a message that fashion is a form of art, and the Japanese designers were the best example to send that message clearly.
Jane: Florence illustrated, with the Japanese designers, that their work in fashion is so interrelated with other design concepts. Some were artists before becoming designers and their connection to the art world is strong. Rei Kawakubo from Comme des Garçons also designed  furniture at one point, and is really involved in the artistic direction of her brand from print media to photography. Issey Miyaki also operates this way. He now has a whole home line. I think fashion just intersects and overlaps naturally with a variety of mediums.
Florence: And Issey Miyaki has never called his company a couture house or fashion house. He's always called it a studio, a design studio. He was looking, and is still looking at fashion not as just garments. For him, it is about designing 'things,' making 'things.'
Christian Dior: Designer of Dreams, which you co-curated with Olivier Gabet, opened at Musée des Arts Décoratifs in Paris this July. It is the largest exhibition dedicated to the designer. In an article for The Guardian, author Hannah Marriot states, "The golden age of haute couture may be decades past, but we are now living in the golden age of the blockbuster fashion exhibition." What are your thoughts about this statement?
Yes, that is exactly what is happening right now. The day the exhibition opened in Paris, there was a line around the building of people who waited all morning to get in. As for the idea that the golden age of haute couture has passed, in the 1950s, couture was meant to dress very elegant women for the café society who lived a jet-set lifestyle and attended many events and parties. It was a lifestyle very special and specific to that time and it doesn't exist today. You don't have the opportunity of being dressed in a very exquisite manner because there aren't any more of these big balls or private parties in people's homes.
The phenomenon of today, though, is this obsession with selfies and having photos shared on the internet. There is the need of doing portraits or self-portraits at every moment of your life, and everyone is concerned with their own image. You could go to a party and be photographed and suddenly your photo is spread all over the world.
In regard to fashion exhibitions, people envision what they could look like in these garments when they enter the museum. During the opening of the Dior exhibition, I did the official visit with France's First Lady, Brigitte Macron, and afterward I did a walk-through with a famous American fashion model. I think people have a very personal relationship with a fashion exhibition, and the first thought they have is, "What would I look like if I wore this?" Then they will read the exhibition text and learn something about what they see, who made it, and what was happening in the world. People are able to relate to fashion exhibitions because they can imagine themselves wearing the clothes and being part of the story.
Jane: At the show in Paris, there was a guestbook people could sign at the end of exhibition, and Florence tells this great story about it, about how people want to dream, which was the whole point of the exhibition . . .
Florence: There was a little girl who wrote in the book, 'I love the exhibition, so beautiful. I am 10 years old and my grandmother promised to buy me a Dior dress when I turn 18 years old.'
[Florence then quotes the visitors book.]
Florence: 'Thank you for this magnificent travel in the universe of elegance and absolute femininity. This exhibition is wonderful. [signed] The Parisian'
'Where is Mr. Dior to thank him for all this beauty?'
'The dream and grace for the service of women. Thank you for this beautiful moment. Very elegant.'
It's funny because the word I put in the title is everywhere throughout the guests' notes in the book. Dream. It is what we see in the first collection of Maria Grazia Chiuri for Dior. It was like a dream ball in an enchanted forest. This idea that, in moments of crisis, you have to use beauty and dreams to work through difficult situations. I like to play on this paradox of ideas.
The other great thing about this exhibition is that we now are in a world where everyday clothes are becoming so simple and relaxed and sometimes not very aesthetic. I think it is great to show the opposite of this, just as an example, that you can think about and create dreams in the minds of little girls.
Cities like Paris, Milan, London, and Tokyo are epicenters of the fashion world, each with distinct styles and histories. What would you say are the defining traits or major contributions of fashion and style from the United States?
One of the United States' biggest contributions to fashion is the development of sportswear. It began in the 1930s through the 1960s, and was something really new for its time. People in Europe were slow to accept sportswear as fashion because they were so ingrained in the tradition of elegance and couture, and sportswear is the total opposite. In America, sportswear expressed a new way of living that is more relaxed and connected with nature, and eventually designers in Europe started to incorporate sportswear into their collections. It was fashion designed for yourself and less for show, but was still developed in a very elaborate manner. American designer Claire McCardell was an important contributor to this idea of creating sportswear that could also be elegant by mixing simple materials like cotton but with elaborate cuts, forms, and shapes.
Another other important contribution is the phenomenon of the jeans and T-shirt style, which is distinctively American. Same with motorbike jackets and everything connected with the counterculture. When this style reached Europe by the end of the 1960s it was very desirable and influential. It totally changed the way Europeans dressed.
Today I think we are in a place between the two forces of T-shirt and jeans and sportswear, yoga clothes in particular, and designer clothes and cocktail dresses. There is a road in the middle of these two extremes, which is high-end street wear, street couture, which has been a huge trend over the past several years. Girls like Rihanna flaunt this style which has an interesting mix of the two extremes.
In addition to being a curator, art and fashion historian, and writer, I understand that you also have created work as an artist and participated in artistic collaborations. Can you share more about this side of what you do?
A long time ago I worked in theater doing costume, makeup, and hair. Then I did photography but not for very long. I also did paintings and drawings. More recently I've worked with my husband Goran Vejvoda. We've done a lot of happenings and performances using video, choreography, costume, spoken word, and text. Really mixed medium. We did performances in Italy, France, Belgium, and England, but not in the US.
Most people in the fashion world do not know about these other things I have done. I don't want to create confusion between my work in fashion and my work as an artist. But I use many of the elements and feelings I have from the fashion world in the happenings. The language of body, dress, the way you behave and move around a space and the way you speak, these are all different forms of communication, and by bringing them together I can create a great effect on the mind of the viewer. I did performances with Goran where I choreographed the dancers to change costumes in various sequences on stage, he did the music, and we both created the videos.
Goran and I are also working on a movie documentary about the history of sound art. We started with interviews while we traveled around the world, and accumulated all these videos and documentation. Goran is now working on the final edits and clarifying author rights.