LIKE A PRAYER: DEVON DIKEOU'S POPE PORTRAITS (SANS POPE)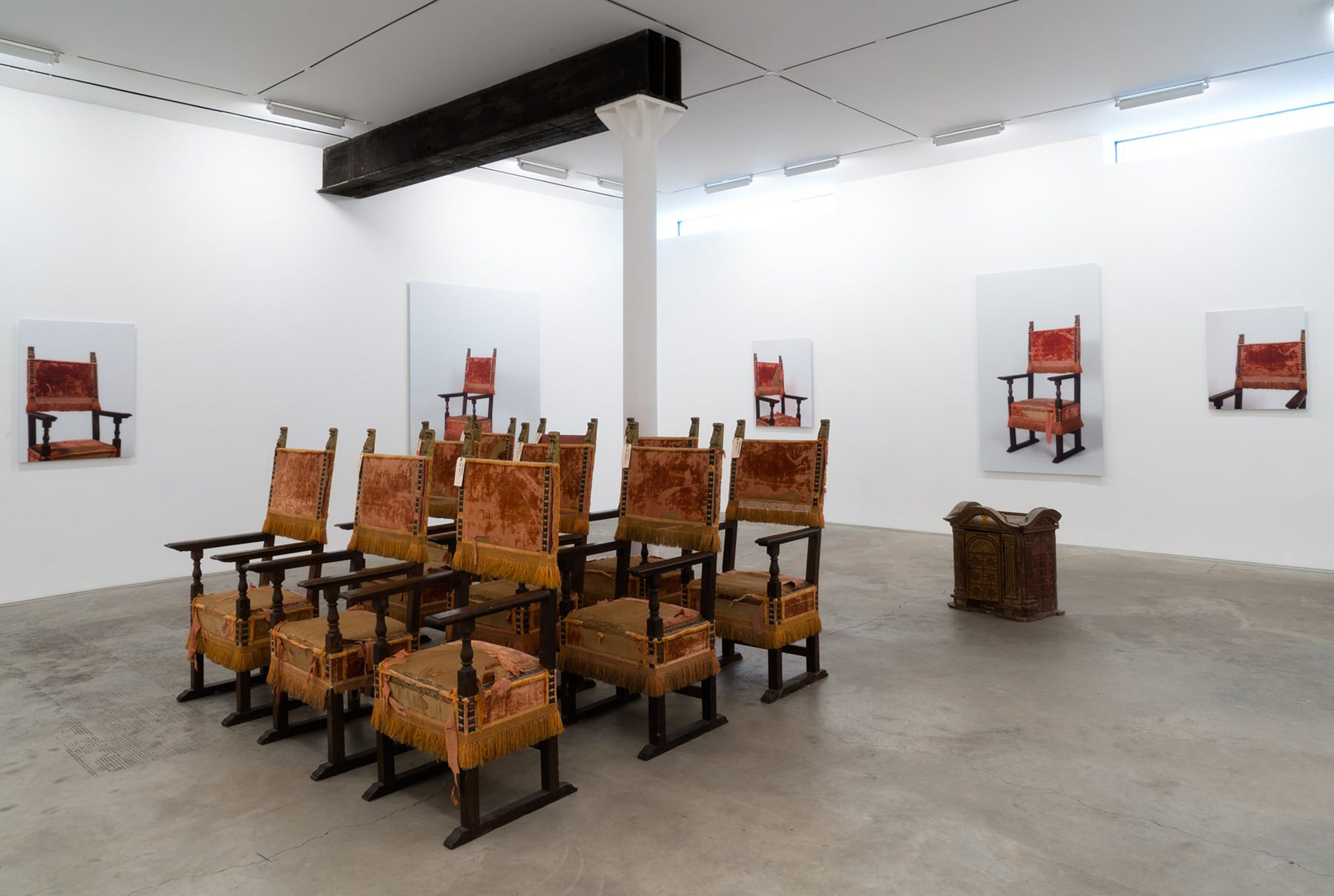 Devon Dikeou is a conceptual artist whose work engages with the lines, recesses, and in between places of the art world, and the interaction of roles within. Her most recent solo presentation 'Pray For Me' –Pope Francis I is on view at James Fuentes through July 28, 2017. Other exhibitions include Foundation Barbin Presents Redeux (Sort of) at Kai Matsumiya, New York City (2016); Please at Outcasts Incorporated, Paris (2015); Inhabiting Ten Eyck at Storefront Tent Eyck, New York City (2014); Between the Acts: Virginia Woolf at NADA Art Fair, Miami Beach (2014); Game Changer at Boulder Museum of Contemporary Art, Boulder (2014; Please at The Contemporary, Austin (2013). Devon is also founder, editor, and publisher of zingmagazine and co-founder of the Dikeou Collection in Denver, CO.
Interview by Brandon Johnson
You're not a studio artist, but this body of work came out of these antique friarlero chairs existing in your live/work space. Can you describe how the idea for this work developed?
As you know quite well, being the managing editor of zing for a kazillion years so you probably carried the chairs up, they appeared almost magically at zing HQ. Fernando bought these ten voluminous chairs and with my laissez attitude I had no idea what I was in for. THEN I saw them. They are fabulous of course, but take up the whole space wherever they are and the space at that time was my supposed studio . . . And the work that I make is very much about those in between spaces, invisible places and moments . . . And those nuanced things were being drowned by the Catholic Church . . . In what's my "studio." I wrestled with them even physically dragging them up and down any number of stairs any time an art person came over . . . I wished them away almost every second—this army of friarleros. . . But finally, like what often happens with me, something clicked, and I said "embrace the cheese"—so I thought: make these chairs that are stalking me into something. And then the idea just becomes very quickly what it is: each chair positioned after a Renaissance painting of a pope. We set up a photoshoot and voila! Ten photos modeled after the portraits of popes reproduced to the size of the original inspiration. Those inspirations are Raphael (two), Titian (three), Sebastiano del Piombo, El Greco, Caravaggio, Velasquez, Jacques Louis David. And each chair is rotated to almost the exact position of which those masters painted the popes in question, but without the subject or background, just an image of the armature that sets up the pictorial composition in the original.
This work follows the concept of your series Please by creating photographs based on historical paintings. What does it mean for you to translate a painting into a photograph?
Well the concept and practice I often employ is based on replication. I see something both in our regular everyday transactions as well as our art historical references (some more obvious than not) and I recreate them in my own manner . . . Be it a security gate from the street, the composition of which reminds me of an exquisite Barnet Newman or whose vastness makes me feel like I'm in a Monet lily pond . . . But clearly not. Or in this case, a more literal photographic sense, taking a cue from these historically important paintings and hopefully imbuing them with a bit of a chill. I was just at the Detroit Art Institute and going through its vast collection, and in the Dutch still life area/room there was this great guard who was explaining a painting in such a lovely way that I had never considered. The painting was a bouquet of flowers by Rachel Ruysch. Its background was black, dark. And he explained that was just the hardest thing to do, start from black and create light and color on top of that darkness. It was so touching, and expanding, making me think about how I come to do the things I do—which is that I often eliminate or highlight the background. In the case of Please, based on Manet's last paintings, I'm highlighting presence, eliminating background. In Pray for Me, and even with the comedy curtains—Between the Acts—I take that thing, that main thing, the pope or the comedian and eliminate them and isolate that invisible segue or show it in a different and hopefully reinvigorating context. Of course, none of these gestures can happen without the Pictures Generation language and appropriation. My practice is indebted to them as well as lots of other art history.
So your process of replication is meant to present familiar objects or symbols in a new context? That reminds me not only of one of the original conceptualist gestures in Duchamp's readymade Fountain but also Sherrie Levine's appropriations (including Duchamp's Fountain). Where do you see your work falling in this lineage? And what did you hope to highlight by isolating the chairs from historical paintings of popes?
Yes of course. Duchamp and his seminal gesture of creating the readymade allows for work like that of the Pictures Generation and Sherrie Levine . . . And naturally her recreating the urinal reads exactly into that . . . appropriation with a feminist touch—all that gold. Who said that statement "take an object, do something to it, then do something else to it." Jasper Johns, I think . . . That leads the way. And I believe Robert Morris wrote an article, "Four Americans" in Art in America arguing that Pollack, Duchamp, Hopper, and Cornel were the touchstones from which our more contemporary visions stem . . . There's some truth to that . . . all artists must react and know the fields in which they mine . . . And yes in that sense I would be following the Duchamp tradition in the Morris argument. So my gesture is related to the history of papal painting and implies appropriation—art of a more contemporary vein, while deconstructing the final visual platform and asking the viewer to make that visual and conceptual jump. And that jump can be from any position—that of the viewer, our contemporary and historical thoughts of the sitters in these chairs, the art historical references, ideas of patronage that come with citing art history and collecting, and even the parishioners and their little contributions. And how all these hierarchical conditions operate seemingly unknowingly. . . Or knowingly . . . And deposit that examination, again in the middle, Louise Lawler style, another pictures generation beauty.
This work was first shown as an artist's project at NADA New York in 2014, where the emphasis was on seating at art fairs, engaging with the fair's design and logistical dynamics—the border of fine art and functionality. But with recent political developments and the new context of a gallery space, "Pray for Me" takes on new readings. Can you speak to the pope's chair as "seat of power," the historical role of pope as art patron and powerbroker, and Pope Francis I's more recent political engagements?
What's that phrase that's been fancied around "Truth to Power" or is it "Power or Truth"? It almost doesn't matter . . . The chairs might act as metaphor for either. And yes the chairs were originally exhibited at Nada NYC . . . And as they are chairs as an installation address sitting wherever it may be—fair, gallery, monastery church, home (collector/patronage) studio and others . . . All of which pride themselves on both truth and power. Me I probably have neither, but I like to walk that line and examine the commercial venue, the visual venue, the critical venue and how we digest our visual, monetary, and critical metaphors . . . Truthfully . .  And talk about the transactions that occur commercially, historically, and psychologically . . . Powerfully . . . Which answer in a way, to both, and again neither, power and truth. And the chairs themselves are already loaded as is the history of papal portraits so the natural segues either happen or don't, at least that's my hope. And yes high and low, Pope Francis I was a bouncer at a night club, I think, and even it's not true, just urban myth, that's what rocks!
The pope was arguably at one time the most powerful person in the world. Many would argue that position is occupied now by the President of the United States of America. Are there any new revelations to draw from this body of work being exhibited under the current political circumstances of the Trump administration—where power and truth are both at stake?
I'll start with perspective. When these paintings which the photos are based on were painted, perspective has just been understood, comprehended, is a new discovery. And the paintings themselves along with this experiment, perspective, were the record of their holinesses. Keep in mind these painters we are discussing are the most talented painters at the time and we study them as students of art history and probably have an exam question regarding each one—something to this day I'd probably not pass. Certainly, the progression that perspective represented, at that time, was groundbreaking. Now our time (can't help but reference to Fast Times at Ridgemont High) but in "our time" when we relook at these paintings we see they have not quite got that perspective thing down . . . Some of paintings are, well, a bit screwy . . . And as one tries to replicate them now, as I have, that becomes apparent. But they are forgiven, all those luscious masters. Perspective now . . . There is this other experiment called democracy that hmmmm is perhaps going through a similar growing pain, and the power structures both in government and the idea of the Papacy as a structure of truth may be more vital or just the reverse—and give us a different perspective to our understanding of the world. Will we forgive . . . "Pray for Me" —Pope Francis I.