BRANDON JOHNSON ON THE LEGACY OF DAN ASHER & COLLECTING CHICAGO GANG CARDS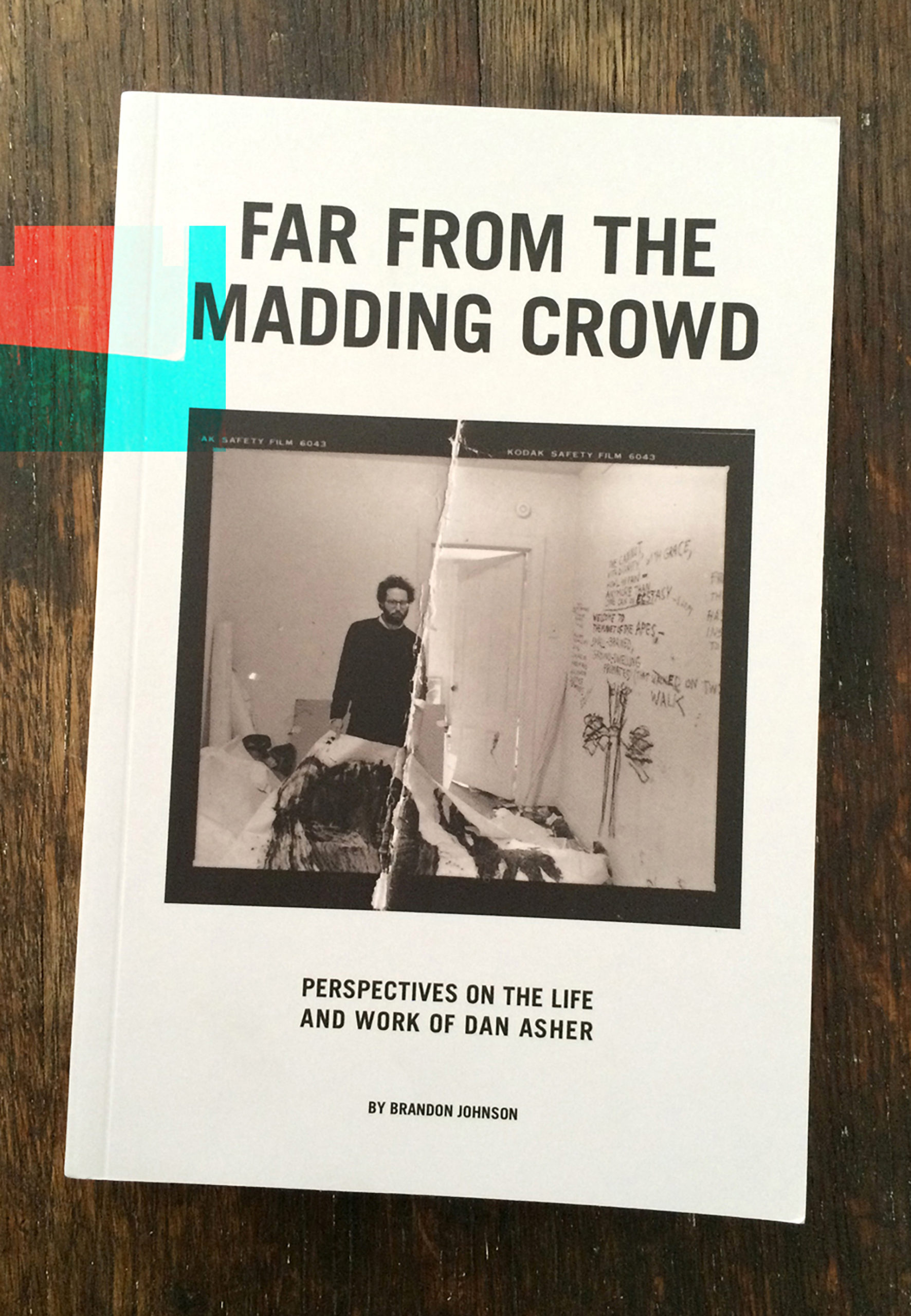 Upon arrival in New York in 2006 to attend The New School, Brandon Johnson also began an internship at zingmagazine. Flash forward a decade later, and we find him as Managing Editor of this curatorial publication. From promoting zing at book fairs in New York, Baltimore and Los Angeles, to a residency at SOMA in Mexico City earlier this year, Johnson has been developing a report with the contemporary art world at large. One individual in this community, artist Dan Asher, left a lasting impression on Johnson before his untimely death in 2010. Asher is the subject of Johnson's book, Far From the Madding Crowd: Perspectives on the Life and Work of Dan Asher, published in Fall 2015 as part of the zingmagazine issue 24 special edition. Comprised of interviews with various figures from Dan Asher's life, this book offers readers an unprecedented and intimate look at this talented yet often misunderstood artist. Also featured in issue 24 is the poster-sized reproduction of a 1970s era Chicago gang compliment card, one of many from Johnson's personal collection. These zingmagazine projects scratch the surface for what will be continuous engagements with these unique areas of research and interest.
Interview by Hayley Richardson
You have two projects in issue #24: a poster titled "The Almighty Playboys" and a book, Far From the Madding Crowd: Perspectives on the Life and Work of Dan Asher. Can you give a little overview into what each project is about?
Sure! The book project, Far From the Madding Crowd: Perspectives on the Life and Work of Dan Asher, is just that: a series of interviews I conducted with people who knew the late artist Dan Asher in various capacities: art dealers, other artists, friends, and even his dentist—about forty individuals in all. Dan Asher was a prolific artist and fascinating individual, and the interviews reflect this. The text is interspersed with images I chose of Dan and his work as visual reference. The poster project "The Almighty Playboys" is an enlargement of a Chicago "compliment card" made by the street gang the Almighty Playboys in the 1970s. I own a collection of these cards, and between the weird illustrations and writing on the back, thought this one was particularly interesting on a visual level.
Are there any interviews that stood out to you as being particularly revelatory? Did you learn anything new about Dan that you feel changed or enhanced your perspective of him?
I learned something new from each of the interviews and each molded my perspective in a different way. It was an investigative process for me. Prior to making this book I didn't feel like Dan's closest friend or an authority on his artwork by any means. But I wanted to know more. So I followed the leads, and each interview added to the bigger picture, or should I say portrait? With that said, Atom Cianfarani & Maya Suess's interview had a lot of specific information and anecdotes that weren't really discussed otherwise. It seems like Dan opened up to them quite a bit about his personal history. Their interview added an emotional depth while managing to fill in some missing pieces of the narrative.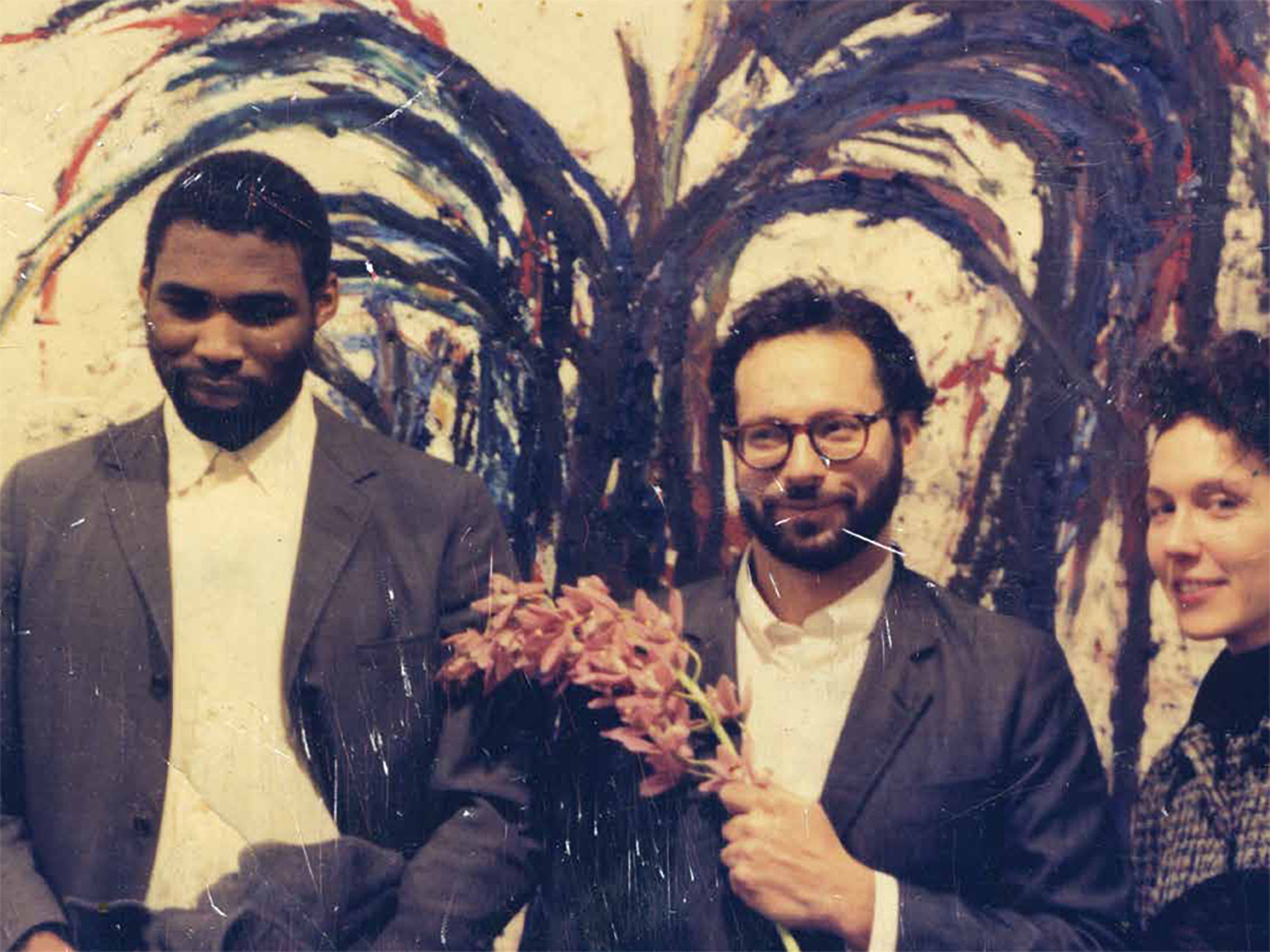 In 2014 you co-curated an exhibition of Dan's work at Gildar Gallery in Denver, and now with the book it is very apparent you have a vested interest in this artist. What drew you to Dan's life and work initially? Do you have plans to work on other Dan Asher-related projects in the future?
Being a wet-behind-the-ears 21-year-old arriving in New York, Dan embodied for me this romantic view of a downtown artist—bohemian and cantankerous, a holdover from another era. Being fond of Devon, zingmagazine, and the energy of young people, Dan just made himself present in my life. But as I began to discover his work via the pages of zingmagazine and galleries of the Dikeou Collection, my fascination grew. The work seemed so personal and had great appeal to me on an aesthetic level. Often, it attempted to capture these fleeting moments of poetic poignance. A stillness within flux. I became an advocate of his work and I am currently exploring more opportunities to do so in the future. The filmmaker Tom Jarmusch and I are currently developing program of Dan's videos for a screening. I'm also talking to Martos Gallery, who represents the Dan Asher Estate, about organizing a discussion at the gallery during Dan's forthcoming solo exhibition next year. Fingers crossed all works out.
Tell me more about the "compliment cards." In your curator statement you share that you discovered one of these in some of your dad's old stuff in the attic and learned that they are specific to the Chicagoland area from the 1970s and '80s. How were they used and what more have you learned about them since your discovery?
Yeah, I found that first one in a cigar box in our attic. Apparently my Dad's friend from high school was a member of the Royal Capris. It's been tough to find many reliable resources for information on compliment cards, but from what I've deciphered the cards were were made mainly to display pride of the gang, disrespect towards its enemies, and for recruitment. Other uses include passing them to friends or associates, "We're throwing a party tonight at so-and-so bar. Show this card at the door." As far as their origins, I've noticed that motorcycle gangs from the '50s and '60s such the Hell's Angels and Straight Satans made calling cards. For example, a biker would see a car pulled over, give them mechanical assistance, and pass them a card saying "Serviced by the Hell's Angels". Some of the street gangs in Chicago find their roots in greaser gangs from this era, using biker traditions and aesthetic as models. My theory is that this is where the idea for Chicago compliment cards came from, and proceeded to gain popularity among white and Latino gangs on the Northside, Westside, and near Southside of Chicago. What's great about these cards is that they'd change hands over the course of their existence, with handwritten messages, symbols, and names accruing on the backs. With a little knowledge you can learn to read this information. Many of the O.G.s have amassed sizable collections, and will attend get-togethers with other former members where they trade original cards and sweaters. Old enemies recount their younger lives over beers. Funny how that works.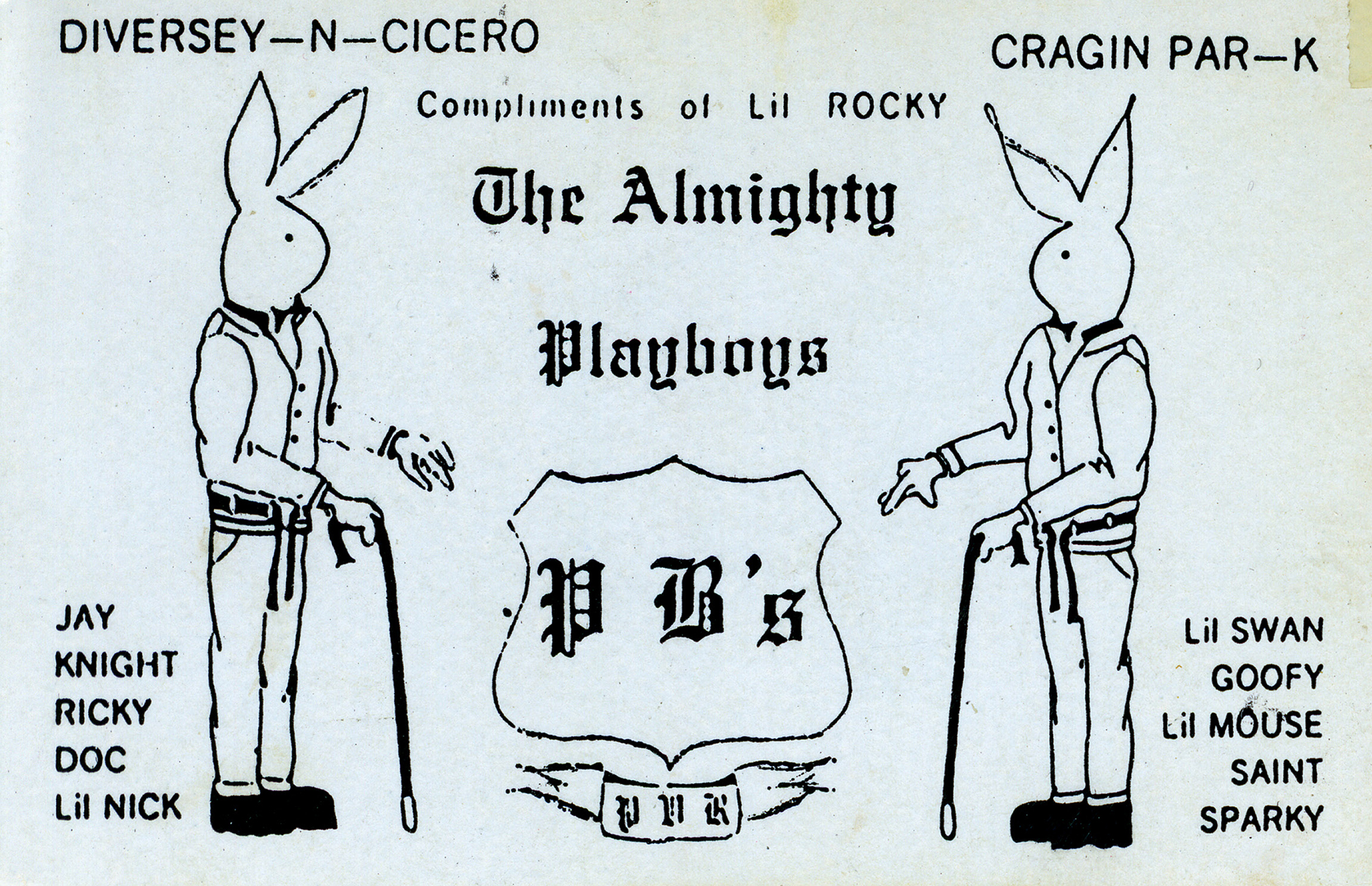 You should try to track down the O.G.s and meet them for a beer! Where have you been sourcing the cards for your collection?
One of my sources is a former member of the Almighty Gaylords, which was the biggest white gang in Chicago during the era. He built a collection of cards during his time as a member and beyond. Now lives in the Western suburbs I believe and has decided to sell off his collection. I cherry-picked a few cards off him, then ended up buying out most of the rest of his stock. My other source is a USPS mail carrier for the city of Chicago. He has a few different types of collections, including original cassette tape mixes of Chicago house music from the '80s and '90s. Apparently, he was a DJ back in the day. Told me that he came across an album of compliment cards and was selling them off. But also sounds like he had connections with former members, or played the middle man in certain ways for a friend. Didn't really get his clarified. But a nice enough guy. Acquired some rarer examples from him, mostly Latino gangs—the Party People, Latin Kings, Night Crew, Spanish Lovers, and King Cobras, among others.
I think they're fascinating relics of distinct time, place, and culture and would be appealing to a wide demographic. Any ideas for what you might do with the collection in the future?
I agree! Everybody I show them to or tell about thinks they're pretty groovy. I mostly like them because of their specificity to Chicago, ad-hoc aesthetics, and origin in an era before my time. Although I'm a bit conflicted on any glorification of gangs in light of the gang-related violence that occurs in Chicago to this day. This is a huge, complicated problem, and is related to greater dynamics at work in our country. But I suppose this is the case with any outlaw culture – the romanticized image versus the unsavory reality. With this in mind, I'm hoping to do a release event for the book & mini-exhibition of the collection in New York this Fall, then see where else I'd be able to do something similar in other cities, whether as one-off events or as part of art book fairs, etc. Nothing set in stone yet. Going to wait until I have a delivery date for the books and then plan from there.