Abelow Goes Big: Five Shows, Five Cities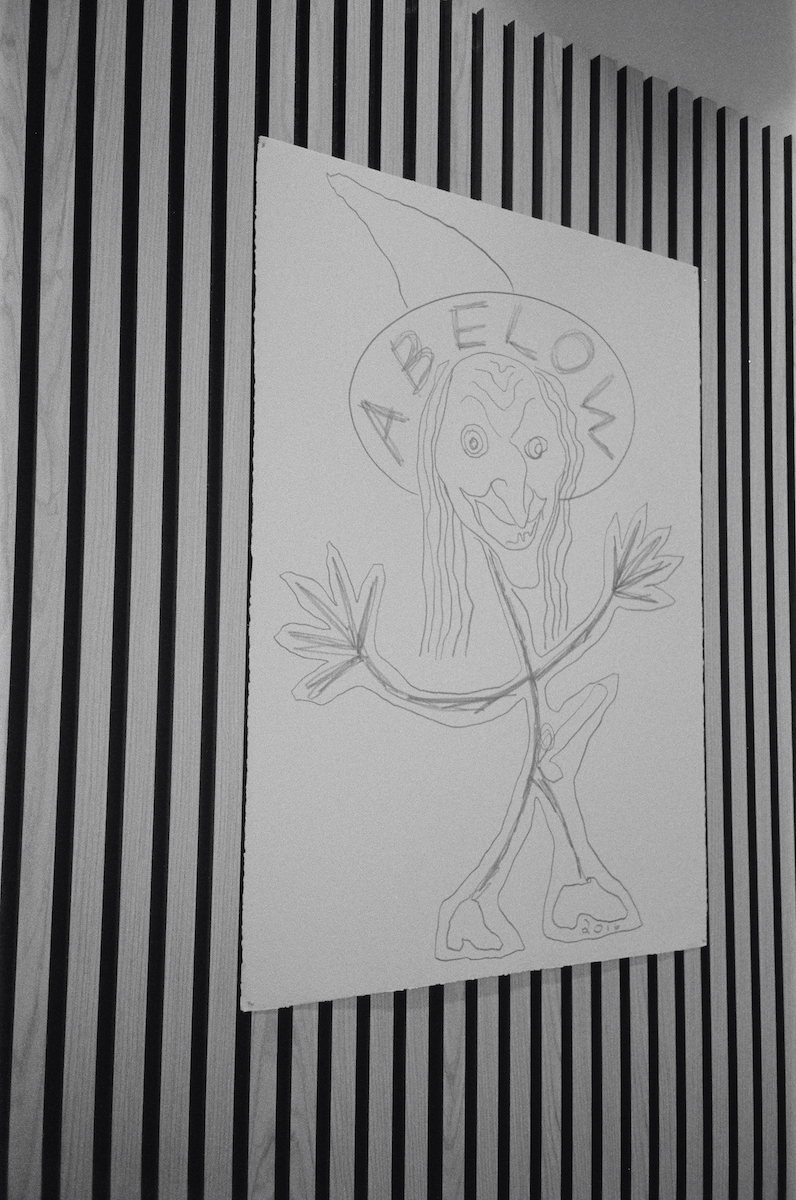 "Zoom" at Jir Sandel, Copenhagen, Denmark
Joshua Abelow's output has been multifarious—from writing poetry and prose to blogging, along with running a gallery called Freddy, first in Baltimore, then upstate New York. But at heart he's a painter. Abelow's paintings can be both satirically autobiographical while engaging both with the history of painting and the materials themselves. His practice also includes drawing, which can also be diaristic in nature. His work has been showed widely and is most recently manifested by a roughly simultaneous five gallery presentation of his work, spanning from his childhood beginning in 1982 to the present, all now on view in locations from Omaha, Nebraska to Copenhagen, Denmark, along with the more usual suspects of New York and San Francisco, and last but not least Providence, Rhode Island, where he received his BFA in Painting from Rhode Island School of Design in 1998. His project "14 Paintings" appeared issue #24 of zingmagazine. And his series "Call Me Abstract (Self-Portrait at Age 36)" is part of the Dikeou Collection.
Interview by Devon Dikeou
In the '80s I must have read in a Koons interview something like all his works were editions of three with one artist's proof . . . He said he learned this system from Stella . . . Someone whose knowledge and example Koons might have been eager to follow (Stella was just closing his second MoMA retrospective and Koons had just opened his "Banality" show). The idea being that he'd make one for New York, one for Chicago (LA wasn't on his radar yet), one for Köln, plus one artist's proof . . . Essentially, the same show in three places . . . I'd say you've got a world-wide Abelow-palooza art style tour going on . . . Talk about the differences between your five shows . . . 'Cause I'm guessing the playlist isn't the same in all five venues . . .
One thing that was unexpected (to me, and I think everyone else involved) is the way it all just came together without too much forethought or effort. I don't remember which opportunity came first—Jir Sandel or Baader-Meinhof—but they happened around the same time. I think that energy then overflowed into the exhibitions at Apartment 13, A.D. NYC, and Et al. There's so much artwork involved in these exhibitions that it's sort of hard to talk about.
The show in Copenhagen—the gallery, Jir Sandel, which is a great name . . . And the title of your show there . . . "Zoom" infers the opposite of transitory, rather it's a word that conjures isolating, whether it's in reference to a camera technique or the app for communication, now so much a part of our pandemic vernacular . . . Please speak about the show in Copenhagen . . .
Jir Sandel is an artist-run gallery without a fixed location. The name and logo design refers to Jil Sander, the German clothing design company. The Zoom show consists of three witch pencil drawings—one made in 2013 and two made in 2016. The main focus is a group of 12 x 9 inch oil paintings that I made in 2020 just as the pandemic was hitting. All of the paintings are abstract with gestural marks and layered paint application. These paintings came just before the work I made for Leaky Abstractions at Magenta Plains (2021), a computer science themed two-part exhibition. Zoom is not presented in a typical white cube—it's happening in the office space of an electrical company and is open by appointment only. The show is documented with black and white 35 film using a "very old Olympus model" and this too is a specific choice. We used an excerpt from an essay by Boris Groys to frame the show, "The standard white cube is a thing of the past. And that means that the curator has to find a specific form—a specific installation or configuration of the exhibition space for the presentation of digital, informational material. The question of form becomes central once again. However, it shifts from the individual artworks to the organization of the space in which these artworks are presented. In other words, the responsibility of giving form is transferred from the artists to the curators who use the artworks as content—this time as content inside the space created by the curators. Of course, artists can reclaim their traditional form-giving function, but only if they begin to function as curators of their own work."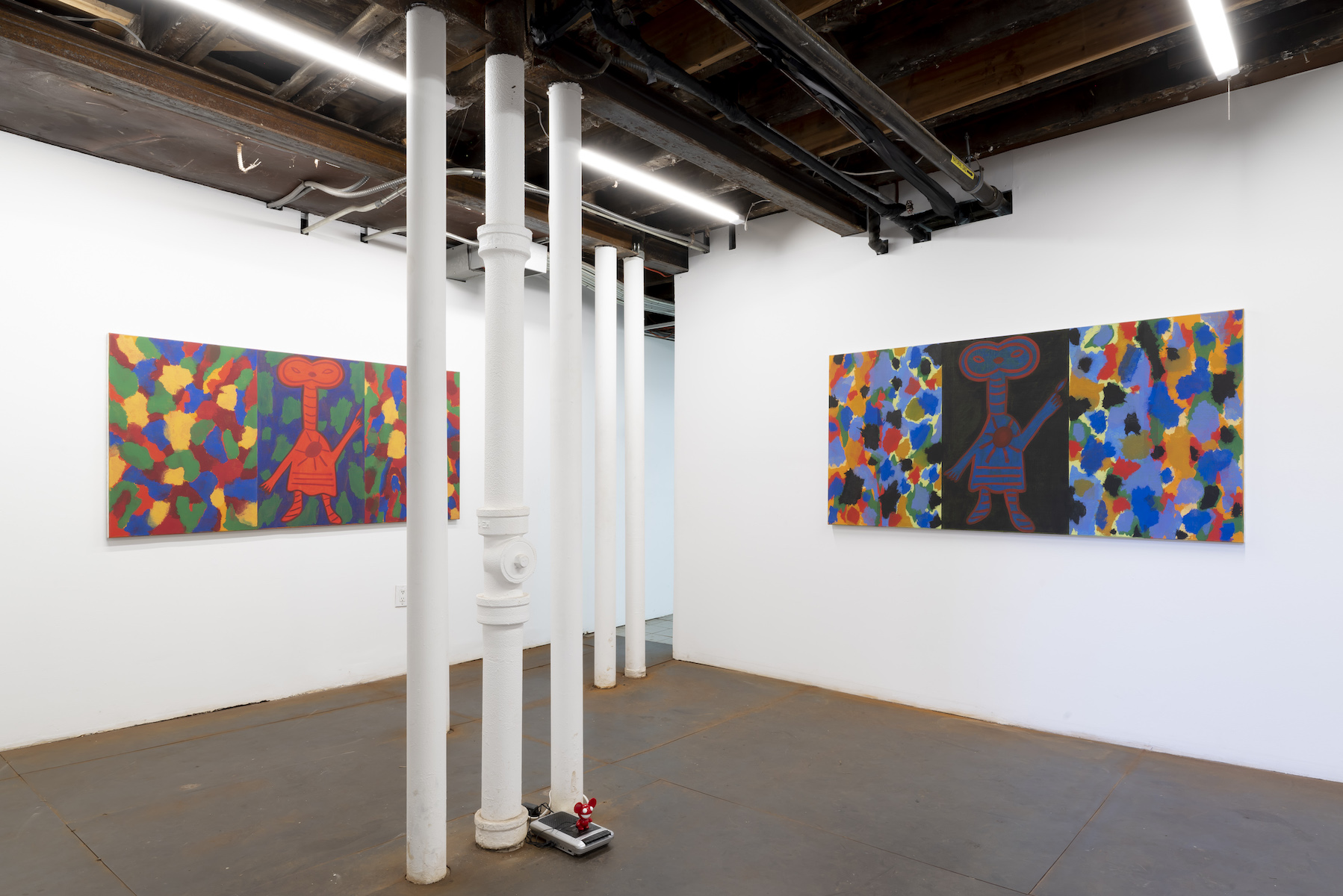 "Joshua Abelow featuring Joshua Boulos" at A.D. NYC, New York, New York
"Joshua Abelow featuring Joshua Boulos, A.D. NYC" . . . Could you elaborate on this relationship . . . You were JB's mentor in a way . . . at RISD right . . . True collaboration or two-person exhibition . . .
I met Josh Boulos in Brooklyn at the opening of a show I curated called Freddy's World back in 2019. At that time, Boulos was a RISD student doing his undergraduate work in Painting. We stayed in touch and in 2020 I did the Weird Science show at the gallery he founded in his apartment with his partner, Baijun Chen. I was really happy with the way that turned out and we've all just stayed in touch, etc. I'm showing four E.T. Paintings that were made right at the end of 2021 and one drawing that also features E.T.. Each painting is 35 x 70 inches and the drawing is 30 x 22 inches just like every drawing I've made since 2004. The image of E.T. is based on a drawing I made of E.T. in 1982 (when I was five), the year the movie came out. In getting things ready for the show at Baader-Meinhof, which includes a number of my works from childhood, I found the E.T. drawing in an old sketchbook and I got inspired. I often recycle motifs and images in my work and the idea of breathing life into an image I made as a little kid was weird in a good way. Boulos has two small sound-based sculptures that use Deadmau5 as subject matter and inspiration.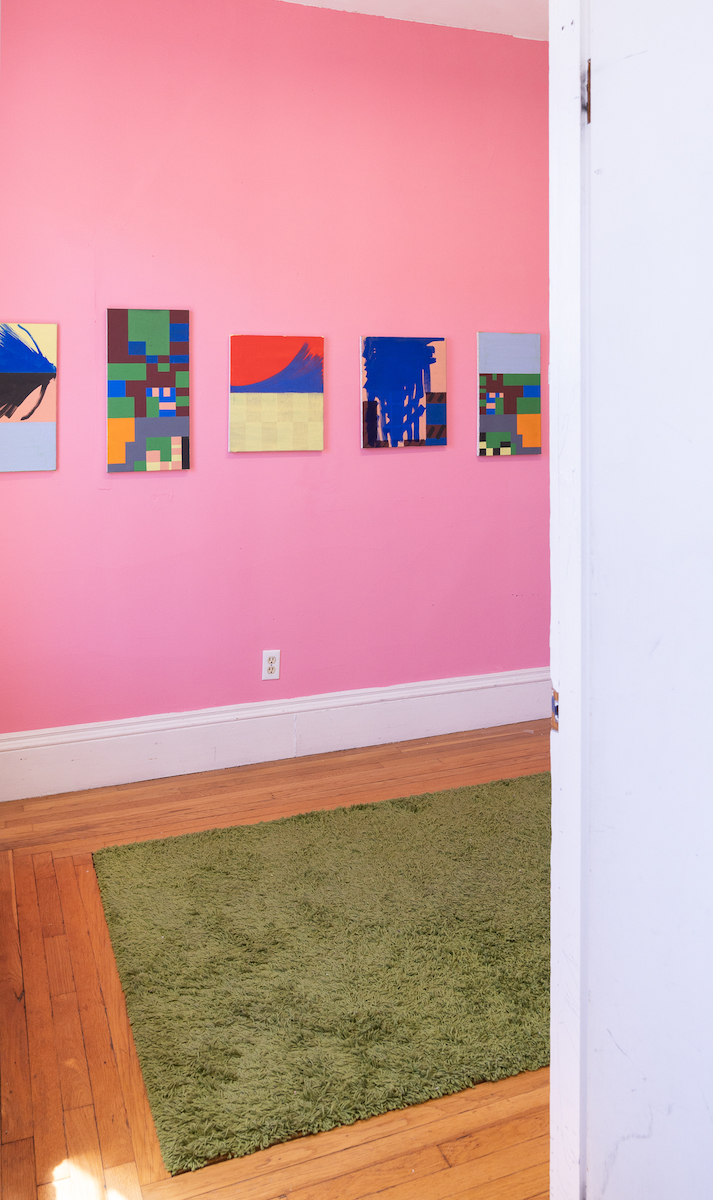 "Joshua Abelow: 2022" at Apartment 13, Providence, Rhode Island
Speaking of RISD, the Providence gig at Apt 13 . . . you first showed there during the pandemic, and Apt 13 is the brain child of aforementioned JB . . . The show is titled, "Joshua Abelow: 2022" so I'm thinking this will be new work . . .
Josh and Baijun moved to a sizable apartment with multiple rooms. My show is happening in what is normally their bedroom, but they gave it up for me to do this little presentation. The show consists of six small paintings hanging on a pink wall with a green rug on the floor. All of the paintings are abstract and all are from 2022. They relate to the paintings at Jir Sandel, but are also a bit different . . .
At Et al, in San Francisco, the show is titled, "Anti-Magic" and you share the stage with Dani Arnica . . . Speak about this . . .
Dani Arnica is a young artist based in NYC. We met upstate at my church a few years ago and have been friends ever since. She's also my studio assistant and is helping me run Freddy this year. At the very beginning of 2021, Dani had a show in the bell tower of Freddy called Evil Moon at Freddy's Bell Tower. Anyway, we are close friends and artist comrades so this opportunity is very meaningful to both of us. The concept of the show is based on an excerpt from a book by Jaron Lanier called Ten Arguments For Deleting Your Social Media Accounts Right Now. Lanier writes, "You can make your own consciousness go poof. You can disbelieve in yourself and make yourself disappear. I call it anti-magic." Dani takes center stage in this exhibition with a handful of medium-sized "chalkboard" paintings. My contribution is a selected group of 12 x 9 inch "dot" paintings and one self-portrait drawing.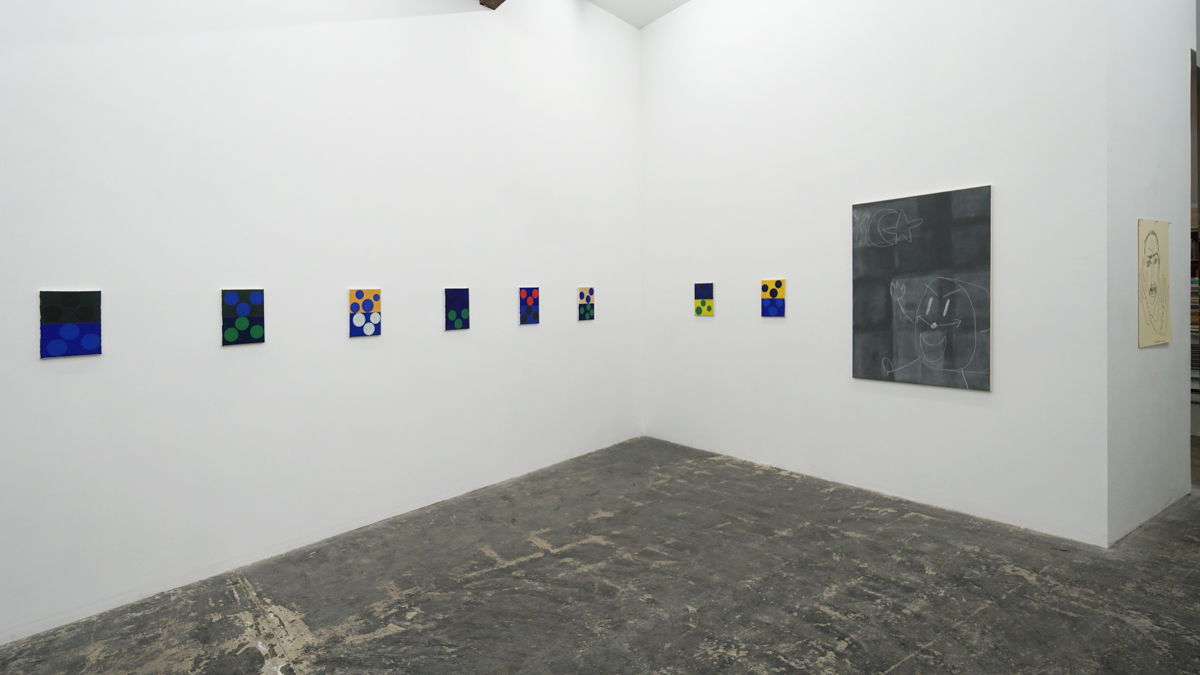 "Anti-Magic with Dani Arnica" at Et al., San Francisco, California
The big kahuna is in Omaha at Baader-Meinhof . . . The checklist alone is something like 144 pages . . . How did you prepare for this, your Mid-Career Retrospective . . .
I became aware of the gallery about a year ago because Eric Schmid curated a show that included a drawing that I made in collaboration with Joshua Boulos. Shortly after, Kyle asked me if I'd like to do a solo show. He said he wanted the exhibition to be "truly unique" and he encouraged "experimental ideas." I suggested the idea of a retrospective that would include childhood works and he liked that idea so we rolled with it. The planning that went into this exhibition was about ten months in the making. It basically started with me sharing a vast amount of digital images with Kyle and we just started shooting ideas back and forth for months. In the end, I drove a 15-foot Uhaul out to Omaha with about 160 works. Once in Omaha, I edited down the works to a total of 60 paintings (not including the stuff from childhood). 36 of the 60 paintings are 12 x 9 inch paintings hanging in a grid on the second floor. All of this is to say that the preparation for the show was both strategic and intuitive.
Are you showing only paintings . . . You sometimes have other performative elements like songs, poems, even drawings . . . How do they figure in the mix . . .
The exhibition features adult paintings from 1995–2022 and childhood paintings and drawings from 1982–1994. I think of the show as a performance in and of itself—nothing additional is called for. I was born in 1976 so there is obviously some humor in featuring works from the eighties.
The gallery's name, Baader-Meinhof, implies constant exposure . . . And omnipresence . . . Funny it's in Omaha . . . The middle of the country . . . Not exactly corner of main and main in terms of many things including the microcosm of the art world . . . Although some would argue Omaha, home of Warren Buffet, is the center of something. . . Speak about "centers," middle, and the specter of influences . . .
This is what's on the gallery website:
No, the gallery bears no personal or professional affiliation with the Red Army Faction.
The name is a reference is to the Baader-Meinhof phenomenon, a term which refers to frequency illusion, a cognitive bias in which, after noticing something for the first time, there is a tendency to notice it more often, leading someone to believe that it has a high frequency of occurrence. When we discover something new, we begin to imprint the significance of our revelation upon the world around us.
I see a relationship between this phenomenon and the ways in which culture is produced and reproduced, coded and canonized. Cultural discourse is often dominated by the fetish of the new and undiscovered. In this context, Baader-Meinhof phenomenon feels like the harbinger of the subsequent process of cultural sublimation and recuperation.
Running a space "off-center" demands a decentralized approach to sharing and community building. Most of our audience finds and experiences the work we do through social media or online. As word trickles out, spreads among friends and colleagues, Baader-Meinhof, the art gallery, manifests the phenomena it is inspired by.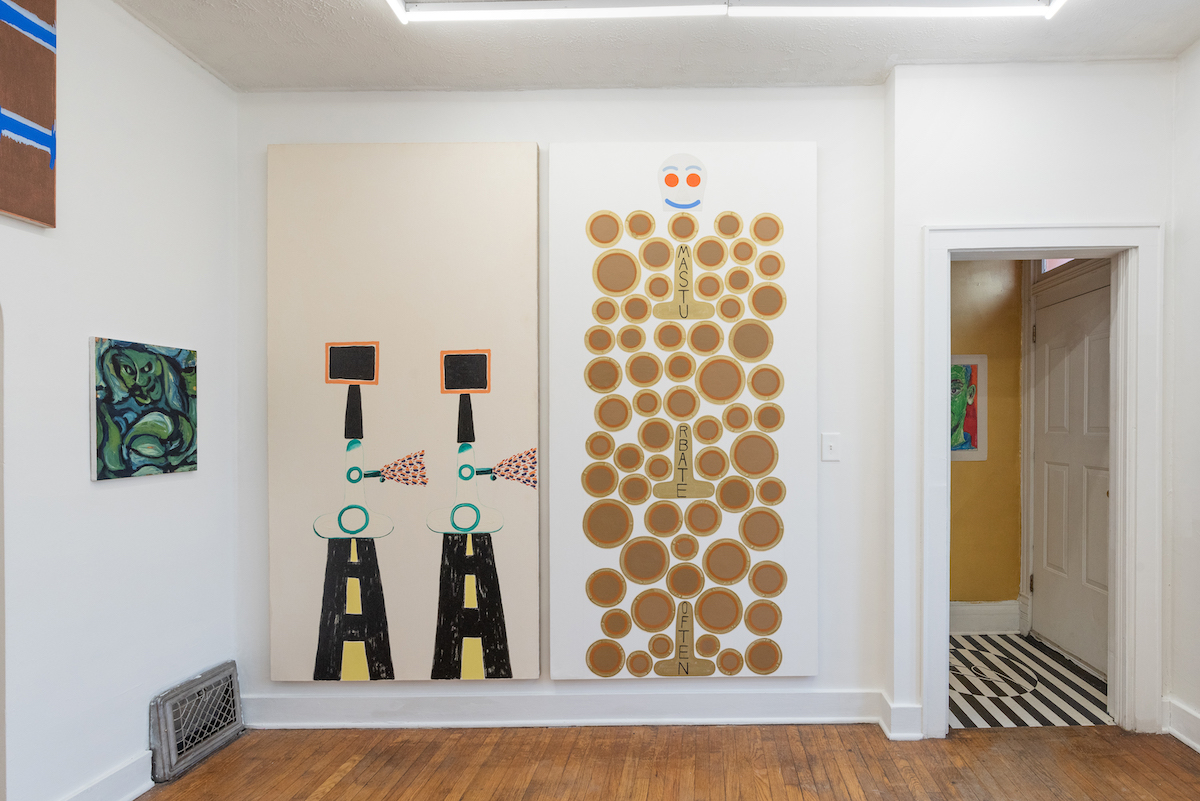 "Joshua Abelow: 1982-2022" at Baader-Meinhof, Omaha, Nebraska
A lot these shows are in artist-run spaces . . . It's an interesting choice in that I feel the organic nature of artist's projects fosters a commingling of practices, platforms, mediums . . . An open mic so to speak . . . And mentoring . . . And Freddy . . . in a way these kinds of spaces are the "influencers," rather than spaces imbued with the aura of establishment . . . But both are good and important . . . Thoughts . . .
Couldn't agree more. I've always been a huge advocate of artists' advocating for themselves. There is so much potential for the role of the contemporary artist to go far beyond creating or taking objects and placing them in rooms. I'm very interested in Relational Aesthetics and, for me, working with artist-run spaces is generative because they understand that curation is a form of artistic practice (as opposed to a way of generating capital).
I met you in Ross Bleckner's studio in Chelsea during the "spring fair season" . . . You were having an open studio, a lovely consequence of working for Bleckner . . . But at that time you were working on your own stuff, a series that eventually made its way to the Dikeou Collection . . . It's called "Call Me", which featured some 30-odd paintings, your age at the time, with your phone number emblazoned on each one . . . All the same, but different and repeated over and over and over . . . Please expound on repetition . . . Did you screen, do you still screen . . .
Yes, yes—I remember meeting you! I worked for Ross from 1999–2006. In 2011 and 2013 he let me borrow his Chelsea studio for the summer. In 2011, I used the space to present a series of Art Blog Art Blog exhibitions that were primarily curated by artists and DIY spaces. In 2013, I used the space to make the work for my Abelow on Delancey show at James Fuentes. I believe we met at that time. The piece is called Call Me Abstract (Self-Portrait at age 36) and it consists of thirty-six 12 x 9 inch yellow geometric paintings with my New York cell phone number painted in black on top. Each one is individually painted— no screening or stenciling, etc. When I was in graduate school (2006–2008), I became influenced by Bruce Nauman—his humor, pathos, and exploration of repetitive tasks, particularly in the early works, was extremely impactful to me. I wanted to bring some of those ideas to painting. His 1968 piece, My Name as Though Written on the Surface of the Moon, opened up my thinking about self-portraiture and what it can look like.
And at that time you had a blog "Art Blog Art Blog" that in a way predated the omnipresence of the blog now. "Art Blog Art Blog" lasted five years, and was, some would argue, a definitive chronicle of that period in the art world . . . A "scene and heard" from the perspective of . . . You and the many roles of you; you represent the artist, the curator, the critic, the lover of music, the poet, the vociferous manic man of drawings, the fan, the influencer . . . You cite Nauman as impactful on your thinking . . . For me Kenny Goldsmith . . . Even Sean Landers . . . Also come to mind . . . Maybe because of the unrelenting ongoing nature of the project . . . Is that why you made it, the blog, "Art Blog Art Blog" have a finite ending . . . And as result the monster/blog becomes a caged physical sculpture . . . Talk about the history of the blog and transition from the digital platform to literal object . . . And then downloadable for free . . .
In 2006 (the year I got to Cranbrook) I was so frustrated with the limitations of a traditional painting practice. Nauman was the perfect artist to lead me out of that closed loop. The blog, which I started March of 2010, was directly influenced by Bruce Nauman and the idea of an expanded painting practice in general—Michael Krebber was also very much of interest to me at the time. My interest in Kenneth came a bit later, but yes you are very much on the money. Kenneth organized a show at Freddy back in 2015 titled, One and Three Tweets, citing Joseph Kosuth's seminal 1965 work, One and Three Chairs. Very few people probably "got it," but for me it was a big deal. Kenny and Cheryl (Donegan) came down to Baltimore for the opening and we had a great time. In terms of the blog—I just got tired of doing it and the rise of Instagram made it seem antiquated. I also didn't like that people would refer to me as "artist and blogger"—the point of the blog was to be an artwork. Exhibiting the blog as a sculpture alongside large paintings in my 2016 Fuentes show titled Freddy was a victory in that regard, even if people didn't really "get it" at the time. When I ended the blog in 2015, I replaced every single image with a Running Witch painting. The idea was that the blog would appear infected with a virus. The original version of the blog is accessible at the Los Angeles Contemporary Archive (LACA). They are working to web record the entire thing, to make it accessible on their site for viewing. It exists as a sculptural object in an edition of 3 along with one artist proof. Ideally, I'd like to have the blog accessible in other educational contexts for students or researchers.
The place/platform of words has an equal presence . . . In your art vocabulary . . . From Painter's Journal to more recent publications such as, Relax, Contemporary Abelow Daily, You Make Me Happy . . . what kind of documentation/publication/catalogue/archive/platform can we expect from this flurry of activity culminating in your mid-career retrospective . . .
I think Jir Sandel is planning some kind of publication for the exhibition in Copenhagen. Not sure about Baader-Meinhof. It would be amazing to find funding to do one publication that features all five of these shows. We also want to find an appropriate venue in NYC or LA for the retrospective exhibition to travel. All five exhibitions are happening outside of the major commercial system, which I like as an artistic gesture, but funding is obviously an issue. If anyone is interested, Call Me.